Los Angeles Sheriff's Department
L.A. County Sheriff Deputies Get Prison Time for Trying to Hide Jail Beating
It's the latest story of abuse at the nation's largest sheriff's department.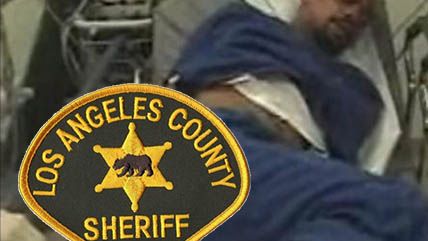 Two Los Angeles County Sheriff's (LASD) deputies received federal prison sentences this week for their roles in covering up a 2009 incident in which inmate Bret Phillips was beaten while waist-chained with handcuffs. The officers were found guilty of falsifying records with the intent to obstruct justice, and they were acquitted of civil rights conspiracy charges. As ABC 7 reports:
Joey Aguiar, 28, was sentenced to 18 months, and Mariano Ramirez, 40, to 13 months. The penalties were imposed following court arguments about their responsibility as public servants to uphold the law.

The incident happened on Feb. 11, 2009. Jail video of inmate Bret Phillips after the altercation was shown to the jury in the guilt phase of the deputies trial.
In December 2013, 18 LASD officers were indicted for jail beatings and cover ups, and since then, former Sheriff Lee Baca has plead guilty to lying to investigators related to those cases, and former under-sheriff Paul Tanaka was found guilty of impeding an FBI investigation.
In 2013, Reason TV spoke with the American Civil Liberties Union of Southern California, which monitored the jails after the 2013 indictments in. Watch: