Frats Chastised for Culturally Appropriating Sexual-Assault Awareness
The Interfraternity Council Monday apologized for how the anti-assault banners "may have been emotionally triggering for survivors."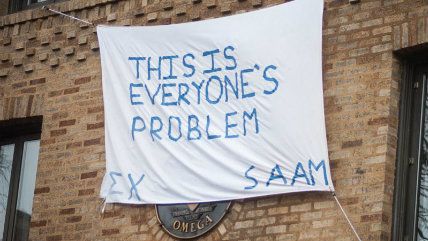 (Daniel Tian/The Daily Northwestern)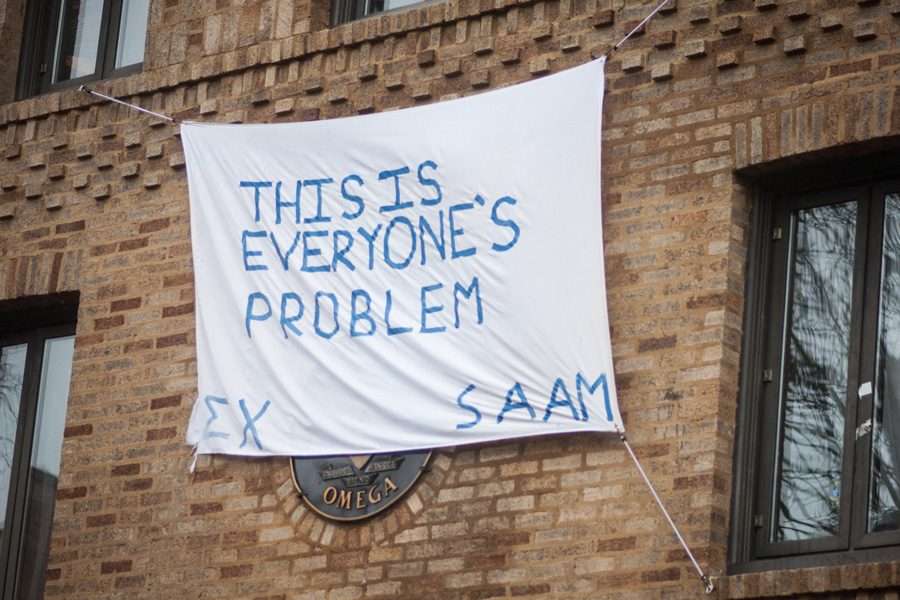 It's a complaint made again and again by those committed to decreasing sexual violence on campus: frat boys are terrible allies. No matter how woke the rest of the campus gets to affirmative consent and avoiding sexual harassment, fraternities continue to make light of or even promote rape with distasteful banners, bawdy skits, and alcohol-laden parties, say detractors. So it might be viewed as a step in the right direction to see the Northwestern University chapter of Theta Chi broadcast a different kind of public message loud and clear from its house walls: "Theta Chi stand against sexual assault."
And that wasn't the only message emblazoned on Northwestern University frat-houses in April, which the school had designated as Sexual Assault Awareness Month. Another banner proclaimed: "We support survivors." A third: "This is everyone's problem."
Yes! Men taking responsibility for their role in stopping rape. Men practicing good "bystander intervention," the new Obama-administration led buzzword for how everyone has a role to play in discouraging bad sexual behavior. Frat boys sending a strong, clear signal that they won't turn a blind eye to sexual violence any longer. Anti-rape advocates on campus must be thrilled, right?
Nope! "These banners publicly project an image of solidarity, and some chapters made signs and marched with Take Back the Night," notes student and Daily Northwestern columnist Jessica Schwalb. But "a congratulations is hardly in order," she continues. "Conversations about sexual assault within fraternities must continue beyond a single month of awareness or solitary presentation from Sexual Health and Assault Peer Educators or Men Against Rape and Sexual Assault."
But how can fraternities continue a conversation they're apparently not even allowed to enter in the first place?
"To display a banner (saying) that 'We support survivors' is really something you have to earn by actually walking the walk," said senior Erik Bakerr. "The idea of displaying a banner like that in front of a house where people have been assaulted before seems really in poor taste to me."
So… students want fraternities to change their culture, but any indications that they are changing their culture are off limits. Got it.
The Interfraternity Council Monday said that it would discourage members from hanging any more awareness banners, and apologized for how the campaign "may have been emotionally triggering for survivors." The Council also announced plans to create a four-year sexual assault education program for fraternity brothers, expanding on an existing program that gives each pledge class a one-time visit from the group Men Against Rape and Sexual Assault.