300 Hours Training Required to Shampoo Hair In Tennessee
Three-hundred hours of classes "on the theory and practice of shampooing?" And that's just the start....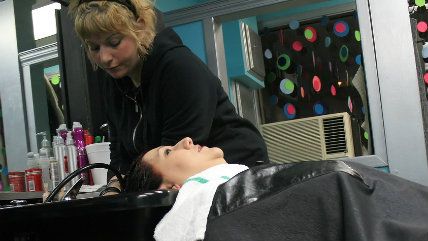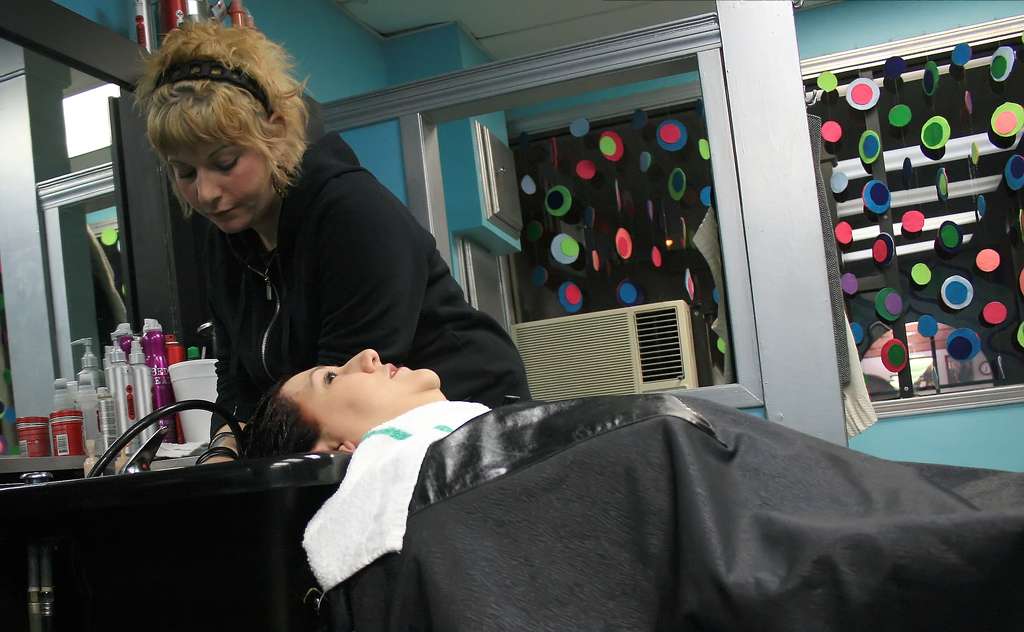 If you're like most people, you probably shampoo your own hair several times per week—hell, maybe even every day—and have since you were a very young child. Shampooing hair is something that takes no particular skill and bring no particular safety concerns, save for getting a little suds in your eye. But in Tennessee, people who would like to shampoo hair in professional salons must receive hundreds of hours of training and fork out thousands of dollars before they're legally allowed to lather, rinse, repeat.
The Beacon Center of Tennessee is trying to change this. The libertarian-leaning think tank is suing the state cosmetology board over its onerous occupational-licensing requirements for people who want to wash hair. At present, obtaining a government permission to shampoo hair requires taking two exams, at a cost of $140, plus a $50 annual fee. On top of that, someone must take 300 hours of training "on the theory and practice of shampooing," at a cost of upwards of $3,000 for the tuition.
"Tennessee is one of only five states that require a license to wash hair, and this is just one of the many senseless licensing laws that the Volunteer State currently has on the books," Beacon Center states on its website.
But—surprise!—nowhere in the state even offers "shampoo tech" classes at present. So even someone prepared to put in the time and money to become a pro hair-washer right now can't. Their only options would be a) to go through the more rigorous and expensive process (1,500 hours and tens of thousands of dollars in tuition) of obtaining a cosmetology license, or b) to wash hair illegally.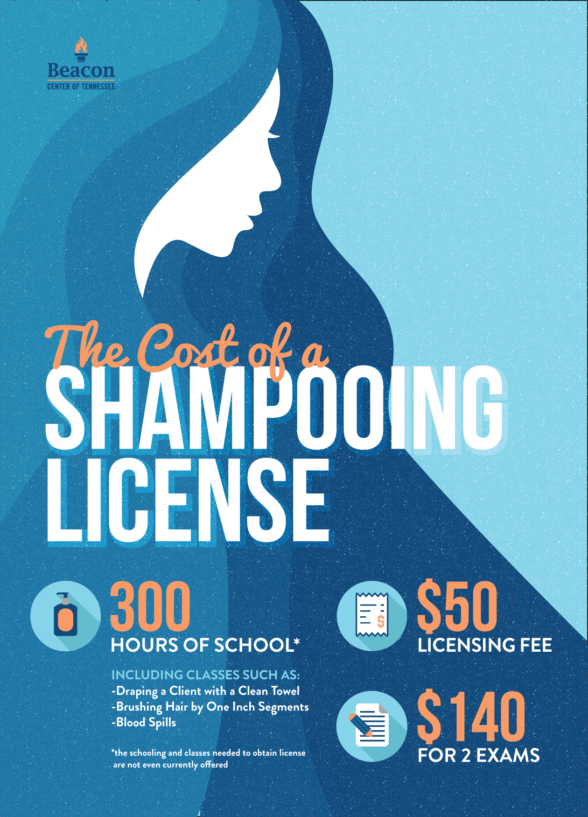 Beware the latter option, however. Those who wash hair without a license face up to six months in prison and a $500 criminal fine, or a $1,000 civil penalty.
At the center of the Beach Center's case is Tammy Pritchard, a police officer who would like to wash hair in her friend's natural hair-care salon on weekends to pick up some extra money. Her niece Leanna, a high-school student, would also like opportunity to do so as an after-school job. Neither are interested in becoming full-time cosmetologists, so the cosmetology license option just doesn't make sense for them. Yet they have no other option if they would like to shampoo hair legally.
This Catch-22 also puts salon owners such as Regina Washington, owner of Fabulous Fantasy Styles, in a bind. "Because no school offers the curriculum for the hair-washing license, there is a shortage of licensed shampoo technicians in the state," explains Beacon Center. Washington would have to hire a fully licensed cosmetologist at a higher hourly rate in order to have someone who can legally wash customers' hair. There are many salon owners like Washington who "just need someone to help them wash hair or fold towels during peak times," notes Beacon Center, "a position that could be easily filled by friends, family members, interns in cosmetology school, high school students, or retirees. That is, if the government didn't stand in their way."
In Pritchard v. Board of Cosmetology, Beacon Center argues that Tennessee's hair-washing license scheme violates the state's prohibition against monopolies. "Because no school offers the shampooer curriculum, no one else may become a shampoo technician who is not already licensed as one, meaning that the state has created a monopoly for existing license holders," Beacon explains.
Furthermore, the requirement violates Pritchard's right to economic liberty under Article I, Section 8 of the Tennessee Constitution, Beacon argues. "The right to engage in a chosen profession is a liberty and property interest protected by our state constitution," it notes. "By applying regulations that far exceed whatever legitimate public health and safety requirements are necessary to protect the public in the context of unregulated shampooing, and by prohibiting anyone from shampooing absent expensive training, the Board has violated [Pritchard's] constitutional rights."
Lastly, it claims the requirement violates the Fourteenth Amendment of the U.S. Constitution by "irrationally, arbitrarily, and excessively restrict[ing] the ability of our clients to engage in a legitimate vocation."