Oakland Raiders Looking to Move to Las Vegas
What are the odds?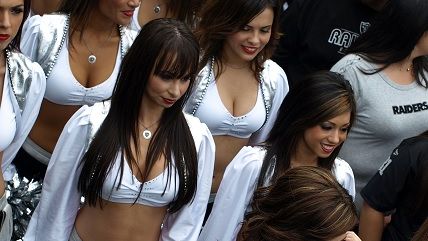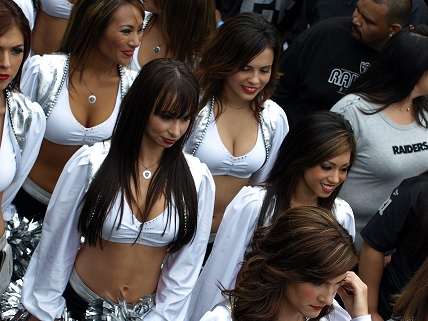 The owner of the Oakland Raiders has signaled that he'd like to move his NFL franchise to Las Vegas, offering to pay $500 million for construction of a new stadium if local governments find a way to fund it the other expected $900 million in construction costs.
Due in large part to its status as the sports betting capital of America, Las Vegas has never hosted a major professional sports team (the Utah Jazz played several home games in Las Vegas in the 1983-1984 NBA season). Las Vegas has been home to one minor league sports team, the triple-A Vegas 51s (currently affiliated with the New York Mets).
Davis approached the Southern Nevada Tourism Infrastructure Committee, a committee formed last year by Nevada Gov. Brian Sandoval (R) to "prioritize tourism improvement projects in southern Nevada, explore potential funding mechanisms to support new tourism-related initiatives" and make official recommendations on those subjects by this summer.
The vice chair of the committee, University of Nevada-Las Vegas President Len Jessup, told the Las Vegas Review-Journal that his preferred location for a potential NFL stadium in the Vegas area would be a 42-acre site owned by none other than UNLV. Jessup says he believes such a stadium would help his school get into a Power Five conference. Davis toured that site several months ago.
One proposal on funding reported by the Review Journal would involve $750 million in tourist taxes and $150 million from a casino operator and a real estate company, but came with few additional details.
The Raiders have played in Oakland since 1995 and from 1960 to 1981. In 1981 they moved to Los Angeles for 14 years. Los Angeles, the second largest TV market in the country, has not had an NFL franchise since the Raiders moved out. The Rams are returning to Los Angeles this season after a process that also saw the Oakland Raiders and the San Diego Chargers as candidates for LA.
For its part, the city of Oakland said it would decline to spend any taxpayer money on a new Raiders stadium to keep the team in the area—the city still owes $80 million on the current stadium. The new stadium for the Rams, which will be located in Inglewood and is expected to be the most expensive in the world. It will cost about $2 billion dollars to construct and will not be publicly funded. Taxpayers in Missouri still owe about $100 million in relation to the Rams' St. Louis stadium.
Check out Reason TV's "Why No Smart City Would Want the NFL"