Artist Censors Anti-war Mural to Appease 'Triggered' Student
At Pitzer College, offense trumps art.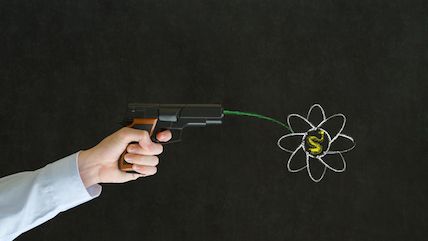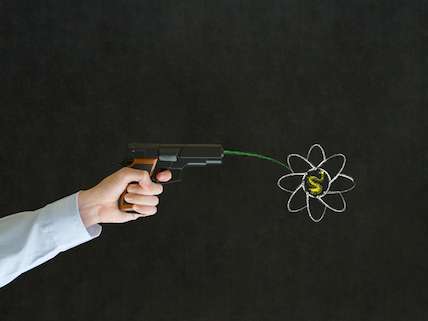 An anti-war, pro-peace mural was deemed "triggering" by a student at Pitzer College, who objected to the work of art because it included a drawing of a gun. The artist has now agreed to alter her mural so that this student can continue to feel safe on campus.
Forget controversial art. Even non-controversial art is apparently unwelcome on campus if it includes any elements that bother anyone for any reason.
The mural, which was approved by Pitzer's aesthetics committee, depicts flowers erupting from the barrel of a handgun.
"This mural is actually representative of a nonviolence movement to protest the Vietnam War in the 60s," one student, Jessica Folsom, told The Claremont Independent. "There's a famous photo of a protester putting flowers in the barrel of a National Guardsman's rifle and everything."
Another student took the mural a different way.
"It's truly in bad taste to have a large depiction of a gun in a dorm space—especially when students of color also reside there," wrote Gregory Ochiagha in an email to campus. "My Black Mental and Emotional Health Matters. I shouldn't be reminded every time I leave my dorm room of how easy my life can be taken away, or how many Black lives have been taken away because of police brutality. This is emotionally triggering for very obvious reasons."
Again, it's a work of anti-violence art. Still, the artist—Selena Spier—has agreed to modify the mural to keep it free of "potentially triggering content."
Of course, this is a fool's errand. Everything is "potentially" triggering. Would Spier paint over the entire mural if a neoconservative student said he found the anti-war message offensive? I presume she wouldn't, although underestimating the modern university student's capacity to cater to unreasonable offendedness is usually a mistake.
Hat tip: The College Fix