Less than Half of Americans Identify as "Environmentalists," Says New Poll
Fearmongering seems to be backfiring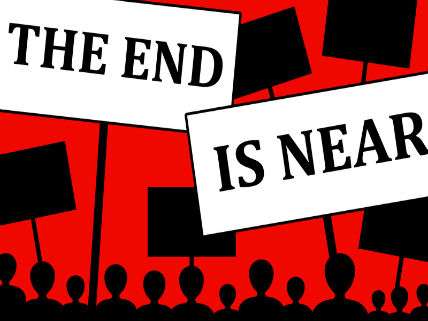 The folks over at the Gallup Poll have been occasionally asking Americans about their views on environmental issues for a couple of decades now. Their latest poll finds that environmentalist fervor among Americans has been abating. From Gallup:
As Americans observe Earth Day, Gallup finds 42% of Americans identifying themselves as environmentalists, down from an average of 76% in the late 1980s and early 1990s.

The results are based on Gallup's annual Environment poll, conducted March 2-6. When last asked, in 2000, 47% of Americans identified as environmentalists, which in turn was down from 63% in 1995. In 1991—one year after Earth Day became a global event celebrated each April 22—a high of 78% of Americans described themselves that way.

One reason for the decline is that the environment has become politicized as an issue, especially in terms of the debate over climate change and how to address it. In 1991, the same high percentage of Republicans and Democrats—78%—considered themselves environmentalists. Today, 27% of Republicans think of themselves that way, compared with 56% of Democrats, a partisan gap of 29 percentage points.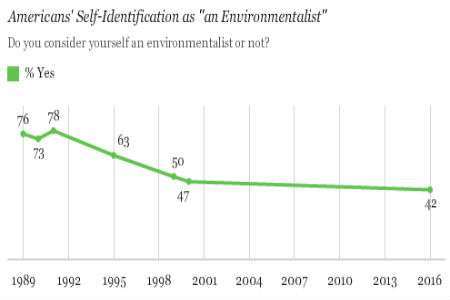 Consistent with their drop in identification as environmentalists, Americans express less concern about certain environmental problems now than in the late 1980s and early 1990s, but that varies by the problem. Americans are much less concerned now than they were a generation ago about air pollution and pollution of rivers, lakes and reservoirs. Their concern about polluted drinking water is down slightly, while they are slightly more concerned about global warming or climate change than in the late 1980s and early 1990s. However, on a relative basis, global warming is still of less concern than most of the other problems.