Curt Schilling's Worst Offense Is Not a Transphobic Meme
The supposed advocate for smaller government sought $75 million from the state for his failed video game venture.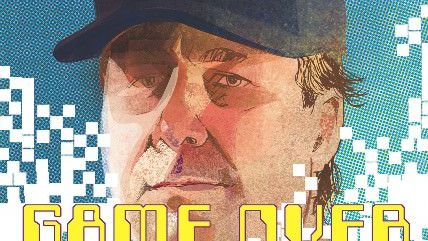 Curt Schilling is widely considered one of the greatest pitchers of all time. He became a hero to Massachusetts baseball fans in 2004 when he led the Red Sox past the Yankees and on to the team's first World Series title since 1918, breaking the dreaded curse that had afflicted Beantown for nearly a century. Then he endorsed George W. Bush.
This political pitch was not nearly as popular in his adopted home state, but then, it probably shouldn't have come as a surprise. Schilling had previously called in to radio shows while he was playing for Philadelphia and has seemed unable to stop himself from wading into controversial issues since, even as he's transitioned to a new career as a sports commentator on ESPN. And while there's nothing legally wrong with expressing strong political opinions, an employer who hired Schilling for his baseball expertise might understandably react poorly when his commentary extends to political issues well outside that scope.
This week, ESPN decided Schilling had finally gone too far. After the network declined to terminate him when he created a public stir for comparing "Muslim extremists" to Nazis, or for saying Hillary Clinton "should be buried under a jail somewhere," his latest social media post reacting to the trans bathroom panic led the company to change its mind.
Whatever you think of the current bathroom hullabaloo, Schilling's perspective, or that of his detractors, his social media speech isn't nearly as harmful as his past efforts to fleece taxpayers of all stripes for personal gain while advocating for "smaller government."
Watch below to see how Schilling pumped sycophantic state officials for tens of millions of dollars to prop up a nascent video game company that (spoiler alert!) then went bankrupt.