U. of Delaware Students Drew a Penis on a Free Speech Ball. Cops Made Them Censor It.
The unending effort to broaden sexual misconduct.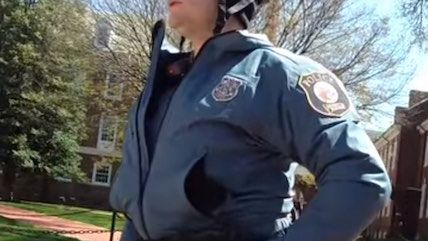 (Screenshot via Young Americans for Liberty / Youtube)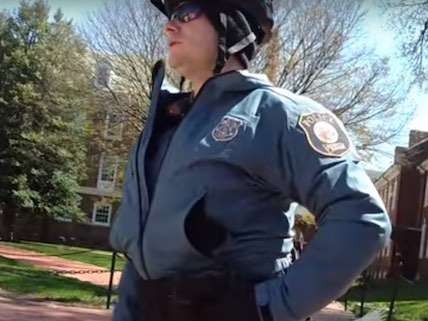 It's tough to find a more perfect indictment of anti-sex hysteria on university campuses: the campus police at the University of Delaware forced students to scribble over a drawing of a penis in order to comply with the university's sexual misconduct policy.
The outrageous incident—as clear a case of censorship as they come—was caught on video. Ironically, the students were attempting to promote an upcoming screening of Can We Take a Joke? a documentary about censorship of comedy on college campuses. The film is sponsored by the Foundation for Individual Rights in Education, and was produced by former Reason TV producer Ted Balaker.
UD's Young Americans for Liberty created a giant free speech "beach ball" to advertise the event. Students were invited to write whatever they wanted on the ball. Eventually, a uniformed police officer approached the ball and instructed YAL to rid it of penis references. They did so (partly) and he left.
FIRE is not amused.
"A campus police officer should never ask students to self-censor their constitutionally protected speech," said FIRE's Marieke Tuthill Beck-Coon in a statement. "As a public university, UD must abide by the First Amendment, which has very few exceptions—and subjectively offensive words or images are not one of them."
The officer's insistence that he had a duty to be the speech police was quite remarkable.
"If I were to write, 'I think Donald Trump should be the next president, I think that's something we could have a discussion about," he said. "Drawing a penis, or a swastika, or putting the n-word on there, what does that do?"
The YAL student responded that the two of them—the officer, and the student—were having a discussion about it at that very moment.
"I don't know that it really opens up a conversation," said the officer, disagreeing. "I just think it's meant to provoke."
Here's the thing, officer: the police are not in charge of deciding which kind of speech "opens up a conversation" and which kind is just "meant to provoke." Nor is there anything illegal about provocative speech. Sometimes speech should offend.
But in the era of the Title IX inquisition, university authorities would sooner prohibit a large swath of clearly protected conduct than risk running afoul of anti-harassment laws. Guidance from the Office for Civil Rights has cheapened the definition of sexual misconduct, undermining the most obvious free expression rights of students and faculty members.