Free Speech Attack by Attorneys General in ExxonMobil Climate Change Probe of Skeptical Non-Profit
Down the perilous path toward Lysenkoism in which only officially approved science is allowed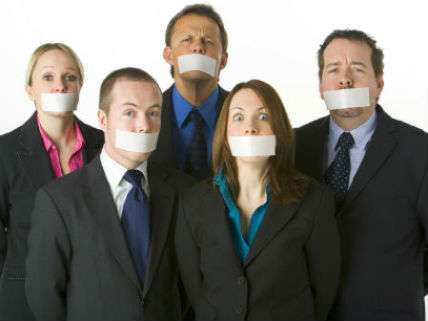 New York State Attorney General Eric T. Schneiderman issued subpoenas in November to oil giant ExxonMobil demanding that it turn over internal communications regarding what the company knew about the risks of climate change. Schneiderman says that he wants to find out if the oil company fraudulently misled its investors with regard to how man-made climate change would affect its financial prospects.
In March, Schneiderman sought to turn up the heat on the company by organizing a climate change conference of state Attorneys General that featured climate activist Al Gore. The idea is to enlist these Attorneys General in his legal campaign against ExxonMobil. All of the participants in Schneiderman's climate change conference are members of the Democratic Party, except the Attorney General of the U.S. Virgin Islands. In a statement at the conference, Al Gore endorsed the effort and declared, "We cannot continue to allow the fossil fuel industry or any industry to treat our atmosphere like an open sewer or mislead the public about the impact they have on the health of our people and the health of our planet."
Not only do Schneiderman and his new claque climate crusaders aim to force ExxonMobil to repent (while possibly extracting some cash along the way), they also evidently intend to shut up non-profit groups to which the oil company donated funds that have questioned the notion of impending man-made climate catastrophe.
In service of this goal, the Attorney General of the U.S. Virgin Islands Claude Walker has issued a subpoena to the Washington, D.C.-based think tank the Competitive Enterprise Institute. According to CEI, the subpoena demands that the non-profit produce "a decade's worth of communications, emails, statements, drafts, and other documents regarding CEI's work on climate change and energy policy, including private donor information. It demands that CEI produce these materials from 20 years ago, from 1997-2007, by April 30, 2016." It is probably no accident that Walker worked for eight years as an attorney for the U.S. Environmental Protection Agency.
In response to the USVI's action, CEI General Counsel Sam Kazman vowed, "CEI will vigorously fight to quash this subpoena. It is an affront to our First Amendment rights of free speech and association for Attorney General Walker to bring such intimidating demands against a nonprofit group."
I have my disagreements with CEI over how to construe what the science is saying with regard to how big a problem man-made climate change might become for humanity as this century unfolds. However, these subpoenas are a huge step in the direction of using the courts to silence people who hold views that differ from those of powerful government officials. It's bad enough to politicize science, but to outlaw disagreements over how to interpret science heads down the perilous path toward Lysenkoism, in which only officially approved science is allowed to be practiced and discussed.
Disclosure: I have had a long relationship with CEI. I was the non-profit's first Warren Brookes journalism fellow in the early 1990s. I also was the editor of three commercially published books on environmental policy supported by CEI. I am still listed as an "adjunct analyst" on the group's website.
I also own 50 shares of ExxonMobil stock that I bought with my own money several years ago.