A.M. Links: Bernie vs. Hillary, Cruz vs. Trump, Rogue One: A Star Wars Story Teaser Trailer Released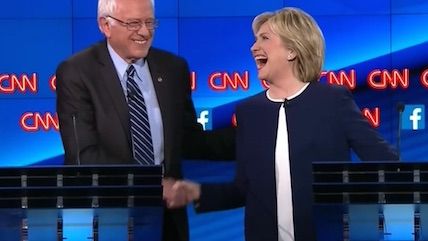 Credit: CNN

Bernie Sanders: Hillary Clinton is "not qualified" to be president.
Ted Cruz "has outmaneuvered Trump in all the caucus states" and is positioning himself to enjoy "a tactical advantage should the party's presidential nomination come down to a rare contested convention."
The Drug Enforcement Administration is considering whether to reschedule marijuana. Such a move would mean that marijuana would no longer be listed as a substance that has "no currently accepted medical use and a high potential for abuse."
According to a new report, one of the Brussels suicide bombers worked briefly as a cleaner at the European Parliament.
Follow us on Facebook and Twitter, and don't forget to sign up for Reason's daily updates for more content.