Life in Prison for Stealing Candy Bars in New Orleans?
Even the judge thinks it's "over the top," but Louisiana's "habitual-offender" law takes away his discretion.
(Orleans Parish Sheriff's Office)
Jacobia Grimes, 34, allegedly stole some candy bars,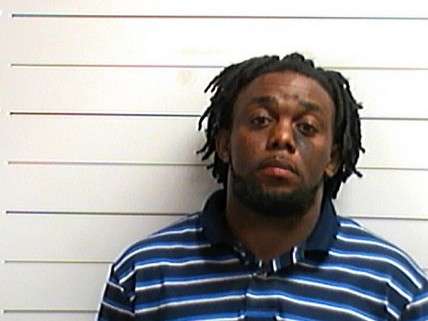 totaling $31, from a Dollar General store in New Orleans last December. He was caught by the manager and arrested without a struggle.
He's done this before, a lot of times, actually. Grimes has tallied 24 arrests in the past 20 years, and his five previous convictions for theft led the District Attorney's office to charge him under a statute that makes his latest petty crime a felony under the law. That felony charge, which normally includes a maximum sentence of two years, is boosted to 20 years to life because of Louisiana's "habitual-offender law."
The Advocate's John Simerman reports that when Criminal District Court Judge Franz Zibilich learned of Orleans Parish DA Leon A. Cannizzaro Jr.'s decision to charge Grimes' candy bar theft as a felony during his arraignment, the judge asked, "Isn't this a little over the top?" Judge Zibiloch added, "It's not even funny…twenty years to life for a Snickers bar," but mandatory minimum sentencing rules remove the judge's ability to exercise his/her discretion.
According to Simerman, Cannizzaro's office "often takes advantage of such charging decisions to ratchet up the possible consequences for criminal defendants, sometimes as leverage to elicit guilty pleas."
Cannizzaro took great exception with that characterization, writing in a letter to the Advocate that in addition to theft, Grimes had been previously convicted of "crimes such as illegal possession of stolen things, unauthorized use of a moveable, possession of drug paraphernalia, obscenity and distribution of false drugs."
Cannizzaro added:
Where were all the "reformers" after those convictions?

The DA's Office has repeatedly requested funding to place similarly situated offenders in its diversion program. This would allow such offenders to get out of jail, receive mental health and substance abuse counseling, and avoid the consequences of another conviction on their records. The city, however, has routinely denied these requests. As such, the DA's Office must choose between the lesser of two evils — putting this defendant back on the street without any rehabilitation or putting him in jail.
Nola.com has described Louisiana as "the world's prison capital," with a per-capita incarcerated population "nearly five times Iran's, 13 times China's and 20 times Germany's."