Ban Pro-Palestinian Group from CUNY Campuses, 35 NY Lawmakers Say
Bipartisan gaggle of politicians equate incendiary political speech on campus with "intimidation."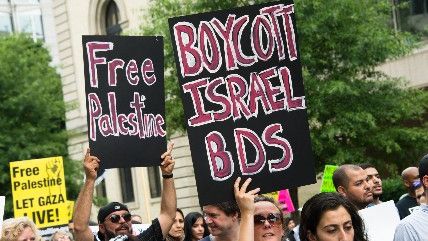 (Dreamstime.com/Rrodrickbeiler)
New York State Assemblymen Dov Hikind and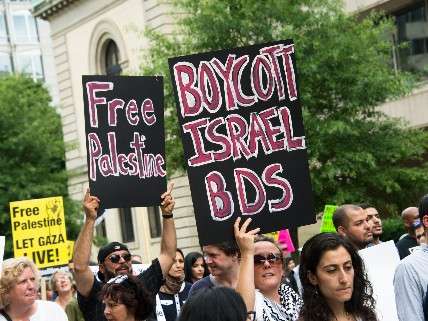 David Weprin, both Democrats, penned a letter last week (co-signed by a bipartisan group of 33 state lawmakers) to the chancellor of the City University of New York (CUNY) demanding the suspension of the pro-Palestinian activist group Students for Justice in Palestine (SJP) from all CUNY campuses.
Accusing SJP of orchestrating a campaign of "intimidation and fear" against Jewish students, the letter demanded the "toxic" organization which denies "Jewish history and legitimacy" be immediately shut down. CUNY responded by launching an investigation into alleged incidents of anti-Semitic harassment, including what the right-wing Zionist Organization of America (ZOA) described in a letter to CUNY as incidents of students "being pushed, spat upon and having objects thrown at them."
But, the Forward reports, ZOA's letter is "vague as to when and where several of the most clearly anti-Semitic episodes took place, and as to what witnesses are making the charges."
In an extensive investigation published last week, the Forward found that there is indeed some evidence of anti-Semitism on CUNY campuses, but no clear connection that SJP is behind any of it. Further, regarding some of the cases of alleged harassment, "the question is one of semantics — whether public expressions against 'Zionism' or 'Zionists' constitute anti-Semitism."
Of one protest led by SJP:
The ZOA letter claims that protesters were also shouting "Jews out of CUNY!" It's a call heard nowhere on the video. But this discrepancy and arguments over it may miss a bigger issue.

What are the protesters actually demanding when they chant "Zionists out of CUNY?"

First, there is the worst possible implication — which is the one that at least some Jewish students heard. Asked if by 'Zionists out of CUNY,' her group actually meant that Jews, or non-Jews, who identify as Zionists should not be allowed to get, or give, an education at CUNY, Nerdeen Kiswani, vice president of SJP's chapter at Hunter, who said she was leading those chants, noted that they were "protesting the ideology of Zionism — not people."
The College Fix quotes Assemblyman Weprin as saying, "Hate Speech is not Free Speech and I call on CUNY to keep their campuses hate-free by taking concrete action on SJP." Equating anti-Zionism with hate speech is not confined to New York. As we've noted at Reason, the University of California's (UC) board of regents has recently voted to ban "anti-Zionism" on campus.
Even if "anti-Zionism" is motivated by religious hatred or racial animus (which is arguable and difficult to prove in many cases), hate speech is indeed protected free speech, and incendiary political speech (the kind favored by activists on both sides of the Israel/Palestine conflict) is the most protected speech.
If any group engages in organized physical harassment on campus, that organization deserves to lose its right to officially engage in campus life. But short of that, even what Assemblyman Hikind describes as the "malicious rhetoric" of a group that disagrees with his worldview deserves the First Amendment protections afforded to groups like Hillel, the Jewish student group whose CEO, Fmr. Congressman Eric Fingerhut (D-Ohio), demanded that debates over Israel within his own organization take place "within the context of a love of Israel, an unequivocal support of Israel."
"Unequivocal support of Israel" offends plenty of people, and a case could be made that such a position "de-legitimizes" the Palestinian people's right to self-determination. But it's unimaginable that a group of US lawmakers would demand the removal of a group like Hillel from campus primarily because of their political beliefs, just as the notion that SJP be removed from campus for their beliefs should be considered an untenable proposal.