Prof Wants UVA's 'Problematic' Mural Censored Because It Depicts Fun, Title IX Violations
Five years after the "Dear Colleague" letter, the Office for Civil Rights has all but outlawed sex on campus.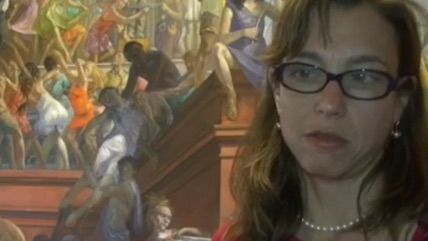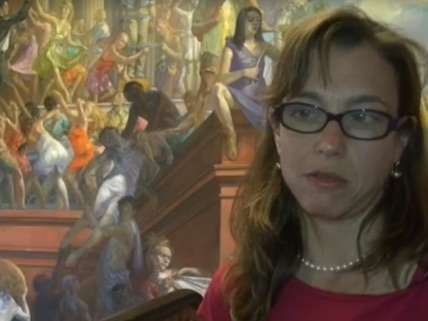 Some members of the University of Virginia community want a piece of art—a mural—censored, altered, or completely painted over because it depicts students and professors partying together.
The behaviors of the fictional characters in the painting would likely violate Title IX, said UVA music professor Bonnie Gordon, a vocal critic of the mural, in an interview with newsplex.com.
Artist Lincoln Perry painted the mural, which covers the walls of Old Cabell Hall, over the course of 16 years. It was finished in 2012. It features a number of different scenes of revelry involving men and women of various ages and in various states of undress. In one panel, a woman has chained a man to a pillar. In another, a woman can be seen leaping onto a dean's back. In still another scene, a woman offers her bra to a much older man standing on a balcony.
According to the news story, criticism of the mural focuses mostly on a sole panel, in which a student and professor "obviously have been doing something that would be a Title IX violation," according to Gordon. It's not totally clear to me which panel runs afoul of federal sexual harassment guidance. The story includes a picture of the man-chained-to-pillar scene, but the accompanying video shows the balcony scene during the news reporter's relevant monologue. I'm not sure why any of the depicted actions would "obviously" violate Title IX, except in the sense that all sexual behavior on or near a university campus, involving one or more persons affiliated with a university, is now construed to violate Title IX.
First, a disclaimer: if UVA administrators really want to change, alter, or otherwise update the mural, they obviously have that right. Maybe it's a bad piece of art. Maybe Gordon's suggestion to let art students repaint it is a good one. But it's one she recommends for entirely the wrong reasons:
"I think it should go," said music professor Bonnie Gordon, who works in Old Cabell Hall and sees the mural every day. "It condones a certain kind of party culture in which women are depicted in ways that look problematic to me." …

Gordon says she's troubled when she sees prospective first-year students come through Old Cabell Hall with their parents.

"This is what they walk past," she said. "This is not the image that I want my son or daughter to associate with college."
Again, the painting's problematic-ness is implied—some sexual activity between men and women is hinted at—and this is sufficient to invoke the dread specter of Title IX. Never mind that the college experience does actually involve sex for a great many students. Never mind that professors and students have been sleeping together, for mutual benefit, as long as universities have existed. Perhaps the mural should be replaced with a famous historical painting depicting Greek culture? Alas, I suppose not. (You would think Renaissance painters had never even heard of Title IX!)
Today is the five year anniversary of the infamous "Dear Colleague" letter: five years have elapsed since the Education Department's Office for Civil Rights drastically ramped up efforts to force universities to police sexual harassment on an entirely subjective basis and adjudicate sexual assault without regard for due process. The evidence that these federally-driven efforts have destroyed the basic free expression rights of a great many university students and faculty members is overwhelming. [Related: Policing Students' Sex Lives Costs Colleges Millions, But Nobody's Happy with the Results]
But I can think of no more fitting example of Title IX overreach than Gordon's response to the Perry mural. This is the landscape of higher education in 2016: all remotely sexual activity is presumed to violate Title IX in some way. Students are so delicate and infantilized—so incapable of making their own decisions—that they need protection from modern art.