Raul Castro Denies Cuba Holds Political Prisoners at Press Conference with President Obama
Dictator makes incredible claim a day after scores of dissidents were arrested.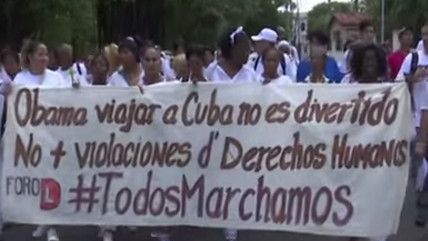 At a joint press conference with Presiden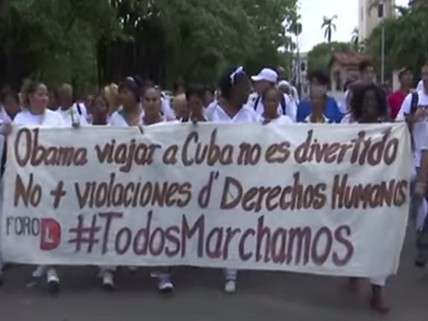 t Obama in Havana this afternoon, Cuban President Raul Castro denied that Cuba holds any political prisoners. 
When asked by CNN if the "new direction" of his country would include the release of dissidents, Castro replied, "Give me a list and I'll release them," adding, "If we have those political prisoners they will be released before tonight ends." 
In case you're keeping score at home, Freedom House, which describes itself as "an independent watchdog organization dedicated to the expansion of freedom and democracy around the world," gave Cuba a 1 out of a possible 40 score on its index of political rights.
And though Western journalists seem to be tripping over themselves to praise Cuba's alleged recent attempts at reform, or fret that the island will be destroyed by McDonald's and tourism, Freedom House paints a less rosy picture:
In 2014, the Cuban government increased its systematic use of short-term "preventive" detentions—along with harassment, beatings, and "acts of repudiation"—to intimidate the political opposition, isolate dissidents from the rest of the population, and maintain political control of all public spaces. A record number of politically motivated detentions were recorded in 2014, and crackdowns on activists continued. 
Amnesty International summarizes the "new Cuba" here:
Government critics continue to be imprisoned; many report that they were beaten during arrest. Restrictions on freedom of expression is widespread. The government curtails freedom of association and assembly. 
President Obama is scheduled to meet with a number of dissidents on Tuesday, including Elizardo Sánchez of the Cuban Commission on Human Rights and National Reconciliation. Sanchez told the New York Times that just this month alone, 526 people have been detained for criticizing Castro's government:
"It's the climate of intimidation the government is creating for Obama's visit," said Mr. Sanchez, a graying, steady critic of President Raúl Castro's government. "Right now what you see is preventive repression, so it does not occur to anyone to say anything to Obama while he is here."
Over 50 members of the "Ladies in White," a group founded by the wives of former and current political prisoners, were arrested in a demonstration timed for the beginning of Obama's visit yesterday. One of the group's founders, Berta Soler, told USA Today:
"For us, it's very important that we do this so President Obama knows that there are women here fighting for the liberty of political prisoners," Soler said before being arrested. "And he needs to know that we are here being repressed simply for exercising our right to express ourselves and manifest in a non-violent way."
Also arrested yesterday was Danilo "El Sexto" Maldonado, a dissident artist who spent 10 months in a Cuban prison from 2014-2015 for creating a work of performance art where he painted the names of Fidel and Raul Castro on the bodies of two pigs and attempted to release them in public. 
Over the weekend, 18 Cubans were rescued after spending over three weeks adrift in the ocean after fleeing the socialist Caribbean island en route to the US. Nine of their fellow passengers died during the ill-fated escape.