Obama Meets with Castro, Trump Reveals Foreign Policy Team, Clinton Attacks Trump on Israel: P.M. Links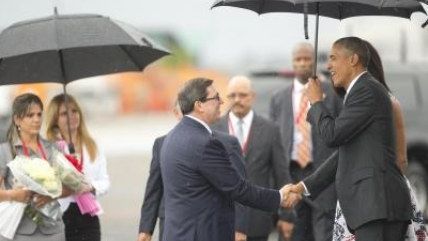 President Barack Obama's visit to Cuba kicked off with a face-to-face meeting with President Raul Castro. Castro demanded Guantanamo Bay returned and claimed that there are no political prisoners in Cuba.

The Supreme Court today declined to limit border patrol stops, rejected the idea that stun guns are not protected by the Second Amendment, and declined to let nearby states attempt to interfere with Colorado's marijuana legalization. The Court has also agreed to hear a patent case between Apple and Samsung.
Donald Trump revealed today some of the members of his foreign policy team and according to the Washington Post "outlined an unabashedly non-interventionist approach to world affairs."
Hillary Clinton attacked Trump at the American Israel Public Affairs Committee (AIPAC) conference today for being "neutral" on the conflict between Israel and Palestine. Trump will be speaking this evening.
There's a manhunt on now in Europe for a newly identified suspect in the deadly Paris terrorist attacks.
Last week I noted how the Department of Justice was attempting to use (and misuse) antitrust laws to block Tribune Publishing from purchase bankrupt Freedom Communications newspapers in California. Even without having to prove the case, the DOJ succeeded in thwarting the effort. Because Freedom Communications was set to run out of money by the end of the month, there was no time to fight the DOJ's restraining order, so they went with the second-highest bidder instead, Digital First Media, which is the second largest newspaper chain in the U.S. and is Tribune's direct competitor in Southern California. Apparently this somehow avoids a monopoly.
Apple is announcing some new products today.
Follow us on Facebook and Twitter, and don't forget to sign up for Reason's daily updates for more content.