Kansas Seized Disabled Vet's Children While He Was Moving to Colorado to Use Medical Marijuana Legally
DCF says it doesn't seize children merely because their parents use marijuana.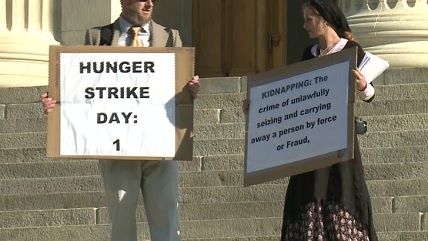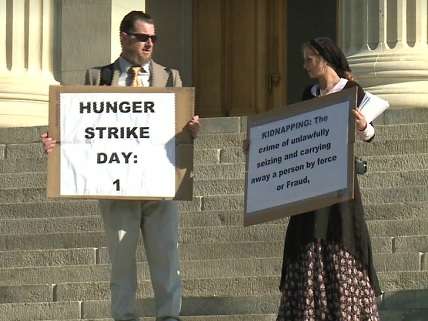 A disabled veteran who uses marijuana to deal with post-traumatic stress disorder (PTSD) and chronic pain, and says he once used marijuana to kick a heroin habit, had his children seized by the state of Kansas over his marijuana use.
Raymond Schwab, a Gulf War vet, was moving from Topeka, Kan. to Denver, Colo. when, during a family dispute, his mother-in-law took his five children, aged 5 to 16, to a police station in another country and reported them as abandoned, as the Denver Post reported.
Authorities in Kansas are requiring Schwab and his wife to promise to refrain from using marijuana and to submit to marijuana testing for four months before they can recover their children from the state—this even though they are now residents of Colorado, where marijuana is legal.
Last week, Schwab launched a hunger strike to protest Kansas' treatment of him, prompted by his teenaged son being entered into a psychiatric facility. Schwab says he has evidence that the state of Kansas investigated him for child abuse but found the charges unsubstantiated just a few months after seizing his children.
Kansas' Department of Children and Families (DCF) responded to Schwab's hunger strike by insisting he was presenting an"incomplete" picture of what happened. They say only 4 percent of their removals are backed by substantiated claims.
Further, DCF says it does not seize children from their parents solely for marijuana use."DCF makes recommendations to the court for removal only when serious safety issues are present," the department's statement read."Our priority is always to maintain children in their home, when that is a safe option. Sadly, if a child is in foster care, it is because it is safer than his/her own home."
While DCF said it was limited in what it could say about the Schwab case due to privacy laws, it encouraged him to sign a release"to anyone in the public who wishes to gain more information."