Zealous Anti-Prostitution Prosecutor Paid for Sex Hundreds of Times
While cracking down on prostitution in Michigan, Stuart Dunnings III was routinely shelling out money for sexual services, authorities say.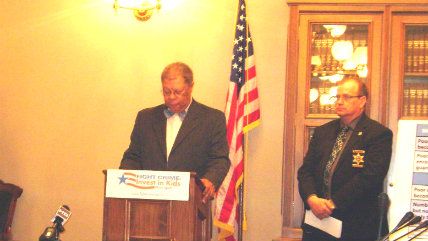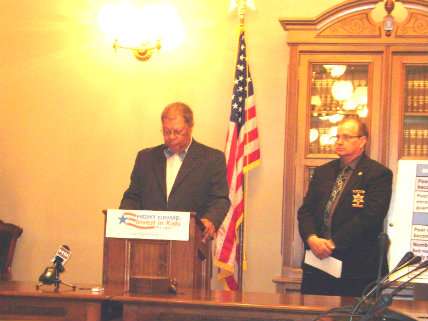 Michigan Attorney General Bill Schuette (R) described him as "an outspoken advocate for ending human trafficking and prostitution." As the prosecuting attorney for Ingham County, Michigan, since 1997, Stuart Dunnings III spend decades helping to put people behind bars for commercial sexual activity. But at the same time, Dunnings was routinely shelling out money for sexual services, according to Michigan authorities.
In 2001, Dunnings had taken over the prosecution of prostitution-related crimes in Lansing, with an explicit mission of cracking down on commercial sex. He instituted tougher penalties and a program of impounding johns' vehicles. "In the first two years alone, his prosecutors charged 19 people with felonies and impounded 53 vehicles," according to the Lansing State Journal.
Now Dunnings faces 15 criminal charges, including one felony count of pandering. That one could come with a 20-year prison sentence. An initial hearing is scheduled for later this month.
Authorities allege that Dunnings "paid for commercial sex… hundreds of times in three counties (Ingham, Clinton, and Ionia, with multiple women, between 2010-2015." For five years, Dunnings met with one sex worker up to four times per week, in addition to his encounters with others. For what it's worth, the arrest affidavit paints Dunning as considerate client who tipped well and acted more like a "sugar daddy" to some of the women, taking them out to dinners and paying their rent, cellphone bills, and other expenses, including a YMCA gym membership. After one woman confessed to a heroin habit, Dunnings paid for her weekly methadone treatments and attended Narcotics Anonymous meetings with her.
The charges against Dunnings are the result of a year-long joint investigation by the FBI, the Michigan Attorney General's office, and the Ingham County Sheriff's Office. Of course, the feds went after Dunnings under the guise of stopping "human trafficking," because that's what law enforcement calls all prostitution circa 2016. Most of the charges actually brought against him, however, are misdemeanor charges for "engaging in the services of prostitution" (10 counts) and "willful neglect of duty" (4 counts).
The one felony charge is because Dunnings "induced a woman to become a prostitute who had not previously been one." Dunnings allegedly coerced a domestic violence victim who came to him for help with a custody dispute into having sex with him, then paid her for it. The woman "was initially shocked by this proposition, and did not immediately accept," according to police. "After thinking the proposition over, she felt she had no choice but to accept." For somewhere between one and two years, Dunnings, paid her about $600 every two weeks as well as paid some of her bills.
"We live in a time where people wonder if government actually works," said Schuette in a statement. "People wonder if the system is rigged. People wonder whether we have a "wink and a nod" justice system where the chosen few skate and escape punishment because of who they know or because they hold an important position in government. Well, let me be very direct and crystal clear. The system in Michigan is not rigged. Not on my watch."
Take that for what you will. It took five years on Schuette's watch for any charges to be brought against Dunning, during which time he continued arresting others for doing as he did while collecting a $132,000-per-year salary.