Obama Privately Promoting Clinton, Graham Goes to Bat for Cruz, Melissa Click Speaks Out: P.M. Links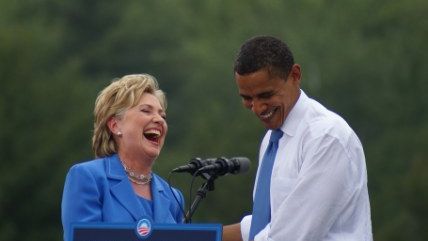 (marcn / photo on flickr)
Credit: marcn / photo on flickr

President Barack Obama is reportedly privately telling donors to line up and support Hillary Clinton, which should surprise utterly nobody.

Sen. Lindsey Graham (R-S.C.) is going to fundraise for Sen. Ted Cruz, whom he loathes utterly.
It turns out the lawsuit filed against Uber by former driver and alleged Kalamazoo, Michigan, mass killer Jason Dalton is likely a hoax.
Terminated University of Missouri Assistant Professor Melissa Click, in her own words: "We should all be concerned about the larger issues my situation raises." Oh, we are, just not in the way she thinks.
According to the EPA, Flint, Michigan, is hardly alone in problems with lead poisoning in the water.
The Senate has voted to hold ad site Backpage.com in contempt for refusing to comply with subpoenas for information about how it screens ads for sex trafficking.
OMG! I totally forgot to Trump! Here you go.
Follow us on Facebook and Twitter, and don't forget to sign up for Reason's daily updates for more content.