NCAA Exploits its Players, But Who Doesn't Love Some March Madness Bracketology?
College basketball's tournament is compelling, but ethically compromised.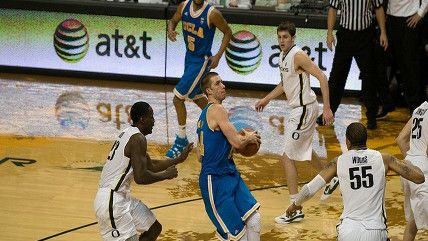 (Flickr/Beaverbasketball)
The NCAA college basketball championship tournament,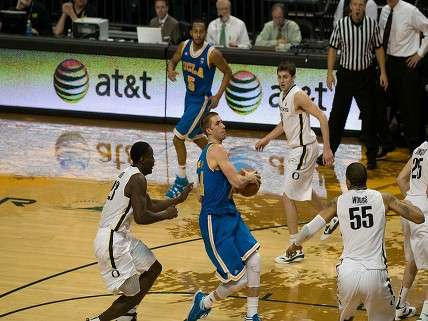 oft-referred to as March Madness, kicked off today. Over the next three weeks, 63 games will be played and over 77 million Americans will cost their employers almost $2 billion in lost man-hours as they obsess over their brackets, peak at game coverage, or kibbitz with co-workers about the most recent buzzer-beater.
In a new column at The Week, I write about the first time I immersed myself in March Madness, in 1990:
Eleventh-seeded Loyola Marymount University (LMU), inspired/haunted by the sudden death of their best player, Hank Gathers, who collapsed on the court during a game a week before the tournament kicked off, valiantly fought their way into the Elite Eight that year. Though their run concluded with a thumping by eventual champ UNLV, the most eternally memorable moment of that tournament took place in the early moments of the first round.

LMU shooting guard Bo Kimble, a natural righty, stepped to the free throw line and took a left-handed foul shot as a tribute to the fallen Gathers, his best friend since high school. I was just a kid when I saw this, but was able to grasp at its profundity. More than two and a half decades later, and having lost a number of friends far too young, watching Kimble's dignified memorial on YouTube moves me far more than any minute of grainy basketball footage has a right to.

A love affair with a unique brand of American sports mania was born. I was hooked by the beautiful chaos of 63 single-elimination games played by outstanding athletes, nearly all of whom would never be paid a dime for their efforts.
The sentimentality of Kimble's tribute aside, the tragedy of Gathers' death was compounded by the fact that he had been projected to be a top pick in the upcoming NBA draft, which would have netted him and his family millions of guaranteed dollars.
Nearly every college athlete is fully aware they will never turn pro, and most top-tier stars drop out and enter the draft before an untimely injury befalls them and inhibits their future earning power. But Gathers had promised his mother he would fulfill her dream of him becoming the first member of his family to earn a bachelor's degree. His mother accepted his diploma from LMU, 10 weeks after he died.
March Madness and college sports as a whole comprise a billion-dollar business in which the athletes are forbidden from receiving so much as a free meal, yet required to train and perform so often and rigorously that the term scholar-athlete essentially has lost any meaning. What good is a bachelor's degree if you never had the time to learn anything?
Between the games themselves and the joys of bracketology, the NCAA tournament is a consistently compelling American sports tradition. But it is an ethically compromised affair, one which leaves little security and fewer benefits for its players.
Watch Alexis Garcia's Reason TV doc "How Much is a College Football Player Worth" below: