The Charter School King
The school choice significance of Obama's new education secretary.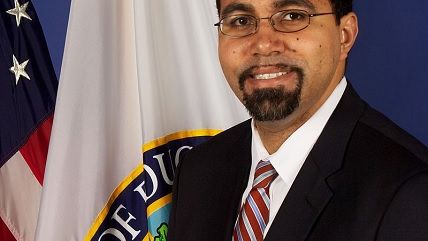 This week's bipartisan approval of Obama's latest U.S. Education Secretary in the Senate by 49-40 says less about John King, Jr. and more about the mainstreaming of school choice and charter schools in America.
John King is the first school principal and charter school founder to ever reach the top education position. He deserves his charter school accolades. He founded Roxbury Preparatory Charter School in Boston and then served as the managing director at Uncommon Schools charter school network, which now has 44 schools serving more than 14,000 disadvantaged students. In 2013 Uncommon Schools won the Broad Prize for urban charter schools for serving 98 percent African American and Hispanic students and closing the income and ethnic achievement gaps at four times the rate of other large charter school organizations across the country. In addition, Uncommon Schools' graduates earn bachelor's degrees at five times the rate of low-income students nationally.
Yet, it was not King's charter school history but instead John King's positions on more traditional education policies that proved to be his biggest obstacle to the nomination. His work as the New York State education commissioner to support and implement Common Core, his introduction of teacher evaluations partially based on student achievement, and his exams for prospective New York teachers made him unpopular with the unions, the education establishment, and some education reform groups.
In fact, during King's Senate confirmation hearing he received questions about how he would implement the new federal ESSA law, how he would manage student loan "crisis," and even about the Obama administration's opposition to school vouchers. But in response to his charter school background, the Senate committee didn't even blink. In fact the Senate education committee's top Democrat, Sen. Patty Murray (D-Wash.) said in her opening remarks that King is a strong nominee: "Through his personal background, he knows firsthand the power that education can have in a student's life." Indeed, John King is personally responsible for hundreds of low-income students receiving the opportunity for more education choice, a higher-quality education experience, and to ultimately graduate and go on to college.
According to the National Alliance for Public Charter Schools, more than 400 new charter public schools opened in the 2015-16 school year, and more than 250,000 additional students are attending charter schools this year. Overall, nearly 3 million students are now attending more than 6,800 charter schools nationwide. This doesn't even tell the full story. Individual cities and communities are greatly benefiting from charter schools becoming the majority provider of education services.
New Orleans is the case in point, with 100 percent of students enrolled in charter schools. And the news out of the Big Easy for kids has never been better. A 2015 study by Tulane University found that the charter reforms seem to have moved the average student's achievement up by 0.2 to 0.4 standard deviations. That's enough to improve a typical New Orleans student's achievement by 8 to 15 percentile points. The reforms have also increased rates of high school graduation and college entry. The Tulane researchers make the strong claim that "we are not aware of any other districts that have made such large improvements in such a short time." In addition, the New Orleans achievement gains were greater than gains found from other popular education reforms like preschool attendance and class-size reduction and were accomplished for around 25 percent of the cost of those other reforms.
John King's ultimate impact on federal education policy given the brief time of his term may be minimal, but his nomination is perhaps most important for its signaling about the future of school choice and charter schools. Neerav Kingsland, who is the former leader of New Schools for New Orleans, current education program director at the Arnold Foundation, and is heading up Netflix founder's Reed Hastings $100 million philanthropic education fund, writes at his popular education blog Relinquishment that there are now "more students enrolled in charter schools than there are teacher union members." He explains that teacher union members are in decline with less than 50 percent of teachers in unions. Kingsland predicts that in 5 years more than 5 million students will be enrolled in charters and that "charter school parents will outnumber teacher union membership by 2-3x" Kingsland concludes his musings by asking these questions: "Who will be the education base of the Democratic Party in 2024? And what if it is the children of other union members (construction, hospitality, etc) that are enrolling in charter schools? What alliances will form?"
John King's nomination provides one answer. Apparently, charter schools are moving into a new normal where working as a charter school founder and advocate is no longer enough to disrupt the nomination of a top federal education policymaker. As a symbol of how we want to do education in the future, John King's charter school legacy speaks louder for the future of school choice and charter school expansion than any specific education policies or words.