Expelled Yale Basketball Captain Says Sex Was Consensual—They Spent Night Together Afterward
Is Jack Montague a victim of Title IX overreach and due process abridgment?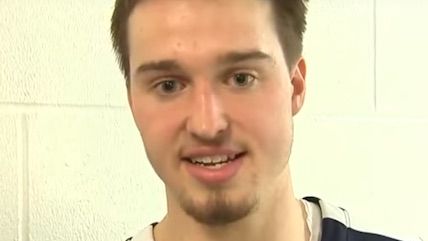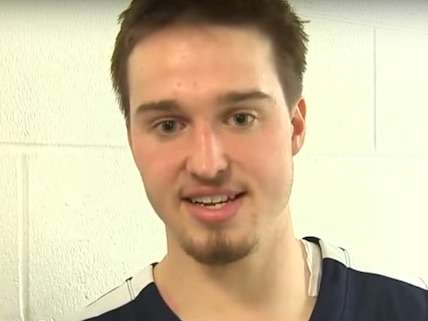 The next major campus rape dispute is already here: Jack Montague, a former captain of the Yale University basketball team, was expelled for sexual misconduct after a female student accused him of rape. He is now suing the university.
Montague's alleged victim filed the complaint with a Yale Title IX coordinator in October of 2015—a year after the alleged assault occurred.
The reason for Montague's expulsion became public only recently. At a recent game, his teammates wore shirts bearing Montague's nickname, "Gucci" in support of their missing captain, which prompted some on campus to complain that the team was making light of sexual assault.
Finally, on Monday, Montague's legal team commented publicly on the former student's situation, confirming it as a sexual assault dispute.
"We strongly believe that the decision to expel Jack Montague was wrong, unfairly determined, arbitrary, and excessive by any rational measure," wrote Max Stern, Montague's lawyer, in a statement. "Yale has been oblivious to the catastrophic and irreparable damage resulting from these allegations and determinations. The expulsion not only deprives Jack of the degree which he was only three months short of earning, but has simultaneously destroyed both his educational and basketball careers."
According to the statement—which represents only one side of the story, though it presents most of the details of the encounter as uncontested—Montague had sex with an unnamed female student on four occasions. The first three were deemed consensual by all parties: only the fourth is in dispute.
Their fourth encounter, according to the female, was not consensual. Montague disagrees. According to his lawyer:
On the fourth occasion, she joined him in bed, voluntarily removed all of her clothes, and they had sexual intercourse. Then they got up, left the room and went separate ways. Later that same night, she reached out to him to meet up, then returned to his room voluntarily, and spent the rest of the night in his bed with him.
She reported this encounter as sexual assault one year later. A panel sided against Montague based on a preponderance of the evidence, and he was expelled on February 10.
At this point, these are the only details to which the public is privy. Some have suggested the fact the female student climbed back into bed with Montague afterward casts doubt upon her accusations. Of course, there might be additional evidence that strengthened her claim in the eyes of the Title IX officials.
But in all too many university sexual assault cases, evidence that helps the accused is ignored and the accuser's word is effectively treated as sufficient to convict under the preponderance of evidence standard.
I don't know whether Montague is guilty of sexual misconduct. But if it ultimately came down to his word against hers, the university should have cleared him of wrongdoing—innocent until proven guilty, and all that.
It's too early to say whether Montague is a victim of a gross miscarriage of justice, though that may well be the case. For now, the fact that he is suing Yale for abridging his due process rights should serve as a good reminder that universities are ill-equipped to adjudicate sex crimes. Please, let cops and courts deal with rape.