Donald Trump's Victory Speech Is a Reminder That He's the Ultimate Scam Pitchman
Trump the brand and Trump the candidate are inseparable.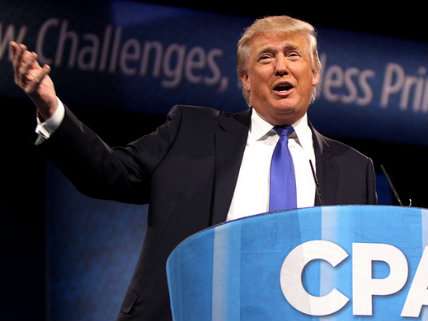 Donald Trump had a very good day at the polls.
He won primaries in Michigan and Mississippi by decisive margins. And he crushed Marco Rubio, the target of his ire and mockery over the last week, by huge margins. Rubio finished in fourth place in both states, failing to get to double digit support in either state. (There's still Idaho!)
At this point, the Florida senator is no longer even winning the expectations game. Rubio, the Republican establishment's last great hope, looks increasingly like a lost cause.
Trump converted his electoral victories into an extended, nationally televised victory speech and press conference. For the most part it was pretty standard stuff: He touted himself as the most conservative candidate, railed against trade, offered a lengthy read of his polls (Trump is obsessed with his polls, and talks about them in detail; he often seems like a tour guide at the Museum of Donald Trump Polls), and trashed his rivals and critics—Mitt Romney, Lindsey Graham, and, of course, Marco Rubio.
He also took the opportunity to hawk Trump-branded products. The event was stocked with Trump wine, Trump water, Trump rose, and even, reports said, Trump steaks. Yes, Trump was literally offering red meat to his supporters.
But contrary to his claims, possibly not his own, Trump-branded red meat. Trump Steaks were discontinued shortly after their introduction in 2007, joining many other Trump businesses in failure. This is not exactly surprising, given the reviews. Although Trump billed them as the "world's greatest steaks," reactions were generally dismal, with one buyer saying the meat had "no redeeming qualities."
Trump opened his victory event tonight by touting his various products, including his magazine, which he proudly displayed for the cameras. Never mind that many of these products were long gone, business failures of the kind that have dogged Trump, whose businesses have gone bankrupt on multiple occasions, throughout his life. That includes Trump steaks. The red meat he served tonight was not his own product—which probably would have been rancid by now—but, some un-discarded wrappers suggested, Bush Brothers steak. Bush Brothers! Now that is some nuclear strength irony.
In any event, Trump's speech tonight was a reminder that he does not really distinguish between his candidacy and his brand, and that he is not really a businessman, a real, practical expert in the art of making deals, but a glorified infomercial pitchman, selling scam products to the gullible based on his name. And his main product in 2016 is own Trump-branded candidacy—his biggest scam of all.