Turkey's Crackdown on Free Press Makes it Barely a Democracy Anymore
NATO ally aspires to join EU, but its government just violently seized the nation's largest newspaper.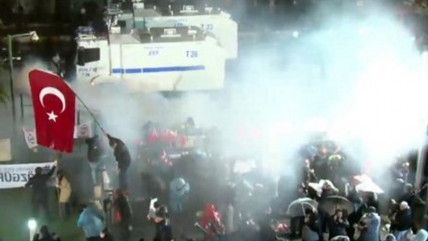 Turkey, a NATO ally with aspirations of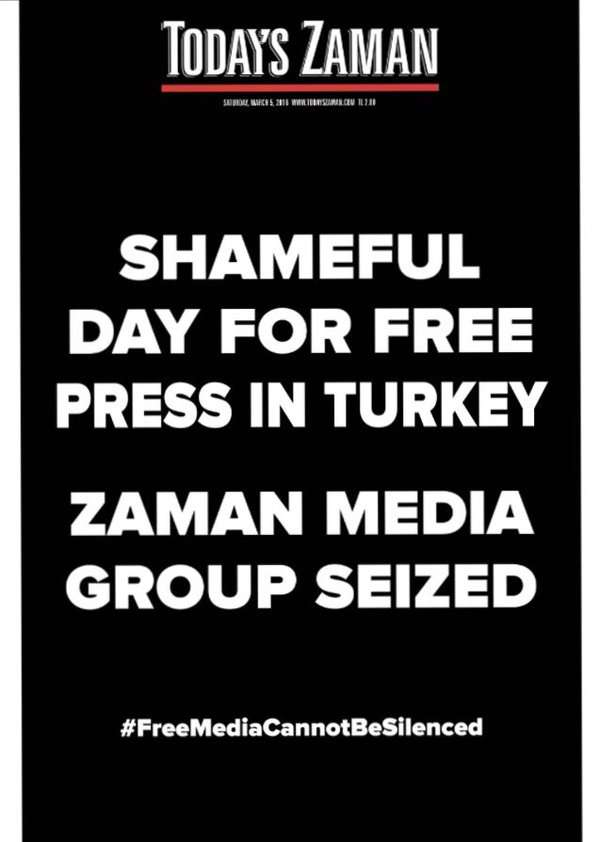 joining the European Union (EU), is increasingly resembling a dictatorship. President Recep Tayyip Erdogan's latest slouch toward authoritarianism was last week's seizing of the nation's best-selling newspaper, Zaman.
Zaman was an independent media source and frequently critical of Erdogan's regime. But after the government takeover of its offices by gunpoint, and the firing of its senior editorial staff, the paper is now loaded with pro-Erdogan stories. Sevgi Akarcesme, the former editor-in-chief of the paper, wrote on Twitter, "In less than 48 hours, the new admin turned seized Zaman into a propaganda piece of the regime in Turkey."
Almost immediately, access to the paper's website was blocked, reporters' email were accounts locked, and the deletion of 30 years worth of digital archives began by the new government-installed editorial leadership.
The Guardian wrote yesterday that "Turkey is a country at the mercy of one man's bad temper" and Erdogan's "personality is not suited to any kind of adversity." Indeed, such little tolerance for dissent exists in present-day Turkey that almost 2,000 people have been prosecuted for "insulting the President" in the past year and a half. The New York Times reports that "among the offenders are journalists, authors, politicians, a famous soccer star, even schoolchildren."
Mapping Media Freedom reports that of the 15 journalists killed around the world since July 2014, 7 have died in Turkey. In 2012, Reports Without Borders called Turkey "the world's biggest prison for journalists" and that same year, the Committee to Protect Journalists released an exhaustive report titled, "Turkey's Press Freedom Crisis."
The International Press Institute recently released a press release which read in part:
IPI condemned Turkish authorities' presentation of an indictment seeking to imprison two well-known journalists for life over reports claiming that Turkey's intelligence agency secretly armed Islamist rebel groups in Syria. The journalists, Cumhuriyet Editor-in-Chief Can Dündar and Ankara Bureau Chief Erdem Gül, are currently being held in pre-trial detention at Silivri Prison, west of Istanbul. Delegates from a coalition of leading international free expression and press freedom groups travelled to Silivri on Jan. 27 to demonstrate support for Dündar and Gül and to protest officials' refusal to grant them – and Turkish journalists in general – permission to visit the pair.

While Turkish journalists have thus far borne the brunt of a widespread and multifaceted crackdown on free expression, foreign journalists have also been targeted. Last September, Turkey deported a Dutch journalist, Fréderike Geerdink, whom prosecutors had accused of spreading terrorist propaganda. In August, authorities detained three foreign VICE News reporters on similar terrorism-related offences, two of whom, both British nationals, were released shortly thereafter. The third, Iraqi citizen Mohammed Rasool, was held until last month.
Writing for the Columbia Journalism Review, Joel Simon says that Turkey's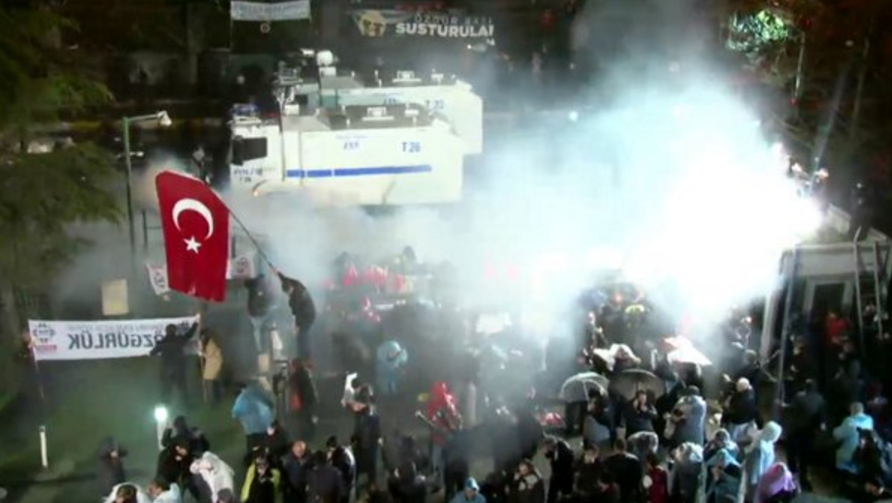 transformation into a "neo-authoritarian state" has come about in part because Erdogan feels no pressure from the international community's toothless condemnations of his assault on the free press:
The escalating media repression in Turkey also shows the "name and shame" strategies that are the mainstay of human rights advocacy are no longer effective. This approach requires systematic documentation of the abuses being committed, then relentless and sustained pressure on the local government to address them. It's a strategy that works well when officials care about what the rest of the world thinks. In Turkey, that no longer appears to be the case.

The endless press conferences, international delegations, solidarity visits to newsrooms, and meetings with Turkish government officials may have tempered some of the worst abuses, but they have failed to shift the balance.
The EU is set to meet with Turkish leaders today, but since the Brussels-based bureaucracy desperately needs Turkey's support in stemming the flow of migrants and refugees into Europe, and also relies on the country to battle ISIS-linked extremists, it's unlikely the EU will apply any significant pressure over its ongoing human rights abuses.
Watch footage below of police using tear gas and water cannons to chase away demonstrators amassed outside Zaman's offices, who reportedly chanted "free press cannot be silenced" before being attacked by authorities: