A.M. Links: GOP Debate Tonight, Romney vs. Trump, More Email Troubles for Hillary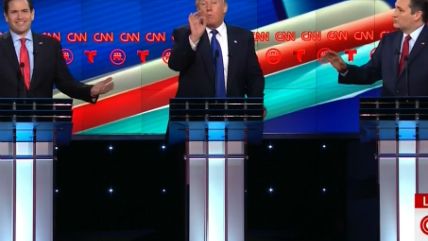 Mitt Romney, the Republican Party's 2012 presidential nominee, will deliver a speech today attacking Donald Trump. "His promises are as worthless as a degree from Trump University," Romney is expected to say.
"The Justice Department has granted immunity to a former State Department staffer, who worked on Hillary Clinton's private email server, as part of a criminal investigation into the possible mishandling of classified information, according to a senior law enforcement official."
Defense Secretary Ash Carter weighed in on the privacy showdown between Apple and the FBI, saying that encryption technology is "absolutely essential" from the Defense Department's point of view. "We are squarely behind strong data security and strong encryption, no question about it."
Follow us on Facebook and Twitter, and don't forget to sign up for Reason's daily updates for more content.