Tina Fey Calls Out The Oscars for Political Correctness, Liberal 'Hollywood Bullshit'
'Everyone is telling me what to do, and people are yelling at me about rape and corporate greed and climate change.'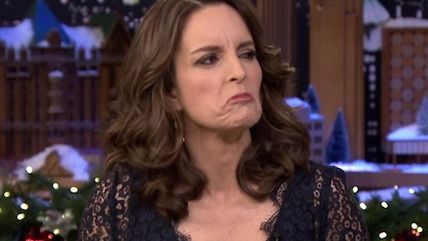 Tina Fey blasted this years Oscars show for its over-the-top political correctness and predictably liberal preaching.
"Halfway through, I was like, 'This is some real Hollywood bullshit,'" she told Howard Stern on Tuesday. "Everyone is telling me what to do, and people are yelling at me about rape and corporate greed and climate change. It's like, guys, pick a lane."
Fey was probably referring to Lady Gaga's performance of The Hunting Ground's "Until It Happens to You," which featured survivors of rape taking the stage; The Big Short's Adam McKay, who called out rich people for buying elections in his acceptance speech after winning Best Adapted Screenplay; and Leonardo DiCaprio, who rambled on about climate change during his Best Actor speech.
""They're like, 'We're going to fix everything tonight.' Like, you're all rich," said Fey. "Why are you yelling at me about corporate greed?"
This not the first time Fey has made such criticisms. She previously announced that she was done apologizing for offensive jokes after some on the left accused an episode of her show, Unbreakable Kimmy Schmidt, of racial insensitivity.
"Let's face it, actors are very stupid," she said.
Later, she defended DiCaprio against Stern's accusations that he is a misogynist because he sleeps with a lot of 18-year-old models.
"Is it misogynistic to sleep with a bunch of women who want to sleep with you?" asked Fey. "I don't think it's misogynistic. I think everybody there is up for it."
[Related: Would Chris Rock's Edgy Oscars Monologue Get Him Banned for a College Campus?]