Would Chris Rock's Edgy Oscars Monologue Get Him Banned from a College Campus?
The comedian confronted Hollywood's race problem, but not in a way that would please the PC left.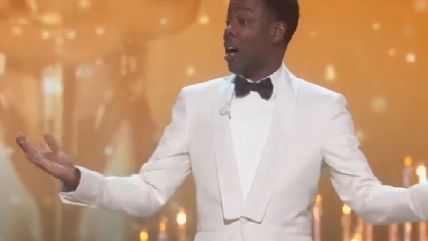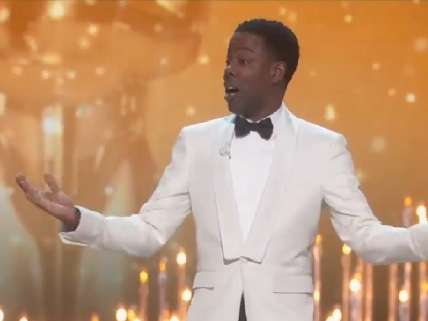 Chris Rock's opening monologue at the 2016 Oscars was a revelation: It was funny, it was edgy, and it addressed Hollywood's race problem without letting liberals off the hook.
Much attention has been paid to the fact that no persons of color were nominated for any Oscars this year, and Rock—as a black comedian—was under some pressure to drop out as the host of the ceremony. Instead, he addressed the controversy head on.
"Everybody went mad this year," said Rock. "Jada [Pinkett Smith] got mad. Jada said she's not coming. Isn't she on a TV show? Jada boycotting the Oscars is like me boycotting Rihanna's panties. I wasn't invited."
He also added a much-needed sense of proportion by recalling that black people used to have more serious problems than a lack of awards.
"We had real things to protest," Rock said. "When your grandmother is swinging from a tree, it's really hard to care about Best Documentary Foreign Short."
The implicit political message of Rock's monologue was that racism still exists in Hollywood—and we ought to be upset about it—but we shouldn't pretend that this kind of racism is as consequential as, say, racism in America's police departments.
Rock also called out the #AskHerMore campaign, which asserts that journalists ask too many questions about female Oscar attendees' attire. He said the reason women get asked more questions about fashion than men do is obvious: the men at the awards shows are all wearing the same thing.
Rock's general contempt for political correctness is well known. It's why he doesn't bother playing college campuses anymore: liberal students are humorless and easily offended.
I wonder how many students who caught Rock's monologue had to flee to a safe space because of it?