Iranian Media Pledges $600,000 to Murder Salman Rushdie
Fatwas never die, even on Election Day.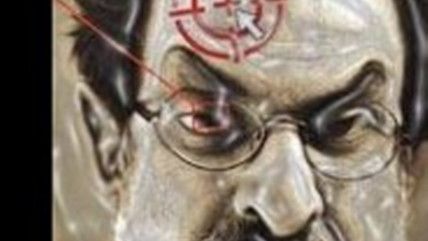 It's election day in Iran and record turnout is expected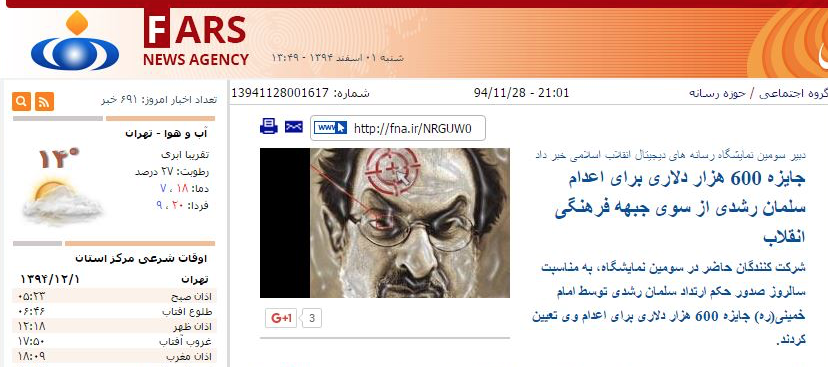 among voters choosing a new Parliament and Assembly of Experts (the religious elites who choose the Supreme Leader). The elections are widely seen as a referendum on the policies of "moderate" President Hassan Rouhani, as well as the nuclear agreement reached on his watch.
The deal has given Iran hope for significant economic progress following a decade of crippling sanctions, but over the past week, hope that the country might emerge from its theological dark ages dimmed a bit.
As reported by Reuters, 40 Iranian news outlets have kicked in roughly $600,000 to add to the millions of dollars already pledged to the 27-year-old bounty on Satanic Verses author Salman Rushdie's head.
The fatwa, or religious ruling, was originally decreed by Ayatollah Ruhollah Khomeini, who deemed Rushdie's novel "blasphemous" in 1989. Though a previous reform-minded Iranian president declared the fatwa "completely finished" in 1998, Khomeini's successor, Ayatollah Ali Khamenei reasserted the standing death sentence on the British author in 2005.
The New York Times editorial board thinks the renewal of calls to assasinate Rushdie, who was forced to live in hiding for more than nine years, is a craven distraction by Iranian hard-liners timed to influence the election:
Though Iran's hard-line political leaders have stacked the electoral deck in their favor by culling reformists from the roster of approved candidates, they are taking no chances that moderates might be elected. Since a large voter turnout is thought to favor moderate candidates, dragging up the old fatwa against Mr. Rushdie is, as the reformist journalist Mojgan Faraji observed, intended to overshadow the elections and cause a stir to make "other issues more important than voting."
A spokesman from the National Council of Resistance of Iran (NCRI), a group that describes itself as a "inclusive and pluralistic parliament-in-exile," said this about the official new calls and upgraded rewards for murdering a writer:
This once again clearly shows that terrorism is intertwined with the very existence of this regime as one of the pillars of its survival. The mere fact that even the so-called media in this regime allocate a budget for terror manifests that all of the regime's institutions are geared toward its ominous objectives. It's simply ludicrous to think that one can reach out to some parts of the ruling theocracy to bring about moderation.
Rushdie is on a self-imposed Twitter break and hasn't yet commented on the latest threats to his life from the government of a nation-state currently attempting to convince the world of its peaceful intentions, but a recently published open letter in The Guardian shows he has the support of a growing number of activists, artists and intellectuals.
Notably missing from the list, however, are all the writers who clashed with Rushdie last year over his support of PEN American's decision to honor the murdered cartoonists of Charlie Hebdo for bravery in free expression, who like Rushdie continued to stay true to their iconoclastic artform even in the face of terror.
Speaking of potentially offesnive art, below you can check out the 1990 Pakistani film, International Gorillay (International Guerrillas), or as it's titled on Youtube, "Flying Korans kill infidel Salman Rushide with lightnings and fire."