The Pope Supports Migrants, not Trump, Obama to Visit Cuba, Cosby Files New Suit Against Accuser: P.M. Links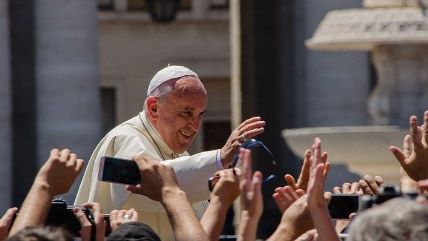 Credit: Alfredo Borba

Pope Francis visited the border between Mexico and the United States and appealed to governments to be sympathetic to plight of migrants.

But in much, much more important news Pope Francis also said that Donald Trump is "not Christian" for his anti-immigrant, pro-wall positions. So that's what the news cycle is all about. Even the pope has to start a fight with Trump to get publicity.
President Barack Obama will become the first sitting president to visit Cuba in 88 years.
The economist who claims that Bernie Sanders' economic agenda will actually increase growth and not utterly destroy us all is nevertheless going to vote for Hillary Clinton in the primaries.
Bill Cosby is filing a civil suit against one of the women who has accused him of sexual assault, accusing her of breaching the confidentiality agreement from back in 2006 that settled her complaint and demanding the money he gave her back.
The feds are dropping charges against the six other employees of gay escort site Rentboy.com, leaving only CEO Jeffrey Hurant facing the court.
To appeal to millennial gamblers, casinos are trying to get regulators to allow slot machine variations that actually call for skill to win rather than just chance. Video games and pinball are the inspirations, which is funny if you know the early history of pinball machines (they were often used for illegal gambling).
Follow us on Facebook and Twitter, and don't forget to sign up for Reason's daily updates for more content.