Transgender Activist Tells Gay Students Their Kinky Tumblr Posts Are 'Triggering'
Trans activist demands safe space from other people's blog images.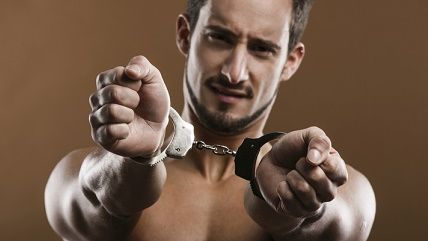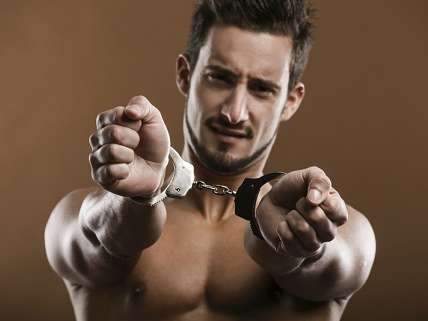 Should adults stop posting naughty pictures of themselves—on their own blogs—because the images are considered "triggering" by an unhinged transgender activist?
Of course not, says sex columnist Dan Savage, in response to an insane letter from a gay man whose consensual BDSM relationship with another student is traumatizing a completely unrelated third party. Said third party, the trans activist, has threatened reprisals against the couple unless they stop posting pictures of their kink sessions on Tumblr.
According to the letter—which, to be clear, is anonymous and unverifiable—the trans activist has nothing to do with the couple: "ze" is simply triggered by the mental image of them dominating each other. Read for yourself:
I'm a gay male college student in a healthy [dominant/submissive] relationship with a bisexual guy. My boyfriend posts pictures of our kink sessions to his Tumblr. (No faces.) A trans woman active in campus queer politics confronted me today. Ze had seen my boyfriend's Tumblr (!) and recognized me (!!!). Ze demanded I stop engaging in BDSM because ze has to see me on campus and knowing my boyfriend "controls and abuses" me is triggering for zir. Ze said images of me in medical restraints were particularly traumatizing. Ze was shaking and crying, and I wound up comforting zir. I stupidly let zir think I would stop. Now what?
Scenario Utterly Bananas
P.S. Ze also threatened to out my boyfriend if ze saw new pictures go up on his Tumblr. My boyfriend is already out—about being bi and being kinky—so he laughed it off. But how fucked up is that?
Indeed, that's quite messed up. Here was Savage's advice:
You tell this woman you take orders from your boyfriend, SUB, not from random campus nutcases. You advise zir to stay away from Tumblr porn ze finds traumatizing. And if ze pushes back, you explain to zir that if anyone's being controlling and abusive here, it's zir. And if ze starts shaking and crying, SUB, direct zir to the student health center.

And for your own protection, SUB, tell zir all of this with at least one witness present. Document everything, and if ze keeps getting in your face about your consensual, nonabusive D/s relationship, take the ironic step of filing a restraining order against zir.
It would seem that conservatives no longer have a monopoly on harassing gay people and trying to police what's happening inside their bedrooms. The authoritarianism of perpetual offendedness—which often masquerades as mental health concerns, at least on campuses—allows left-leaning students to place both formal and informal checks on totally harmless kinds of expression they have nevertheless deemed unsafe.
The situation described in the above letter, however, represents something of a new low. Are students now actually claiming the right to restrict private behavior that has absolutely nothing to do with them? If so, true progressives on campus must push back as firmly as possible (even though that probably counts as assault nowadays). Tolerance means letting people do what they want with their own bodies—something a trans person ought to understand—not imposing one's fragile emotions on as many victims as possible.
Sorry if that's triggering.