Is Beyonce's Song "Formation" Responsible for Soaring Red Lobster Sales?
"When he f**k me good, I take his ass to Red Lobster," sings Queen Bey, and suddenly every day is Lobster Fest.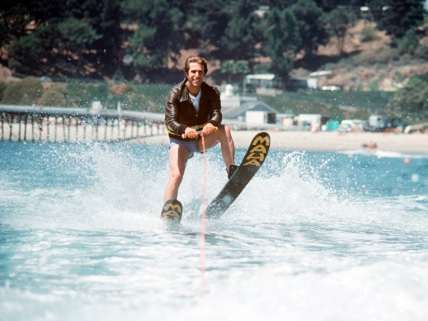 I'm always skeptical when any sort of trend is directly attributed to a pop-culture happening, but you never know. In the past, plummeting undershirt sales have been attributed to Clark Gable not wearing one in It Happened One Night and Happy Days' auteur Garry Marshall still swears (sans evidence) that an episode in which Fonzie got a library card saved the country from the brink of mass illiteracy. Oddly, Marshall failed to note a meteoric increase in shark-jumping incidents after another, even-more-celebrated episode of Happy Days.
The latest instance has at least better timing. Red Lobster, the seafood chain, is attributing at least part of its recent 33 percent spike in receipts to what its CEO is calling a "Beyonce Bounce." The singer, who appeared as part of the halftime show on Sunday's Super Bowl, warbles in her new hit "Formation" that "When he fuck me good/I take his ass to Red Lobster."
YouTube

"We are absolutely delighted with what we saw over the weekend, particularly the consumer sentiment that we saw expressed," Kim Lopdrup, CEO of Red Lobster, told CNBC. "It's clear that Beyonce has helped create some Red Lobster fans, and we are very grateful to her for that."
Well, maybe. As NBC News notes, other factors may be at work, too: "The restaurant traditionally experiences a spike in sales during this time of year due to their annual 'Lobster Fest' promotion," a Super Bowl weeked, and the near-start of Lent (during which many Catholics abstain from meat) have also got to be thrown into the mix.
Because the media is so serious about tracking the effects of popular culture on mass behavior, we'll check in later in the month to see if Red Lobster's surge keeps pace with plays of "Formation" (which is approaching 18 million views on YouTube as of this writing).
And perhaps if that long-rumored Nicki Minaj track name-checking Long John Silver's as her preferred post-coital eatery ever comes out, we'll be able to run a natural experiment on the whole concept once and for all.
On Shrove Tuesday (last meat, anyone?), here's the uncensored version of "Formation" (NSFW):