Clinton, Sanders Think Feds Should Save Flint. Here's Why They're Wrong.
A state matter, not a federal one.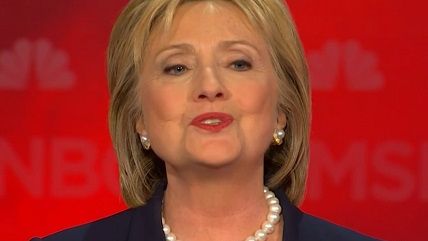 During the New Hampshire Democratic debate, Hillary Clinton and Sen. Bernie Sanders agreed that the federal government should do everything it can to alleviate the water crisis in Flint, Michigan. But the suffering people of Flint don't need a bailout from the feds—the state has a moral responsibility, and more than enough funds, to handle the matter.
"If Michigan won't do it, we need to move forward and make them pay," said Clinton, implying that she wants the federal government to authorize funds and then bill the state later.
"When you have one of the significant public health crises in recent years, of course the federal government comes in," said Sanders. He also called for Republican Gov. Rick Snyder's resignation.
It's true that Snyder's people made a colossally bad call in deciding to use the Flint River as a water source. And it's true that regulatory agencies—like the EPA and Michigan's Department of Environmental Quality—royally screwed up. State and local officials are ultimately culpable.
As Reason's Shikha Dalmia noted earlier today, the state of Michigan can and should make Flint whole again:
None of this is to suggest that Uncle Sam ought to feel compelled to hand Michigan extra cleanup dollars as some are suggesting (although the EPA has a hand in poisoning Flint residents too by staying mum when it knew that city water wasn't being treated for lead corrosion). That'll only create a moral hazard and make state leaders less accountable for screw-ups in future. Michigan Republican Rep. Justin Amash is entirely right that the state needs to take responsibility for the residents it poisoned and up its $28 million contribution. For example, it can divert the $30 million it spends on a totally useless Pure Michigan ad campaign to pay their medical bills.
In the meantime, corporations—that's right: greedy, unfeeling, profit-grubbing corporations—are donating millions of bottles of water to the people of Flint.
[Related: Republicans Vow to Hunt Down Flint Emergency Manager Responsible for 'Government-Made Catastrophe']