WATCH: 5 Months in Jail for Anti-Semitic Tweets
When does free speech become a threat?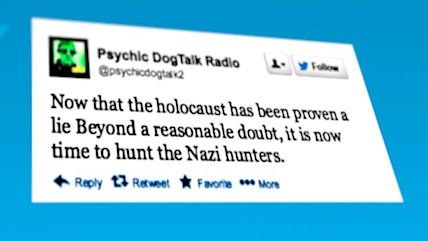 Did police avert a mass shooting in the picturesque mountain town of Whitefish, Montana, when they apprehended a young man following a string of disturbing social media posts? A handful of citizens and activists believe so.
"We do a lot of hand-wringing and praying and calling for action after school shootings. Here's a case where, potentially, a school shooting was averted," says Francine Roston, one of two rabbis living in Montana's Flathead Valley.
When does constitutionally protected free speech cross the line into threatening speech? For deeper look at this case and its implications for free speech in the social media age, watch the Reason TV video above, and check out Elizabeth Nolan Brown's previous coverage.
Approximately 7:37. Produced by Zach Weissmueller. Field producers are Paul Detrick and Alex Manning. Additioinal camera by Alexis Garcia. Music by Chris Zabriskie and Lee Rosevere. Additional photography provided by Greg Lindstrom and the Flathead Beacon.
Full text and downloadable versions at the link below.