Turnout Determined the Winner in Iowa, But Not in the Way Everyone Expected
The polls miss again.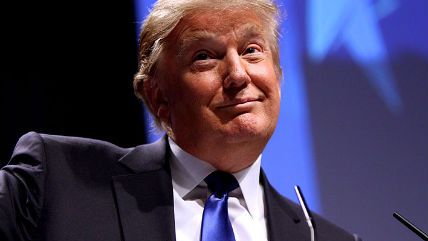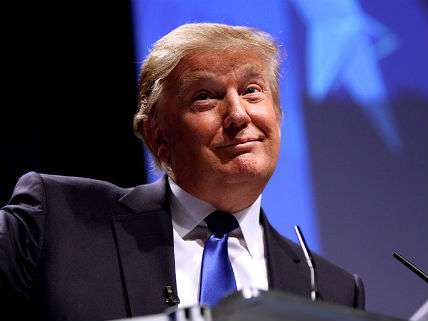 I was wrong, and so were the polls.
On the eve of the Iowa caucuses, surveys indicated that Donald Trump was likely to finish about seven percentage points ahead of Sen. Ted Cruz. Instead Cruz pulled out a solid win, and Trump finished barely ahead of second-runner-up Sen. Marco Rubio.
Add it to the growing list of times pollsters have failed us over the last four years. (Side note: Wondering what that suddenly keeps happening? Check out my feature from the February issue of Reason, "Why Polls Don't Work.")
Conventional wisdom had it that the determining factor last night would be voter turnout—and it was, but not in the way people were predicting. It's true that Trump supporters are concentrated among "irregular" voters like people who call themselves Republicans but are actually registered Democrats. It's also true that Trump's chances of winning Iowa turned on his ability to mobilize those supporters to show up and caucus for him.
But it turned out not to be true that record turnout necessarily meant good things for the reality star. What people overlooked, myself included, was that there are two ways to grow an electorate: from the ranks of demographic groups that vote in lower numbers, and from the outliers within demographic groups that vote in higher numbers.
Take evangelical Christians. According to Drake University, in 2008 they made up 57 percent of Iowa GOP caucusgoers—a majority. But fast-forwarding to last night, entrance polls found evangelicals making up 64 percent of the GOP electorate. That's a big increase for a group that already had a tendency to show up.
Some 180,000 Iowans participated in the 2016 GOP caucuses, a record high by an enormous margin. But instead of most of that increase coming from less-educated, blue-collar, and moderate voters, a lot of it came from college graduates and evangelicals.
Not coincidentally, these are the same groups Cruz and Rubio do well with.
The Floridian won college-educated caucusgoers, those whose top issue is the economy and jobs, and those who value electability. The Texan won people with "some college," those who prioritize that their candidate "shares my values," and born-again or evangelical Christians. Cruz took a third of voters in the last category, more than any of his opponents by double digits.
There are a couple of explanations for how Cruz pulled this off. One was his larger-than-life emphasis on faith and conservative values, especially important in a place like Iowa. In his victory speech last night, he made a point of thanking the state "for welcoming my father"—a Christian pastor—"to preach from the pulpits of your churches." Cruz sought and received endorsements from a number of evangelical leaders. And as Scott Shackford wrote yesterday, he campaigned hard on his opposition to gay marriage:
This isn't a new or sudden gesture for Cruz. He staked out territory in opposition of the Obergefell decision long before the Supreme Court ever ruled, calling for legislation or even a constitutional amendment guaranteeing that states have the authority to decide whether to recognize same-sex marriage. At a rally in Iowa on Sunday, Cruz brought out Duck Dynasty star Phil Robertson to call gay marriage "evil" and "wicked" and added "They want us to swallow it, you say. We have to run this bunch out of Washington, D.C. We have to rid the earth of them."
The other explanation is that Cruz's meticulously targeted ground game made the difference. It's been widely reported that his campaign, unlike Trump's, has invested heavily in reaching persuadable voters. The businessman's supporters might be passionate, the thinking went, but Cruz's are organized. Wrote The New York Times on Saturday:
Mr. Cruz's campaign boasts a chairman or chairwoman for each of Iowa's 99 counties, captains in 1,537 of the state's 1,681 precincts, and 10,000 people from this state and beyond who have volunteered to help in the final push. … [His supporters] were making more than 15,000 calls a day, with a refined list of exactly which voters they have identified as up for grabs.
That bet paid off, much as a similar one did for Barack Obama in 2008 and 2012. As one consultant put it on Twitter:
Tonight was a huge win for GOP campaigns that spent on digital, data & field. Those that bet on the power of TV alone, earned or paid, lost.

— Rob Saliterman (@RobSaliterman) February 2, 2016
But perhaps the most overlooked explanation for what happened in Iowa last night is that a lot of people really don't like Donald Trump. Way back in July I made the case that his high unfavorables and penchant for saying outrageously inappropriate things would be the reality star's undoing. It seems there was a stronger anti-Trump current in Iowa than the polls, for one reason or another, picked up on—strong enough to drive turnout to unprecedented heights and overwhelm any surge of Trump supporters that did materialize. Fully 70 percent of people who had never been to a caucus before cast their lot with someone other than Trump. Among late-breaking voters—those who only decided who they were supporting in the last few days—just 13 percent chose the real estate mogul.
Whether the same thing will happen in New Hampshire and on down the line remains to be seen. Almost nothing this cycle has played out how I thought it would this time last year. But it's telling that Trump's stock on the betting markets, which had been ticking up alarmingly over the last few months, plummeted last night. As of now, Rubio is seen as not just more likely than his competitors to be the Republican nominee, but as more likely than not.