This One Tweet Illustrates Why Bernie Sanders' Crusade Against Campaign Financing is So Silly
Jeb Bush said what?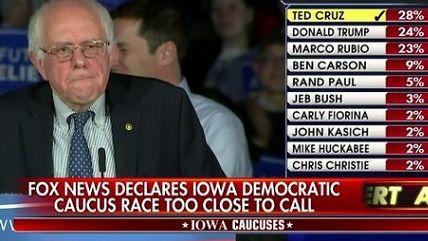 Democratic presidential candidate Sen. Bernie Sanders (I-Vt.) was on the television just now, declaring victory in Iowa, which is currently a dead heat between Sanders and Hillary Clinton with 94 percent of votes in. Watch the blog for a write-up of the Democratic race coming soon. But in the meantime, here's a tweet from Fox News that inadvertently undercuts Sanders' quioxitic campaign against money in politics:
.@SenSanders: "We can no longer continue to have a corrupt campaign finance system." #IowaCaucus #YouDecide2016 pic.twitter.com/Y1vyOiLdCg

— Fox News (@FoxNews) February 2, 2016
Super PACs supporting Jeb Bush spent more money than Super PACs for any other candidate. Right to Rise, a pro-Bush Super PAC spent up to $25,000 per vote Jeb Bush got. Why? Because campaign spending has very little influence on actual election results. Instead, attempts to curb money in politics are actually attempts to limit dissident speech in politics, which the real world application of "campaign finance reform" ideas bears out.
So, yeah, Sanders doesn't want billionaires' money now. What he actually means is he doesn't want them to spend it to support speech that might question his plans to take their money and waste it on a massive exercise in signalling interest for the poor while actually doing nothing to alleviate it, and actually contributing to the problem.