Donald Trump's Anti-Immigration Views Aren't Conservative; Neither Are Many Conservatives'
Where did Donald Trump's sentiments come from?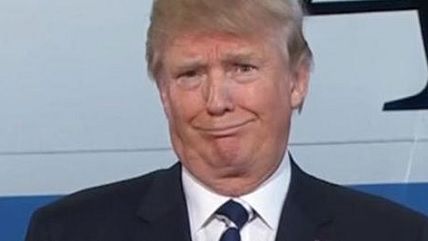 National Review, a great magazine well known for having essentially invented American-style conservatism, seems like it's in an awkward position. Its editors dedicated the most recent issue of the bi-monthly to stopping an ascendant Donald Trump ("Against Trump" was the cover title) for among other things not being a conservative, but then Trump prominently shares the magazine's increasingly open opposition to immigration. Though its editors would almost surely disagree, a possible reason the very much at odds National Review (NR) and Trump are both anti-immigration is because such a stance is itself anti-conservative.
To see why, consider NR's January 25th issue. The always entertaining opening section (titled "The Week") began with the following:
"Trump is wrong. Cruz is a natural-born citizen. But at least Trump is consistent about wanting to stop foreigners from taking jobs from low-skilled Americans."
The part about protecting American jobs for American workers isn't the first time the magazine has expressed such a view. It reads as anti-conservative mainly because conservatism has historically been associated with things like private property rights, small government, free trade and markets, openness to technology, disdain for central economic control, along with dislike of affirmative action. NR's immigration stance arguably runs against all that was previously mentioned, and surely more.
It's wasting words to say that private property is fairly basic to conservatism. It's to conservatism what an engine is to a car. Applied to immigrants, they generally come to the U.S. in order to fulfill stateside demand for their labor (more on this in a bit), yet NR would prefer barriers of the legislative kind to this inflow. Forget about many immigrants trying to escape tyrannical governments decried by NR, forget about how much government would have to grow in order to modestly keep some foreigners out, and forget about whom privately owned businesses would prefer to hire, NR has different views when immigration enters the discussion. While there's much to dislike about the recent spending bill shepherded by House Speaker Paul Ryan, one of NR's biggest critiques of the legislation was that "Republican voters are clearly anxious about large-scale immigration and frustrated that the federal government repeatedly demonstrates no interest in doing anything about it."
NR's stance on immigration unwittingly reveals contempt for the hiring preferences of private business, and this goes well-beyond the hiring needs of companies who might otherwise add "low-skilled Americans" to their roster of employees. About the near-term expansion of the H2-B visa program (visas for non-agricultural or temporary service jobs) in the aforementioned spending bill, NR similarly lamented in "The Week" that it would "needlessly" quadruple "the issuance of visas to foreign workers."
Such a view is interesting beyond what the position needlessly puts NR in on the subject of private property. The magazine is clearly in favor of the latter, but its immigration stance requires it to always be in favor of private property so long as businesses don't presume to hire whom they want.
NR is most certainly for free markets, it would probably dismiss in humorous fashion any legislation from Harry Reid or Bernie Sanders dictating what U.S. businesses need and don't need from a plant & equipment perspective, but when it comes to the most important economic input of all (human), NR presumes to know what businesses require. While in a perfect world U.S. corporations could hire whomever they want from wherever, H-2B visas represent ways for businesses to legally import the workers they desire. Some might respond that they amount to the import of the oxymoron that is "cheap, high-skilled foreign labor," many would quibble for obvious reasons with the description, but even if correct, isn't this a good thing? If free trade is a positive for it (among many other great attributes) giving all American workers raises (think the wondrous inflow of consumer goods from China), why isn't free trade equally good for American businesses in search of the best workers at the best prices?
Taking the wonders of free trade even further, the influx of cheap goods from overseas is most brilliant for it allowing us to focus even more on the pursuit of work that is most commensurate with our skills. That's why we should view the entrance of foreign workers with similar delight. Their arrival, much like the arrival of inexpensive products, will amount to more "hands" such that we're able to specialize our work pursuits even more. Immigration isn't just a signal of a country's prosperity, it's also a driver of it.
So with NR very open about its problems with foreign worker inflows, it makes sense to keep the focus on legislation it dislikes for it once again (in the eyes of NR's editors) "needlessly" expanding the number of foreign workers. One reason NR plainly decries the inflow has to do with the magazine's view that American businesses should look to hire American workers first. But based on such a belief, should businesses actively sunset their use of technologies and commercial advances like computers, foreign call centers, and the internet?
If the above question seems flippant, it's not meant to be. And that's the point. It's safe to say it would be near impossible to find any blurb or column in NR"s history calling for the abolition of what was previously mentioned, but technological advances by their very name lead to the loss of voluminous jobs, including "American" jobs. If foreign workers take American jobs, don't domestic and imported technologies do the same? NR is in no way against U.S. companies accessing technological innovations that improve their operations, but if those same companies express a preference for foreign workers with an eye on enhancing those same operations, NR is fairly explicit that company judgement on the subject of labor is to be trumped by the rule of men in Washington, D.C.
Taking this further, NR has long been one of the most articulate voices against affirmative action. With good reason. Affirmative action cruelly places individuals where their skills wouldn't such that they're more likely to fail, it penalizes those who don't receive preferential treatment based on their gender and/or skin color, and then it needlessly creates disharmony on campus and in the workplace for the attainments of the preferred groups perhaps being privately questioned. Why then, would NR seek to legislate preferential treatment for American workers knowing full well that many U.S. businesses would prefer foreign workers? If affirmative action is cruel to its intended beneficiaries, can't the same be said for legislation meant to promote affirmative hiring of Americans over foreigners?
All this of course presumes that when businesses make an effort to "import" foreign workers that there are willing and skilled Americans who go without the jobs taken by those without a U.S. passport. The latter is a debatable assumption, and one revealed as wanting by the hiring of foreigners in the first place. It's expensive to hire those who don't necessarily know the language, who aren't as assimilated, and who by virtue of being immigrants likely have to travel far to begin the job. That U.S. companies hire foreign workers anyway (and go to great lengths to secure enhanced legal status for them) is a clear signal that they're first and foremost fulfilling a market need.
Yet it's the notion of market needs fulfilled that conservatives seemingly quibble with the most. According to some immigration skeptics, migrants are coming to take advantage of the U.S.'s abundant handouts as opposed to work opportunities. But even if true, what's being described is a welfare or government problem, not an immigration problem. By the previous measure, should government policy promote deportation of immigrants and natives who choose the dole?
The good news is that the welfare/handout narrative isn't as true as conservatives would have us believe. Market signals are fairly clear here. Indeed, as the Wall Street Journal's Mary O'Grady pointed out in a recent column about immigration from Mexico, "there were 140,000 fewer Mexicans living in the U.S. in 2014 compared with 2009." Barack Obama's first five years in the White House were 2009-2014, and as conservatives have frequently noted, it was during those years that the U.S. economy experienced the slowest post-recession recovery since the 1930s. Translated, a weak economy made the U.S. a less attractive place for Mexican workers to migrate to.
So while the real economic story is a little bit more nuanced, from an immigration perspective the best path to reduced immigrant inflows is lousy economic policy stateside. Obama and conservatives haven't agreed on much since he reached the White House in 2009, but this odd conservative embrace of anti-immigration policies has ironically found one of its better allies in Obama.
Conservatives also like to point out that government handouts surged during the Obama years. But if immigrants were in fact crossing the border for handouts as conservatives regularly argue, wouldn't the Obama years have coincided with a massive increase in crossings? Isn't Obama all about amnesty as is?
Conservatives plainly dislike President Obama as much as they strongly believe in private property and free markets, but this reveals yet again how conservative disdain for immigration reads as anti-conservative. Border patrolling hasn't kept immigrants from pursuing American abundance (O'Grady reported that in the booming '80s and '90s Mexican immigrants alone grew from 2.2 million to 9.4 million), but to increase it would be anti-conservative for it greatly expanding the size, cost and scope of government. And as the ever expensive – and failed – drug war has hopefully reminded everyone, increased border patrol (or worse from a conservative standpoint: more muscular policing of U.S. businesses) will grow government, but not do much to keep immigrants out. Only a slow economy will repel immigrants, but pursuit of a weak economy would require conservatives to shed nearly all of their deeply held economic beliefs.
In that case, arguably the best solution is an Athens, Greece-style approach. During its renaissance Greece legalized work, as opposed to citizenship. The ambitious flocked there and its economy soared. Ideally U.S. legislators would legalize work once again, while requiring new arrivals to announce themselves. The economy would boom as formerly hamstrung workers would get to maximize their productive potential, and then a much smaller border patrol would chase those (perhaps terrorists) who choose not to announce themselves. As for conservatism, this solution would free it from a stance that is so contradictory to conservatism.