Shut Up and Eat Your Caucus, Obama Wants More Computer Science Funding, Woman Pulls Over Cop for Speeding: P.M. Links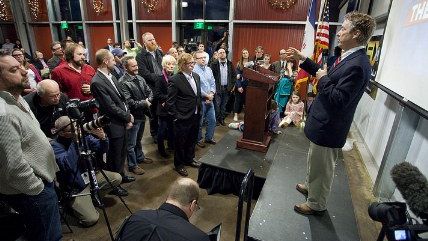 (StumpSource / photo on flickr)
Credit: StumpSource / photo on flickr

If you're not excited about the Iowa caucuses tonight, this link will probably not make you any more excited. Nevertheless, prepare for intensifying news coverage.

President Barack Obama wants Congress to fund a $4 billion program to increase availability of computer science classes in public schools.
A citizen in Southern Florida, with an amazing amount of guts, chased and pulled over a police officer for speeding. She has so far survived the experience.
Chicago saw 51 homicides in January, the highest number for that month since the year 2000.
An Egyptian cartoonist whose works sometimes criticize the ruling government was arrested for running an unlicensed website.
Cuban leader Raul Castro is in France, visiting Europe in the first trip from a Cuban leader there in two decades.
Follow us on Facebook and Twitter, and don't forget to sign up for Reason's daily updates for more content.