Movie Review: The Finest Hours
Chris Pine and Casey Affleck in a storm-tossed true-life story.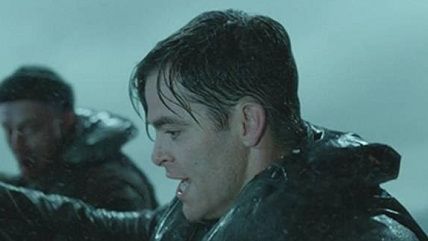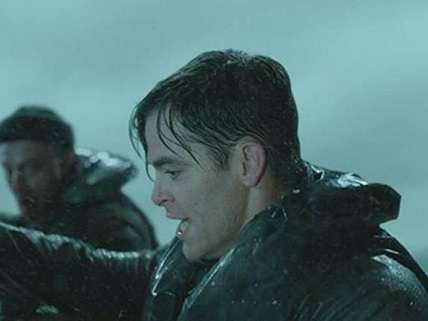 The Finest Hours is a film in which just about everything goes right—the production design, the photography, the technical effects. But the movie itself doesn't really go anywhere. The picture is impressive on one or another level from beginning to end, but it begins to recede from memory before the house lights come up.
It's a remarkable true story about the 1952 sinking of an oil tanker, the SS Pendleton, several miles off of Cape Cod, and the against-all-odds U.S. Coast Guard mission that rescued 32 of its surviving crew members. The digital ocean effects here—the vast swollen seas with their huge, storm-whipped waves—are terrifically well-done; and while there's no single shot as arresting as the one toward the end of The Perfect Storm in which we see Mark Wahlberg floating off to his doom on an ominous swell, the gathering illusion of nature at its fiercest and most unremitting has a dark, thrilling power.
The duplex narrative switches back and forth between Ray Sybert (Casey Affleck), the Pendleton engineer who finds himself in command after his ship is torn in two by a ferocious gale, and Bernie Webber (Chris Pine), the coastguardsman assigned to round up a crew and set out into a howling nor'easter to save the survivors. Each of these men has his hands full, of course. Sybert has only a stoic can-do determination to rally his fellow sailors, all of them trapped in the severed aft half of the foundered ship without radio communication or even a tiller. And Webber, who's only able to enlist the assistance of three other men (Ben Foster, Kyle Gallner and John Magaro) in the rescue effort, is nearly defeated by the wintry gale in attempting the navigate his puny 36-foot lifeboat beyond a nearby offshore sandbar.
This is gripping stuff, and director Craig Gillespie (Million Dollar Arm) stages the sea-battered action with great skill. Unfortunately, he is also compelled by the script (adapted from a 2009 book by Michael J. Tougias and Casey Sherman) to present us with a lot of gripless stuffing. The movie is almost sunk by its long, sluggish opening section, which chronicles the extended meet-cute of Webber and Miriam (Holliday Grainger), the prim cutie who will become his wife as soon as this damn storm passes. (Although it's the early '50s, she proposes marriage to him! And he says no! At first!) Gillespie and cinematographer Javier Aguirresarobe bring an old-fashioned cozy glow to the shore-life scenes—appropriate for a Disney film—but there are some jarring annoyances: do we really need to watch Miriam hounding Webber's commanding officer (Eric Bana) for permission to allow him to marry her when the officer has no real authority to prevent it? Was that really a question?
Chris Pine isn't the most naturally charismatic of actors, but he's unusually appealing here, underplaying the role of a man with an iron commitment to duty who's also conflicted by self-doubt. It's too bad that his character—and Affleck's even more so—is buried in a cocoon of impassivity. Webber and Sybert overcome one disaster after another—water suddenly gushing into the ship's hold, the lifeboat's compass being knocked out—without demonstrating anything beyond simple, tight-lipped resolve. This would have been (and evidently was) an admirable quality in real life. Here, though, in the midst of real-life catastrophes, it's the movie's biggest problem.