Some Government-Sponsored Syrian Refugees in Canada Would Rather Go Back to Refugee Camps in Jordan and Lebanon
Privately-sponsored refugees faring better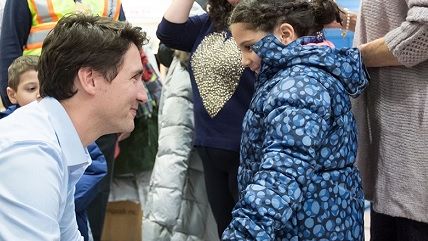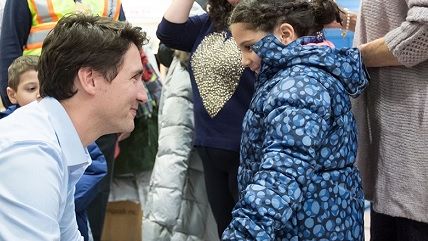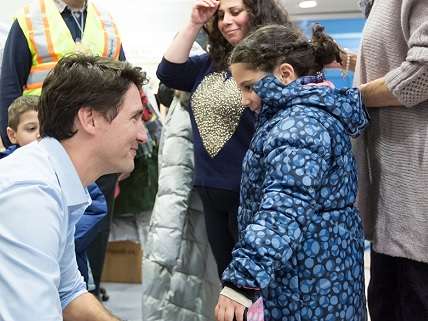 In December, Canadian Prime Minister Justin Trudeau made a big show of welcoming the first wave of Syrian refugees arriving in Canada. The country had pledged to accept 10,000 refugees by the end of 2015 (it fell short of the goal TKTKT) and 25,000 by the end of next month.
Trudeau welcomed the first refugees by telling them they were "safe at home now" and handing them winter coats.
"This is a wonderful night where we get to show not just a planeload of new Canadians what Canada is all about," said Trudeau of the refugees, who were granted permanent resident status, "but we get to show the world how to open our hearts and welcome people who are fleeing extraordinarily difficult straits."
But now, just two months later, some of the refugees who have been sponsored by the government say they've been neglected to such a degree that they'd rather return to refugee camps in Jordan and Lebanon.
CBC News reports:
Some government-sponsored Syrian refugees staying at a budget hotel in Toronto say they feel like they're "trapped in a prison" without hope due to a lack of communication, supplies and assistance.

Virginia Johnson, one of two volunteers working at the hotel, joined CBC Radio's Metro Morning on Monday to speak to host Matt Galloway.

Johnson said the refugees have been at the hotel for weeks and have no idea when they will be able to leave. Some of the 85 government-sponsored refugees say they're not getting much help, and would rather go back to their refugee camps in Jordan and Lebanon.
At the hotel, refugees tell volunteers they have little communication with outsiders and are isolated, and volunteers complain government officials don't appear to be checking in on them regularly. Canada's immigration department told CBC refugees get "immediate access to essential services and social support" and that there was "nothing unusual about a stay of several weeks in transitional accommodation."
The refugee volunteers worry about a "two tier" system where privately-sponsored refugees fare much better than government-sponsored one, who may have been rushed out of refugee camps and into the country.
Johnson called on the government to "allow private sponsor groups to sponsor government sponsored refuges" as quickly as private sponsors can. Another volunteer suggested the Canadian government wanted to bring refugees out of harm's way as fast as possible and hadn't established a plan yet.
The refugees who complain of poor conditions in Toronto came from refugee camps and not directly from war zones. There was a lot of fanfare surrounding the first arrivals, but it now appears the government wasn't prepared to match private sponsor resources to the refugees in a timely fashion.
If the Canadian government sped up the process of removing refugees from camps just to stick them in hotels in the middle of the Canadian winter while government officials figure out how to do their job, then Trudeau's new government is being motivated by optics and good press, and not genuine humanitarian concern, especially if private sponsor groups are being prevented from joining the refugee entry process because of government bureaucracy.