The Pro Bowl Scam
How the NFL uses a taxpayer-funded tourist agency to subsidize its all-star game.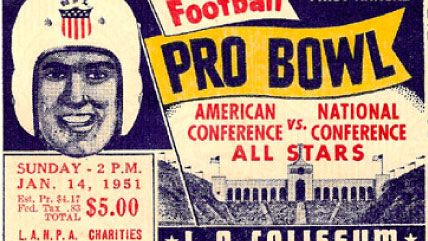 The Pro Bowl, the all-star game run by the National Football League (NFL), began in 1951. The first 21 games of the series were played in Los Angeles, California. After that, the game moved cities every year for seven years, before eventually landing a home at Aloha Stadium in Halawa, Hawaii in 1980. Since then, the game has only been played outside of Hawaii twice, in Miami in 2009 and in Glendale in 2015.
This year, the game will return to Hawaii. And when it does, it will return to a lucrative public subsidy thanks to Hawaii's government-run tourism agency.
The Hawaii Tourism Authority (HTA) allocates funds to promote spectator sports such as the NFL Pro Bowl. Despite having only one yearly event, the Pro Bowl consumes more of the HTA's annual budget than all of the organization's other subsidized events combined while allowing the NFL to keep all of the direct revenue associated with the game.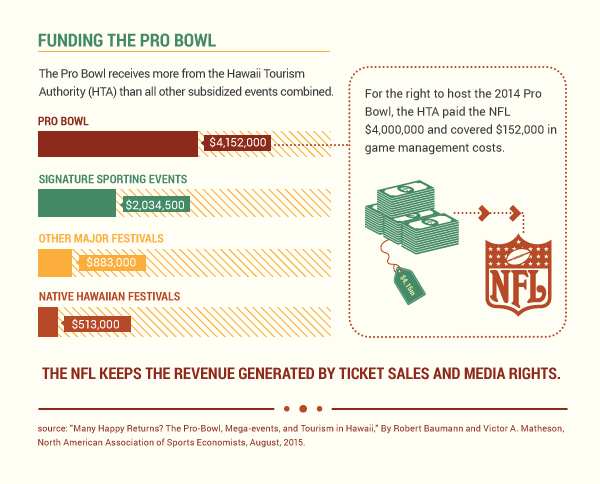 HTA defends its subsidy of the Pro Bowl by claiming that the television viewership provides advertising for the state, and by claiming the event generates a boom in visitors and tourism spending. The HTA's 2014 economic impact study reported that the 2014 Pro Bowl (the last year it was played in Hawaii) increased the number of visitors by 47,270.
But their annual economic impact reports consistently overplay the benefits of hosting the game. The studies count all fans at the game as "visitors," including local residents who are not tourists and would have been spending money in Hawaii anyway. Total revenue doesn't actually go up. It is merely transferred from other sectors.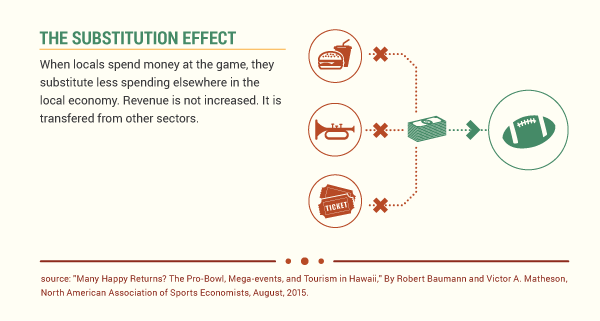 Because Hawaii's remote location forces the majority of visitors to arrive by plane, it is easy to estimate the tourism impact of an event. Hawaii's Department of Business, Economic Development & Tourism provides daily arrival data at all Hawaiian airports. When excluding locals and tracking flight arrivals, the actual number of visitors is only a fraction of what HTA claims.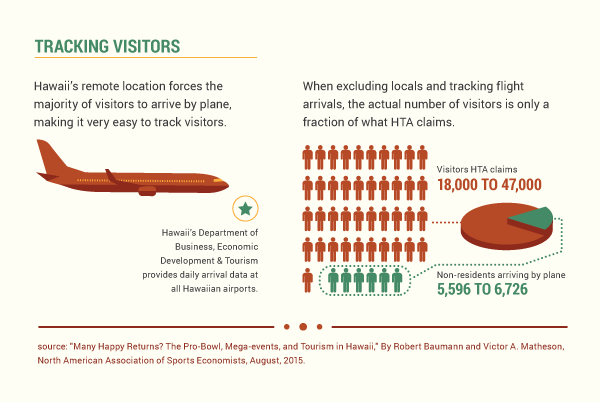 The Pro Bowl has left Hawaii twice, and it recently moved from early February to late January. These moves allows for comparisons between tourist activity during the same times with and without the Pro Bowl. A study by Robert Baumann and Victor Matheson, Economics professors at College of the Holy Cross, considered these factors and an additional four years of data. What they ultimately concluded was that the Pro Bowl had no measurable positive economic impact.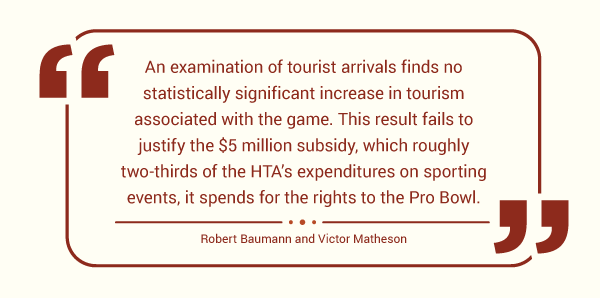 Like so many other taxpayer-financed sports events, the Pro Bowl is a bad deal for the public. The Hawaii Tourism Authority and its boosters should take note.
Perhaps they should start with some recent pieces at Reason about sports subsidies: