Sex Toys, Foot Fetishes, and Bernie Sanders Fans: 50 Photos From the World's Biggest Porn Convention
I spent four days at the AVN Adult-Entertainment Expo and Awards in Las Vegas. Here's what I saw....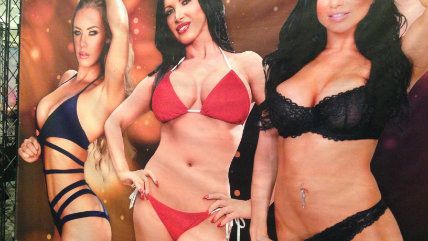 Greetings from Las Vegas, where I am no longer intrepidly reporting on the porn industry but am still trapped thanks to an east coast blizzard. Today I bring you the last of my breezy porn conference dispatches—though of course there will be a more thoughtful, comprehensive, "what does it all mean?" piece to come—and the one you've all been waiting for: the one with all the pictures of porn stars! And more porn stars. And robotic dildos. Oh my. Without further ado, may I present you with a portrait of the 2016 AVN Adult Entertainment Expo and Awards in 50 (mostly NSFW) photos.
The Expo Talent
The main Fan Expo was filled with individual booths where porn performers greeted fans, hawked merchandise, and took pictures with fans—for a small fee, of course.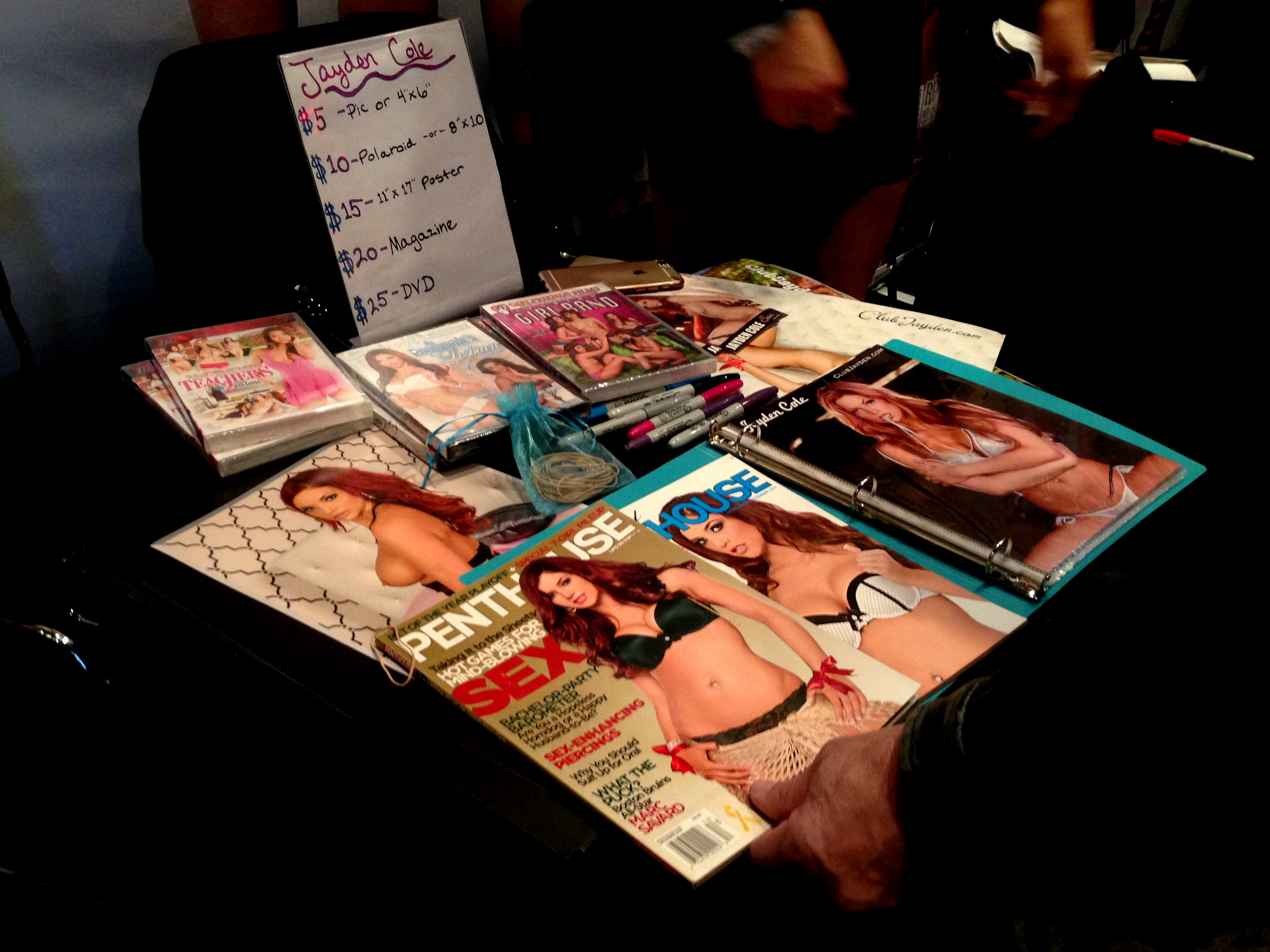 By Friday, the fan expo was continually packed, but on Wednesday and Thursday afternoons "the talent"—a word I heard a lot at the convention—seemed to have a lot of down time.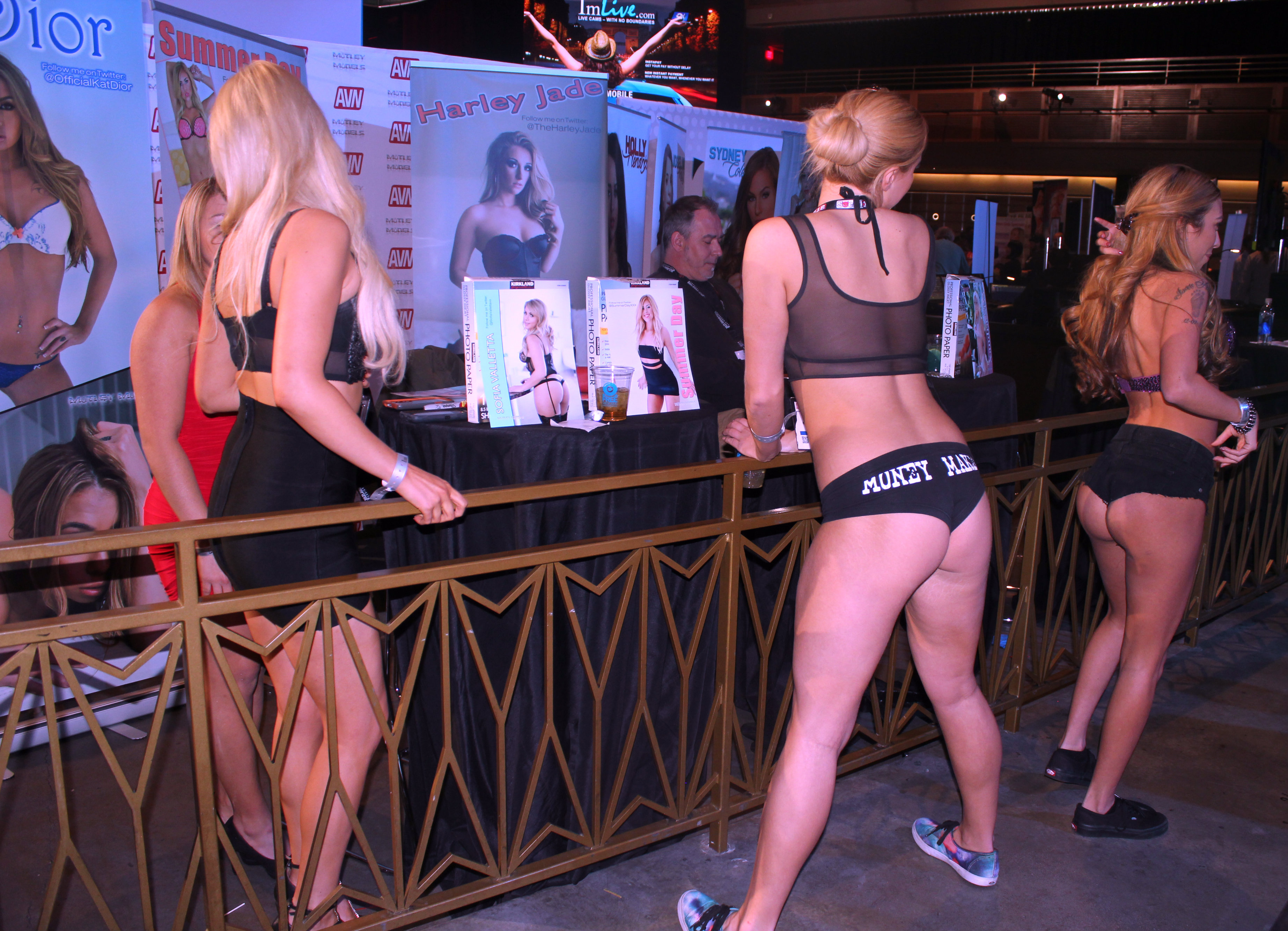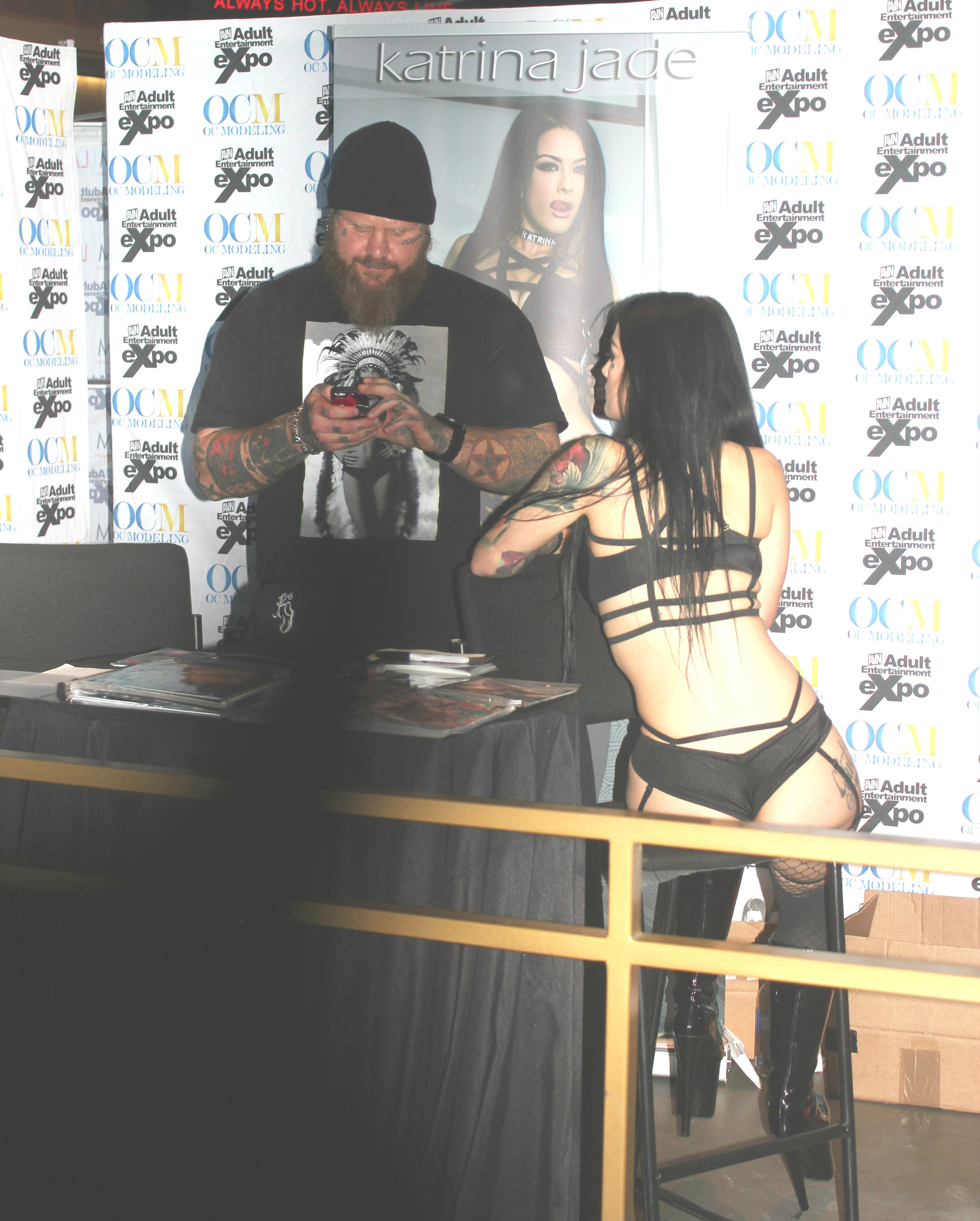 Throughout the convention, a stage at the front of the main fan expo featured acts like the "Kinky Cabaret" and this woman in leather cat ears and tail pouring liters of milk all over herself.
ENB
The main fan expo also featured regular spankings, floggings, etc. from the Kink.com folks.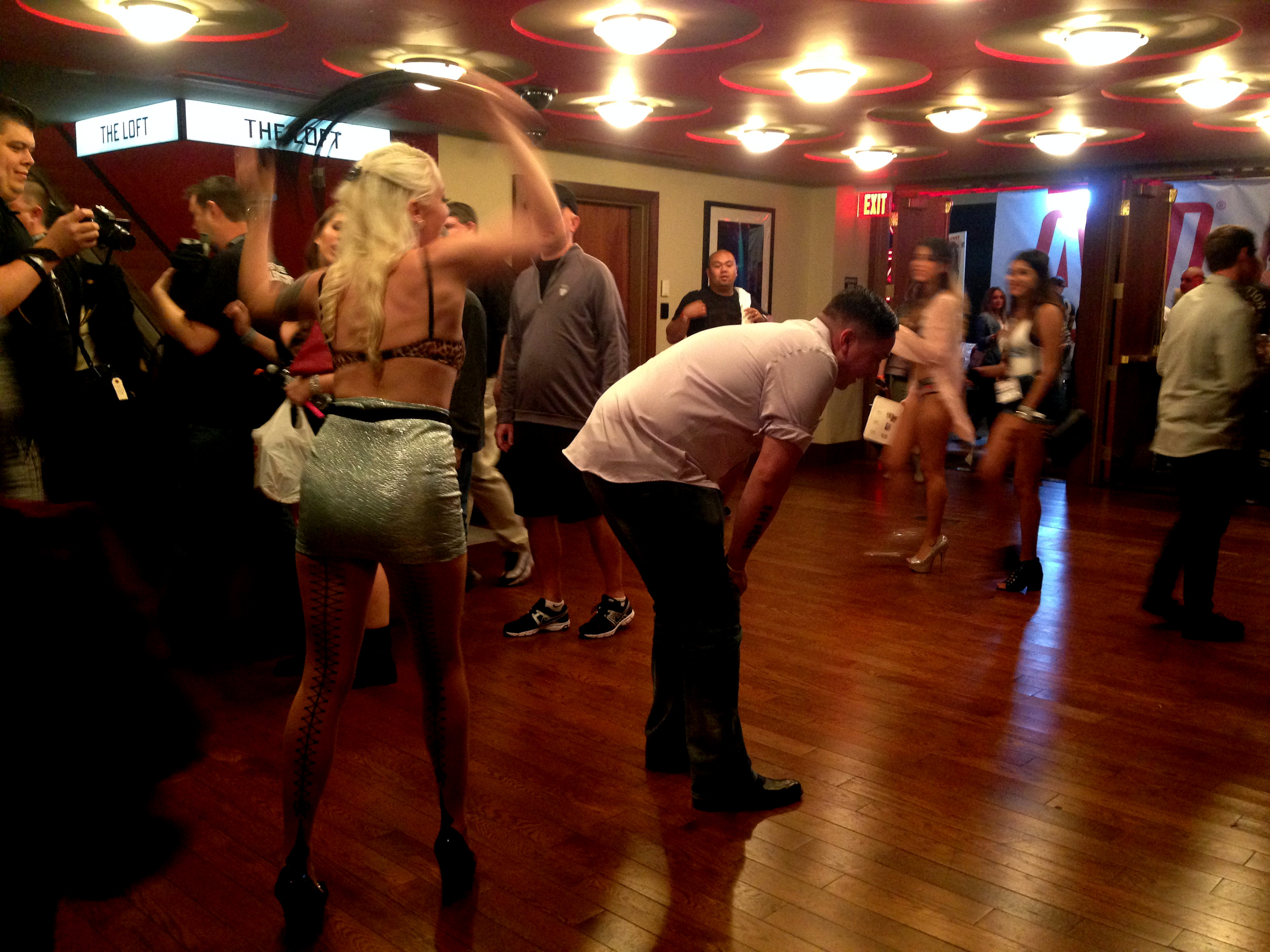 The whole expo was littered with Playboy bunnies, who always traveled in packs and weren't allowed to talk to any press without express permission from their handlers.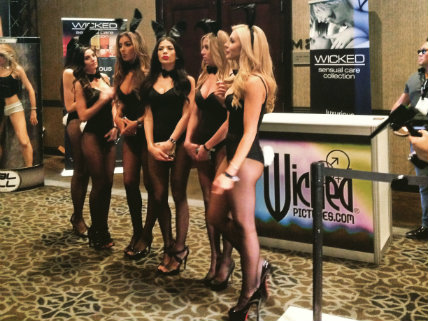 In the business expo section, this Japanese porn website had a space about four times as large as any of the others, where men in ninja costumes and Japanese women in bikinis pranced about aimlessly and occassionally ate very gross-looking sushi off one another.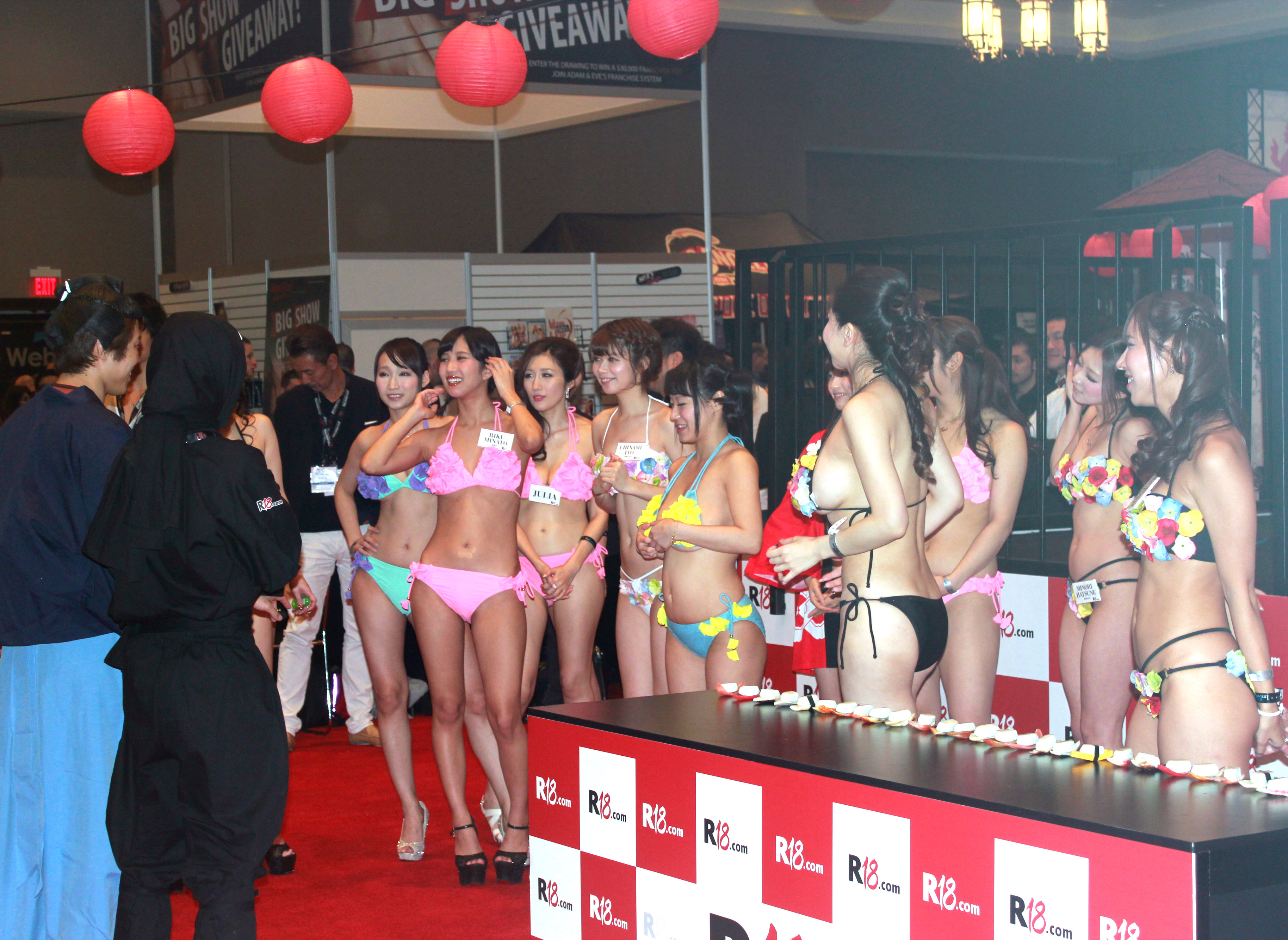 A foot fetish demonstration drew quite the crowd.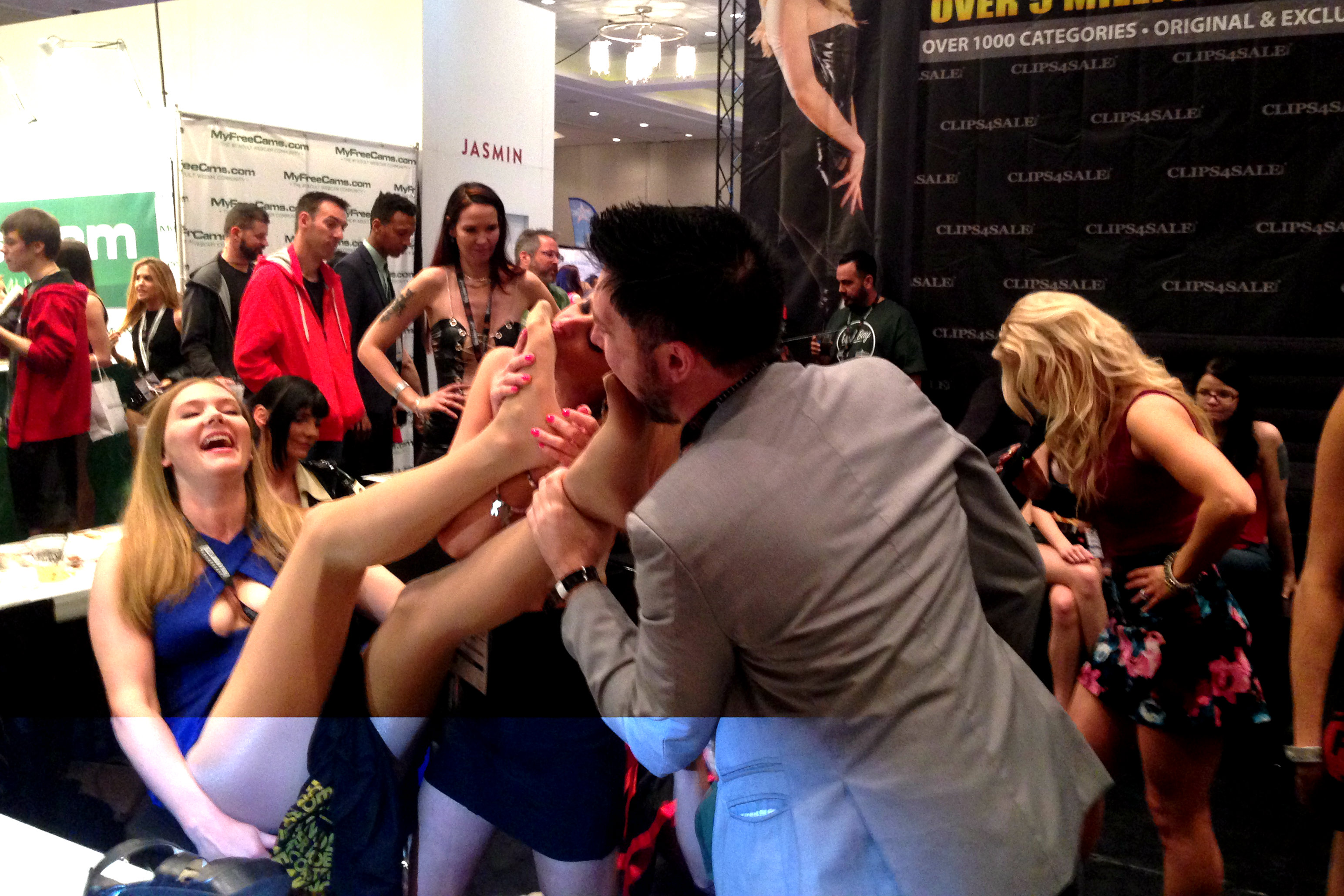 Even porn angels get the blues…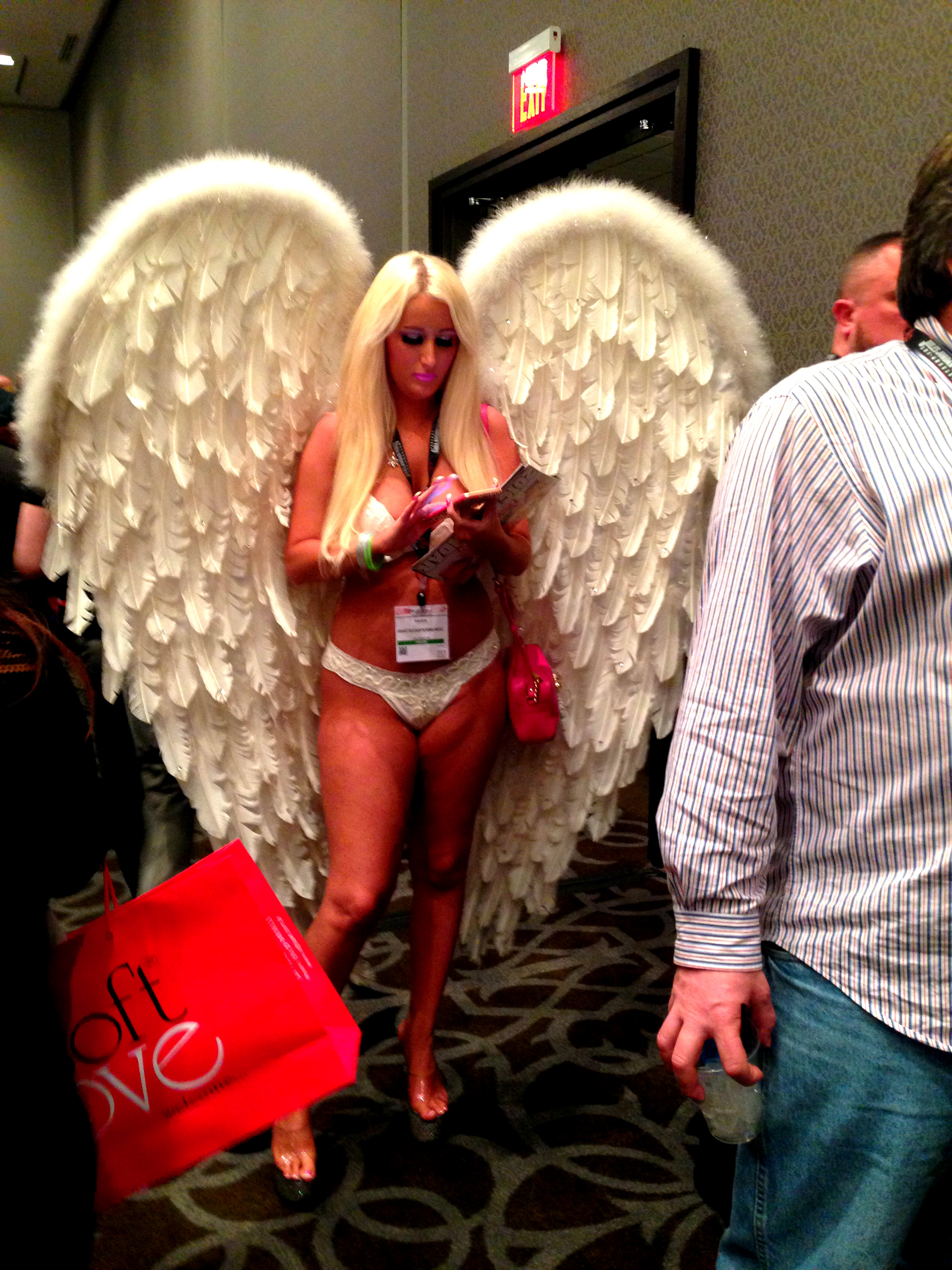 The Expo Crowd
The expo area full of toys, tech, and various porn businesses was certainly more heavily-populated by men, but there were a good deal of women walking around, too, mostly accompanying a boyfriend or husband.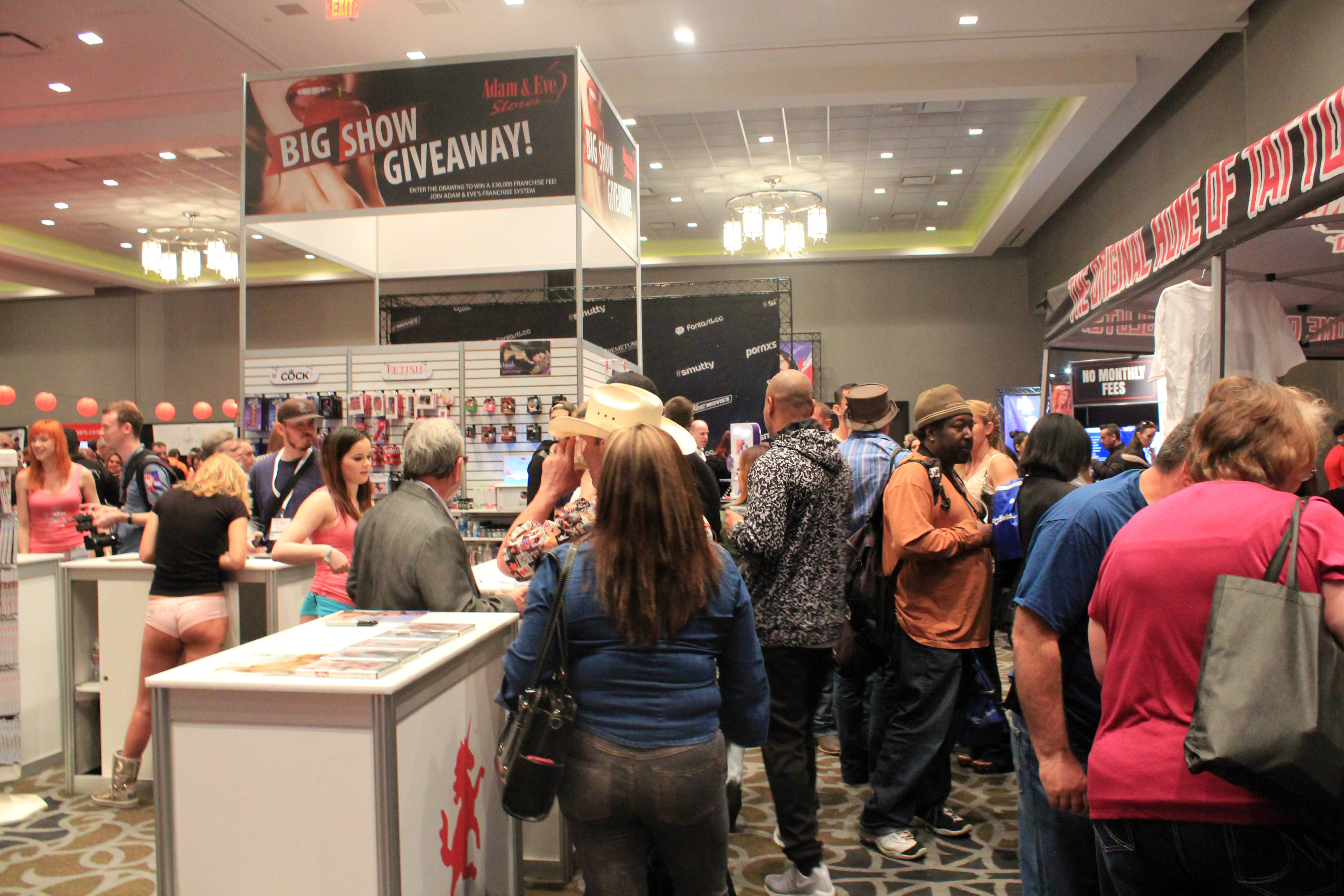 The crowd in the main fan expo arena, however, was probaby about 90 percent male.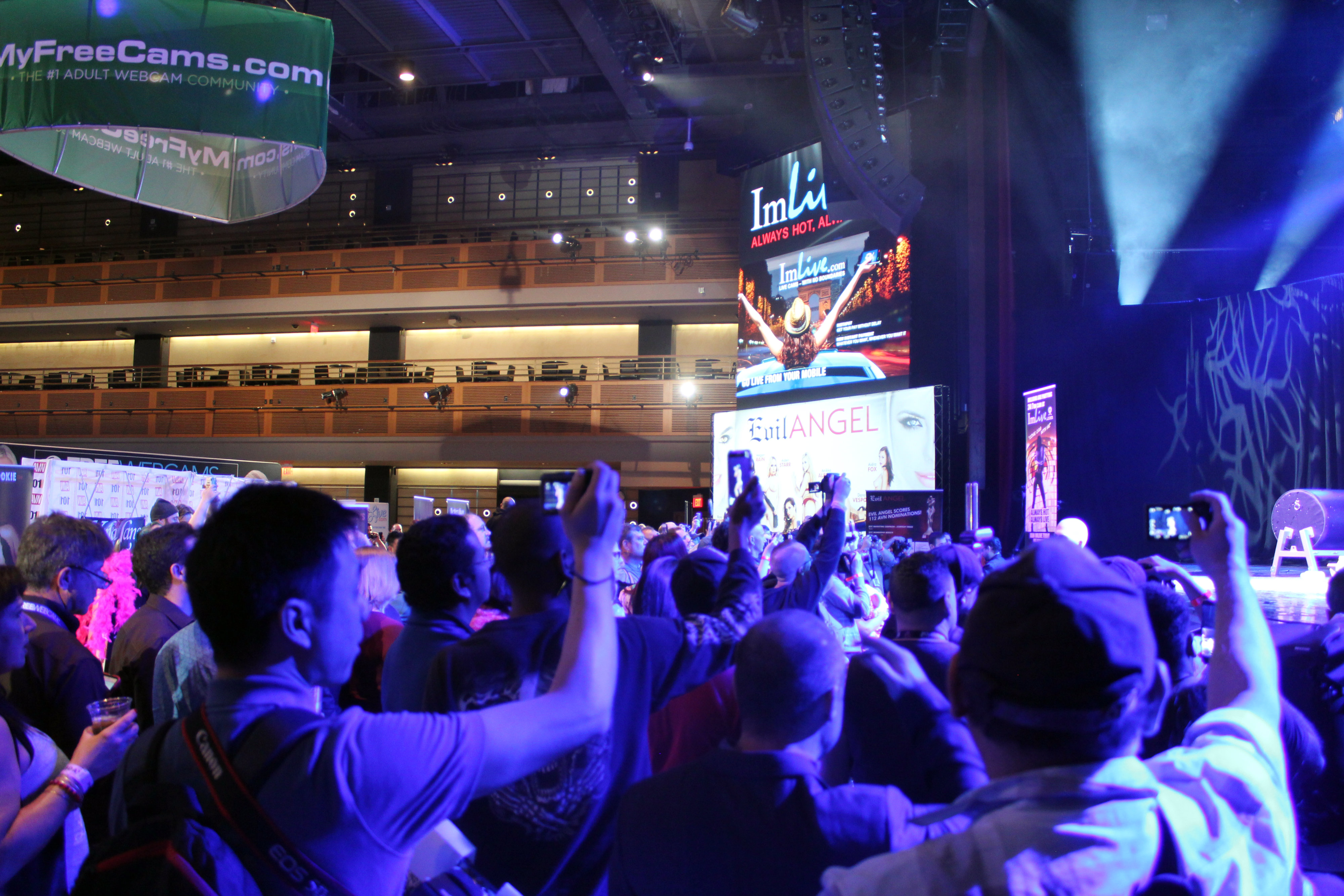 The hallways, meanwhile, were always an eclectic mix of fans, press, and porn industry folks joining together to fulfill their nicotine cravings (Vegas being one of those relics where you can still smoke inside).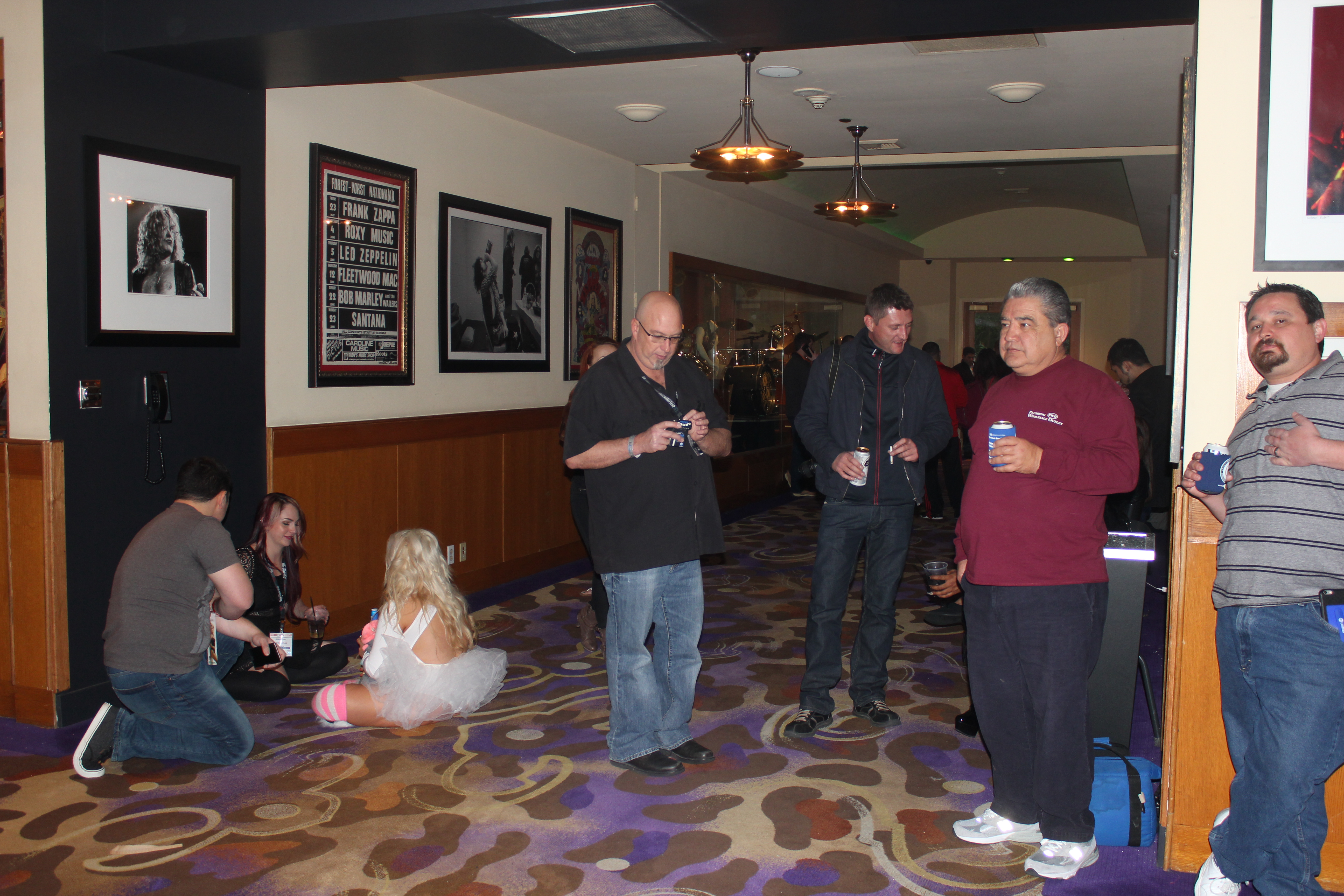 The Toys
Sex toy lines are becoming more branded these days, explained several manufacturers and sex-shop owners I talked with. And women and couples are currently the biggest driver of sex-toy sales growth, design, and marketing.
ENB
Unlike sex-toy packaging of yore, which was heavy on images of scantily-clad babes and hunks and had a raunchy vibe, many of today's sex toy lines aim for sophisticated, gender-neutral design on both packaging and the toys themeselves, manufacturers explained.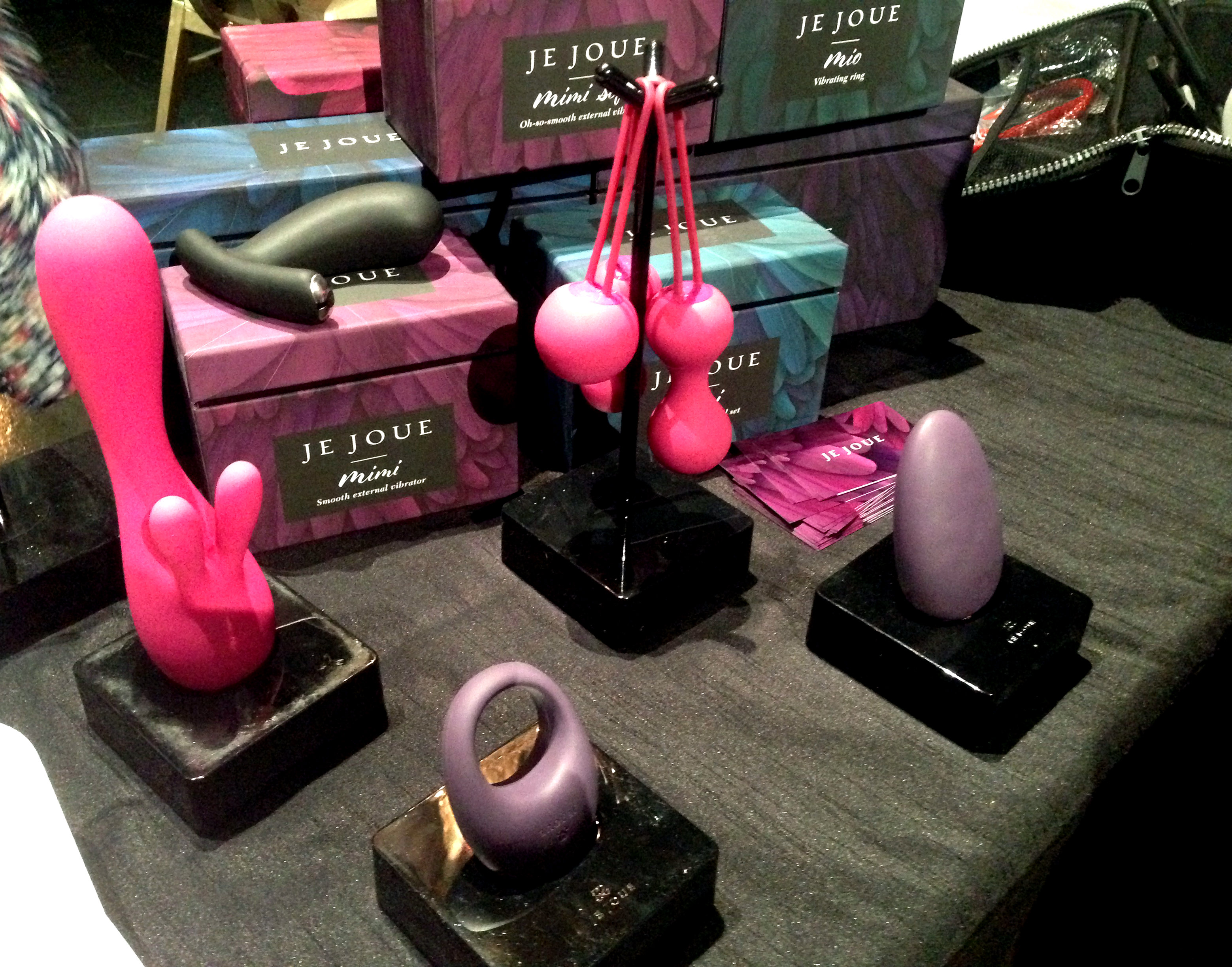 Of course, there were still plenty of sex toys that looked like these… (See a demonstration of one of the robotic dildos in this line here.)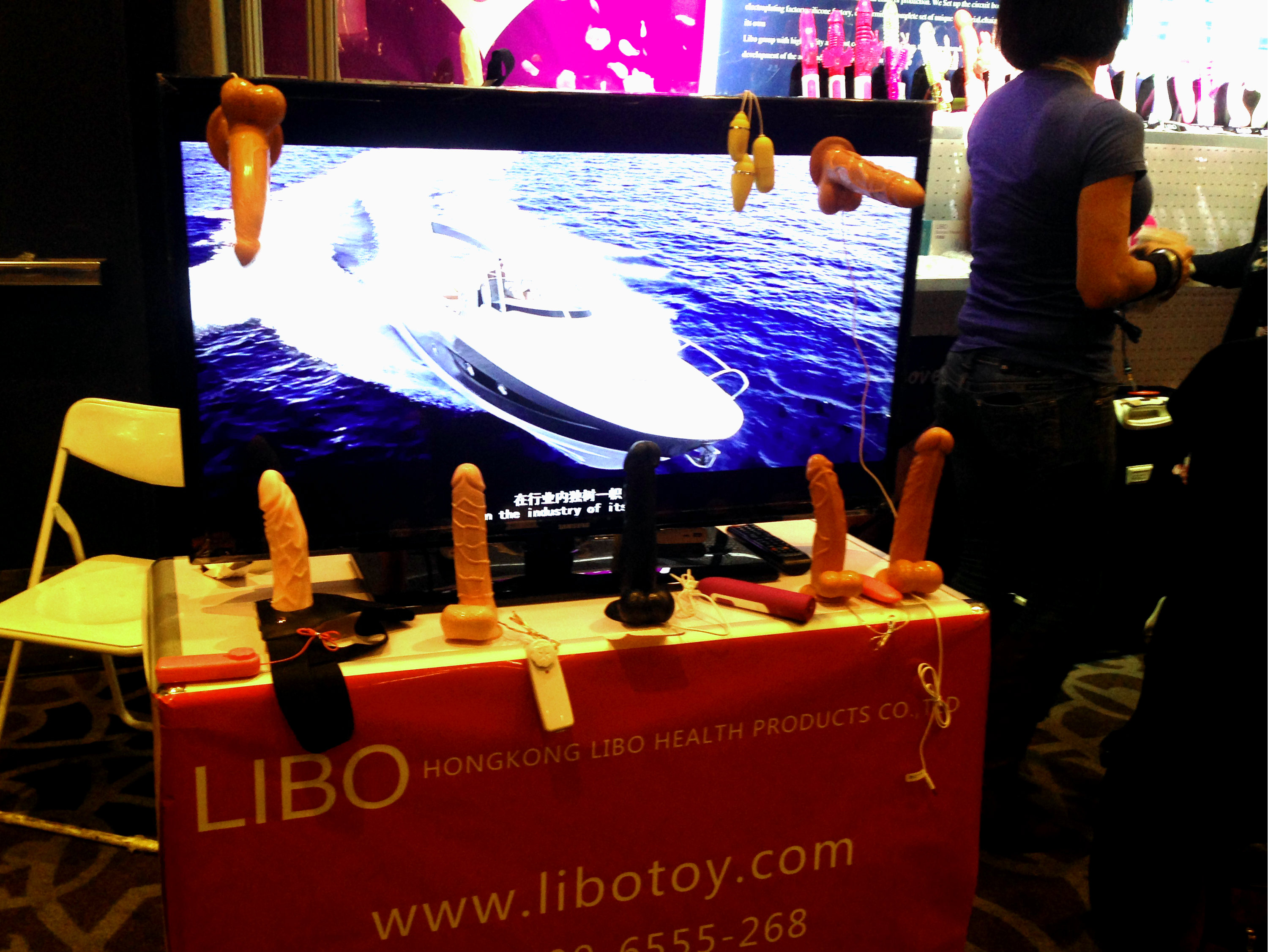 … as well as some more creative offerings…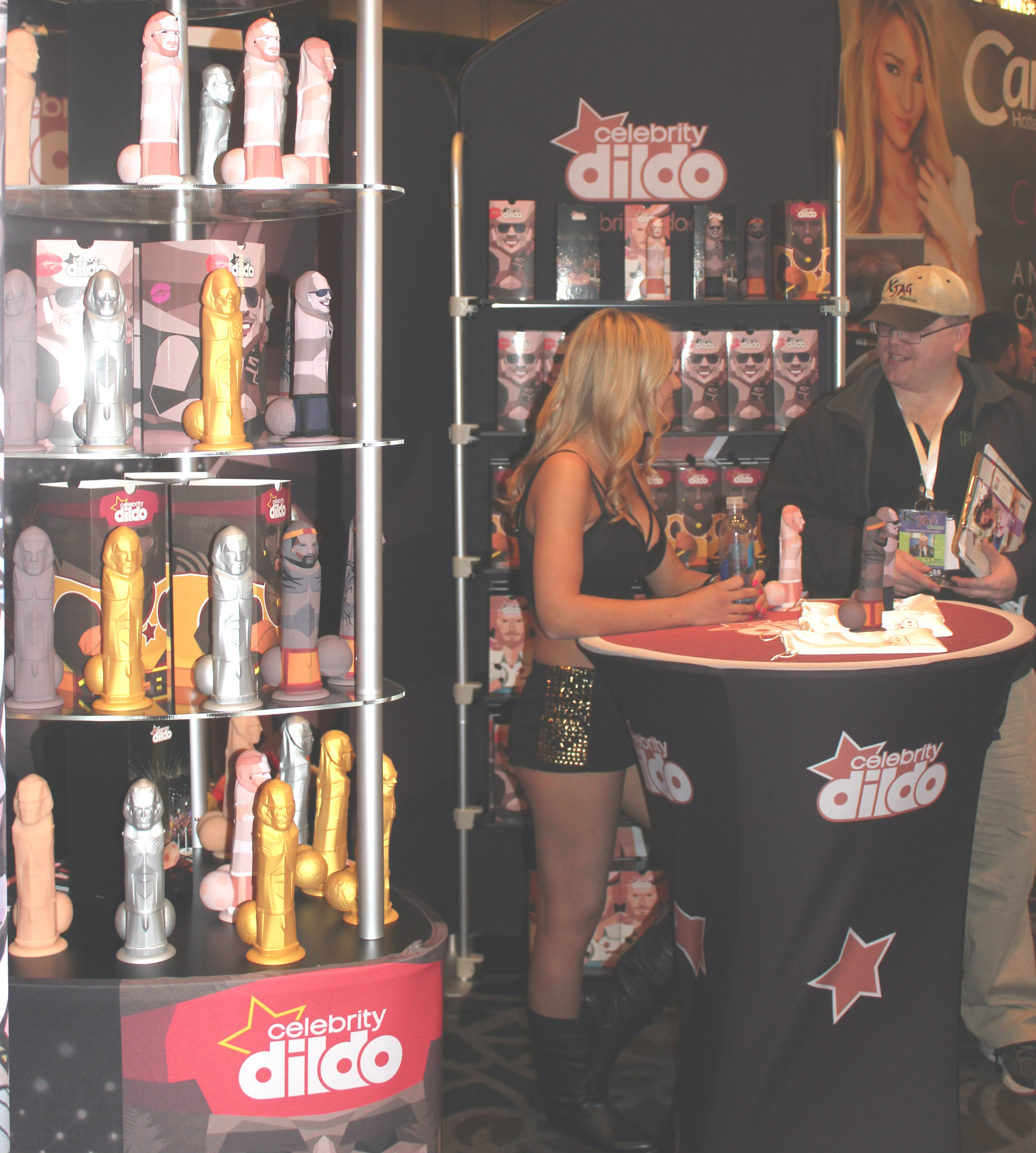 … and a touch of the twee that characterized a lot of '90s and early 2000s sex toys designed for and by women.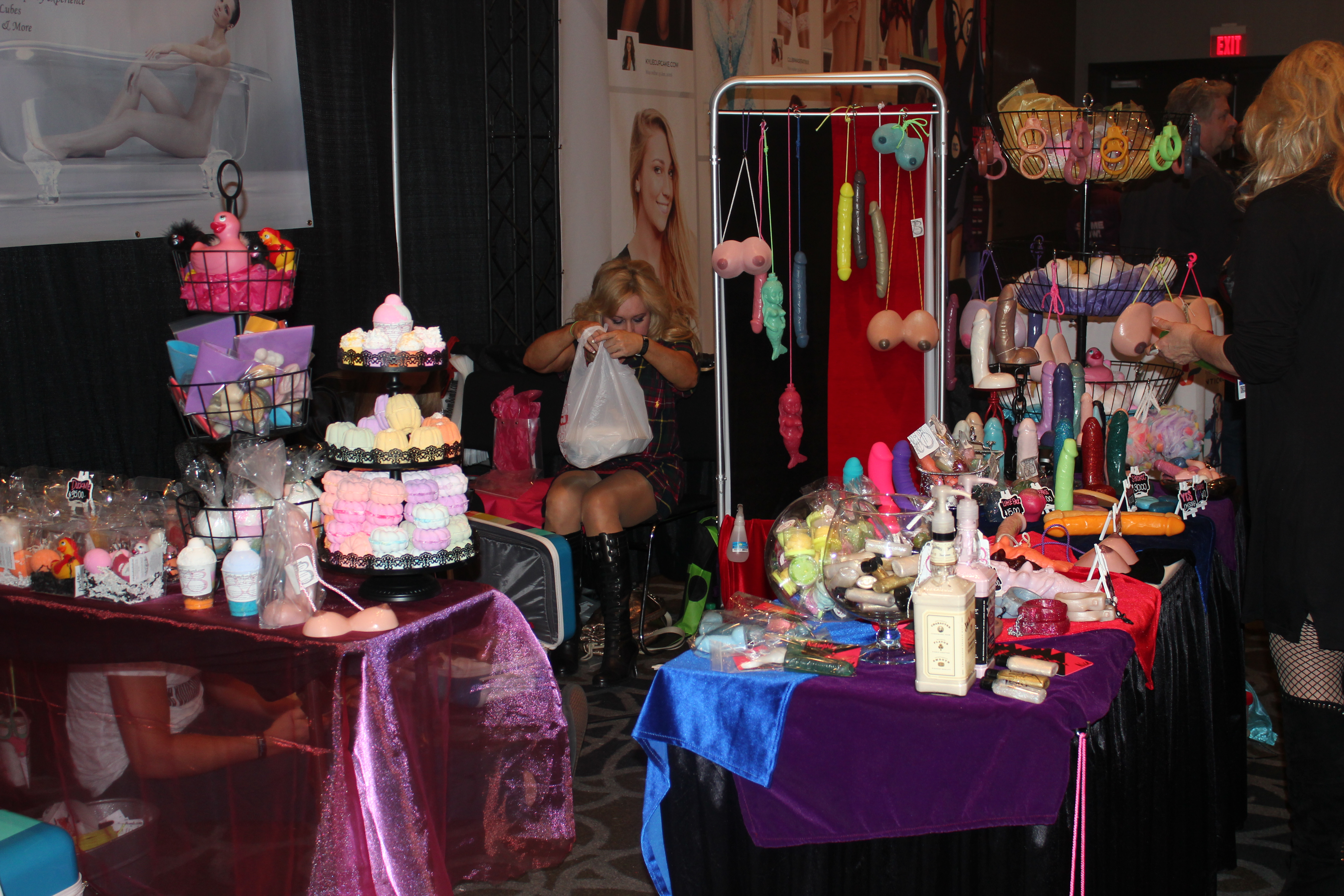 "Love dolls" also had a presense at the convention—but no sexbots.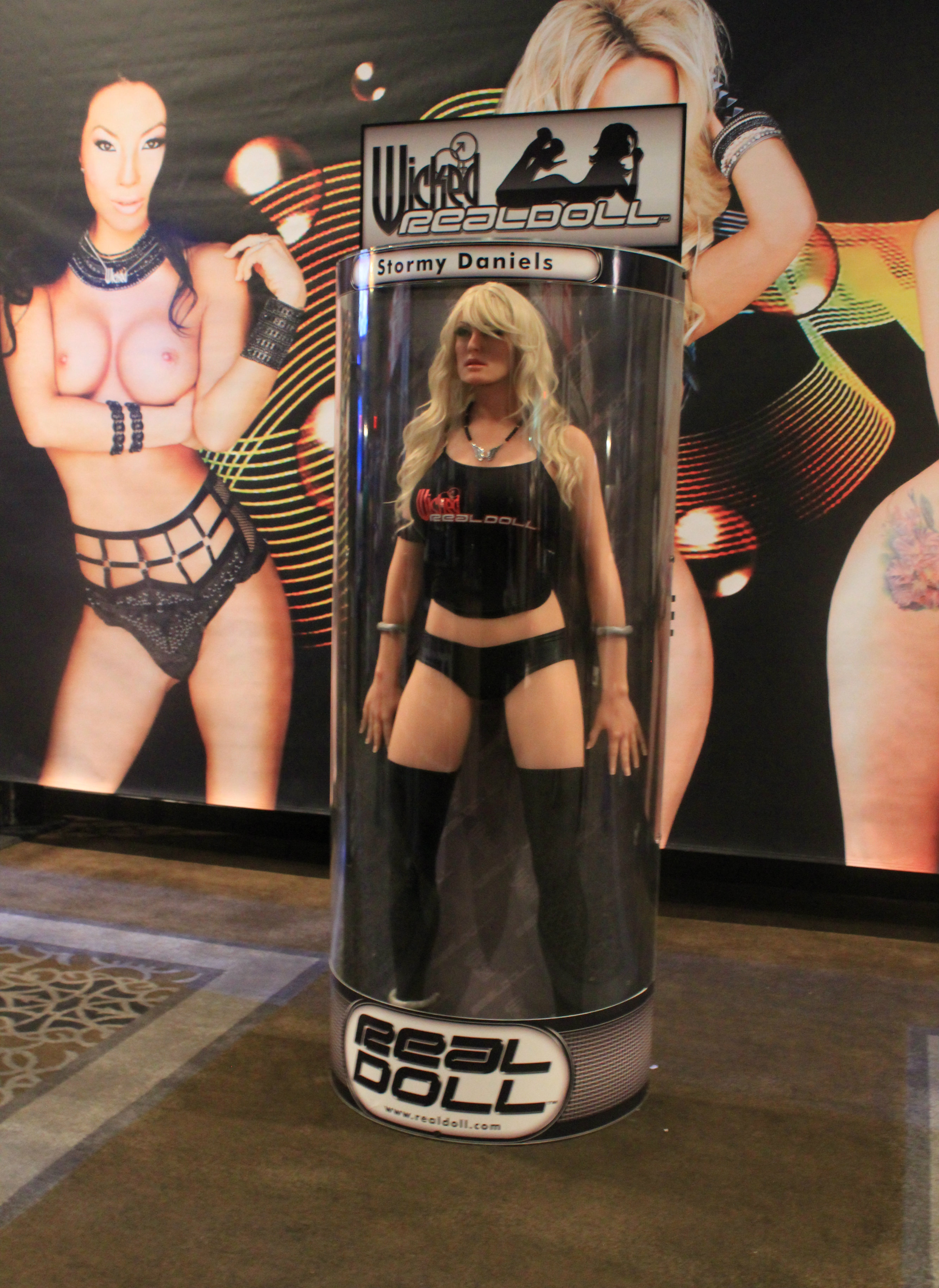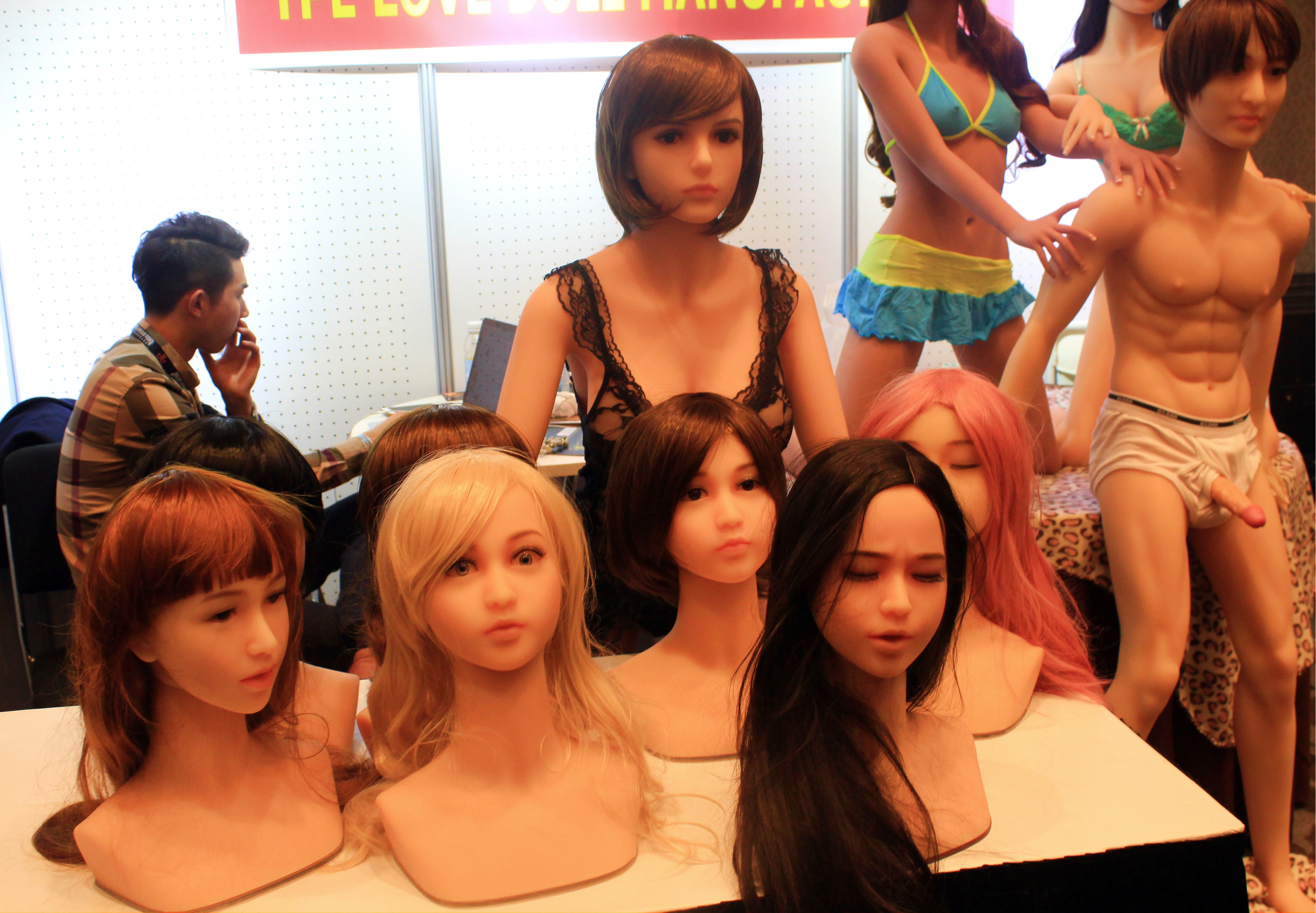 Makeup that "won't sex off!"
The Awards
The red carpet for Saturday night's Adult Film Awards ceremony stretched all the way around the main part of the Hard Rock Casino.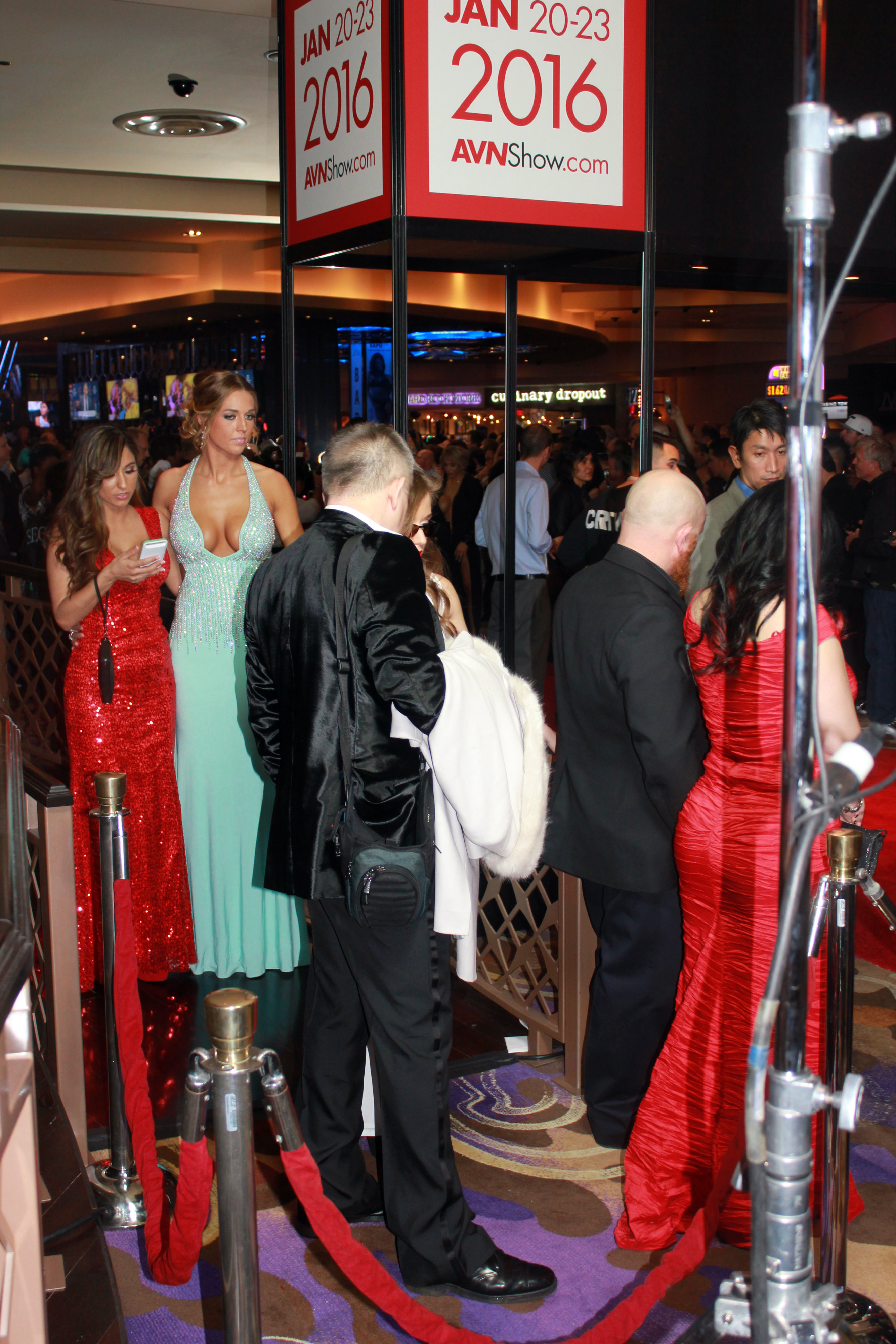 After making their way to the front of the long red-carpet line, porn performers took turns posing for a swarm of several dozen photographers (of which I was the only woman in sight).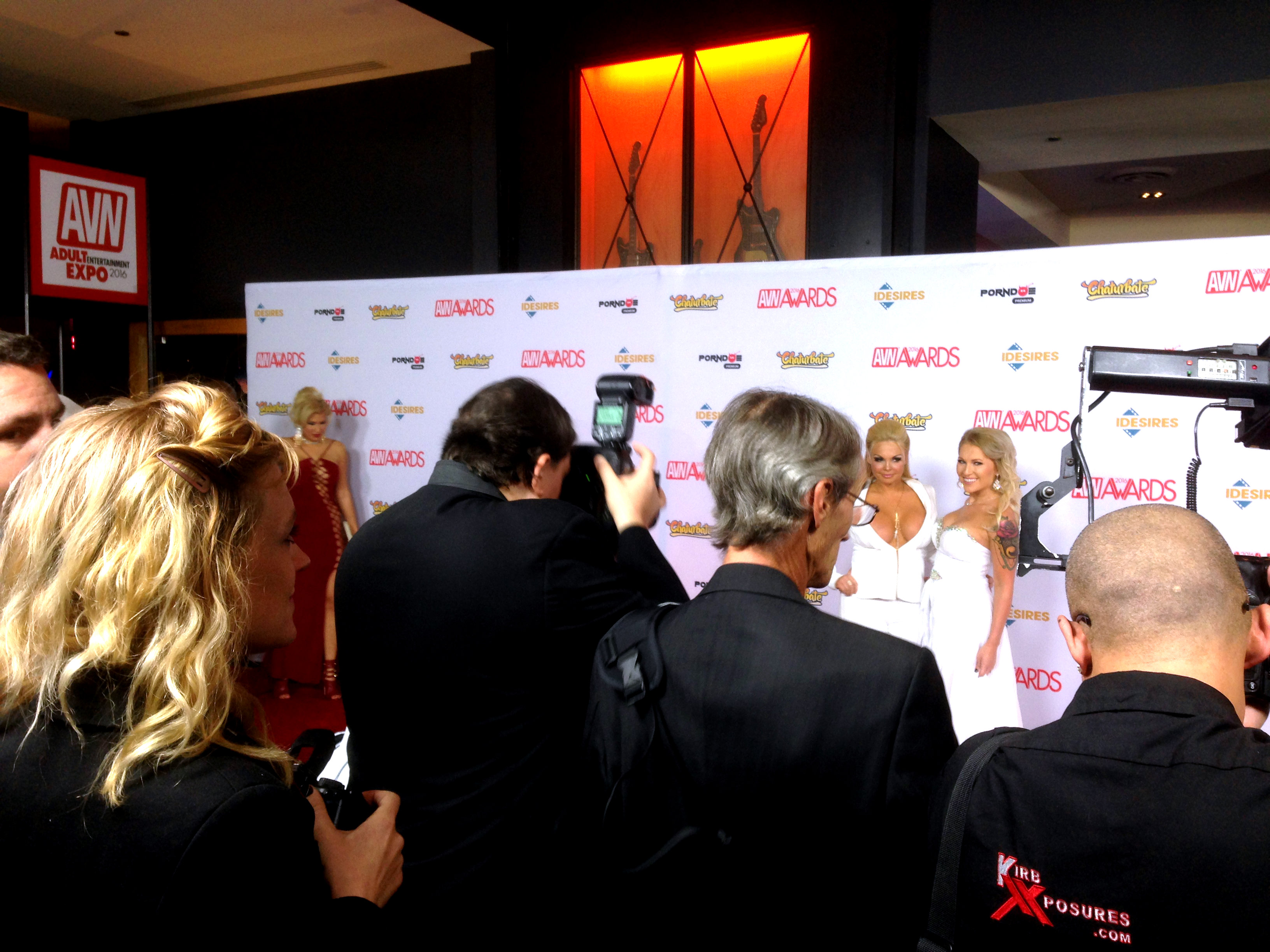 AVN staff kept things running smoothly by prodding performers along when they lingered for too many photos.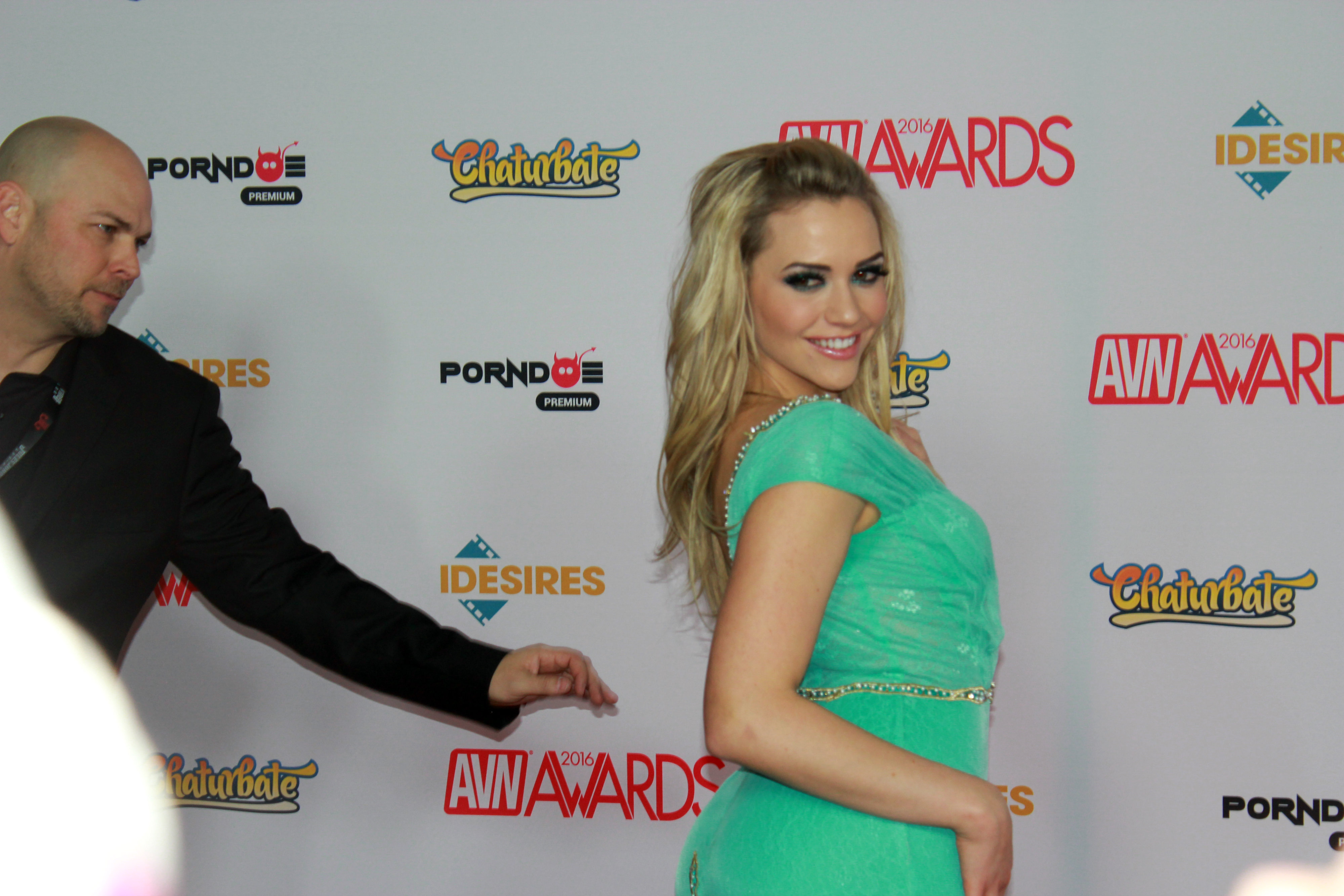 Kleio Valentien, who won best supporting actress for her role in Batman v. Superman XXX.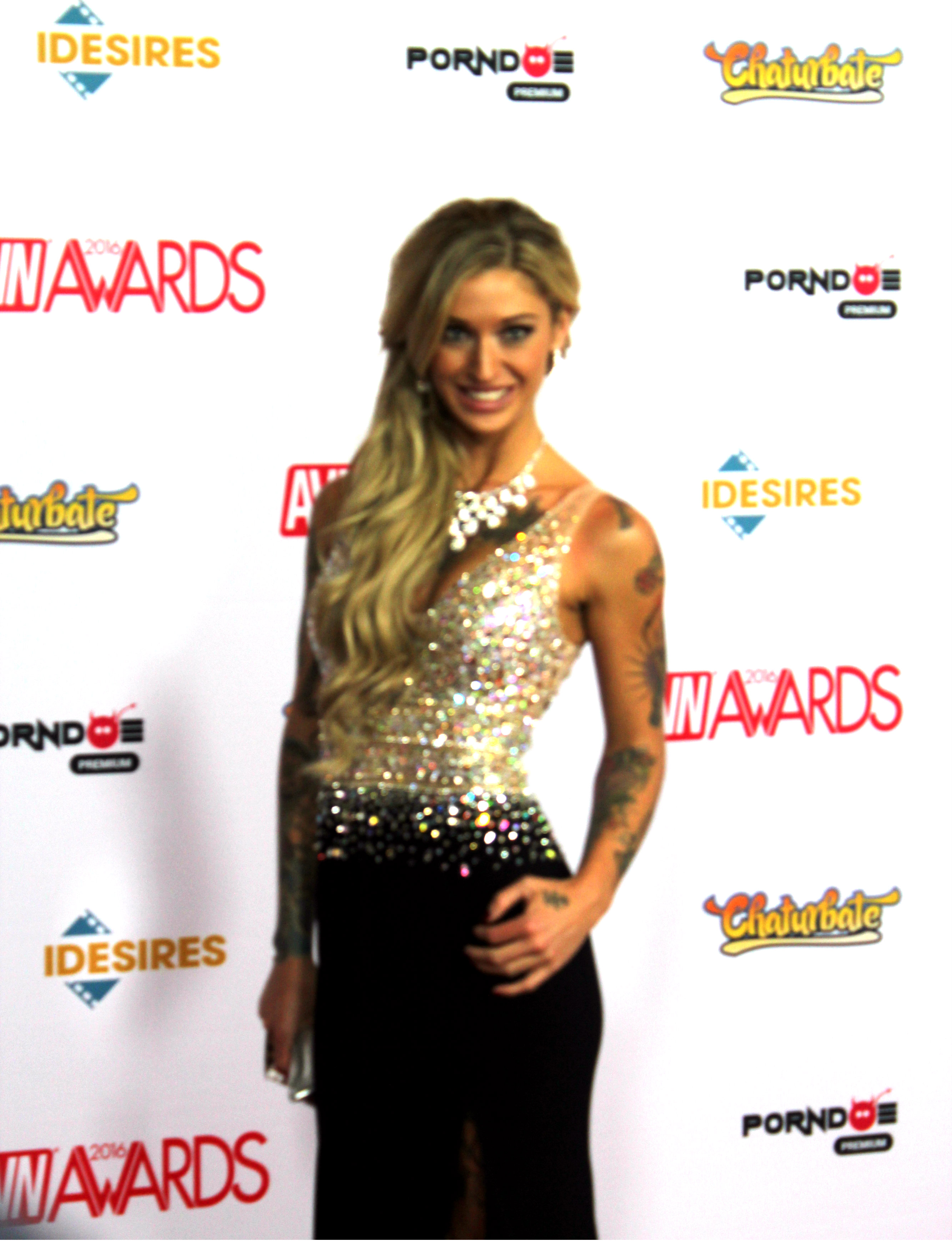 A lot of the performers could have been walking the red carpet for the Golden Globes or Academy Awards, judging from their clothing choices and overall style. There were a lot of women in relatively demure gowns and hair and makeup more evocative of old-Hollywood glamour than anything XXX-rated.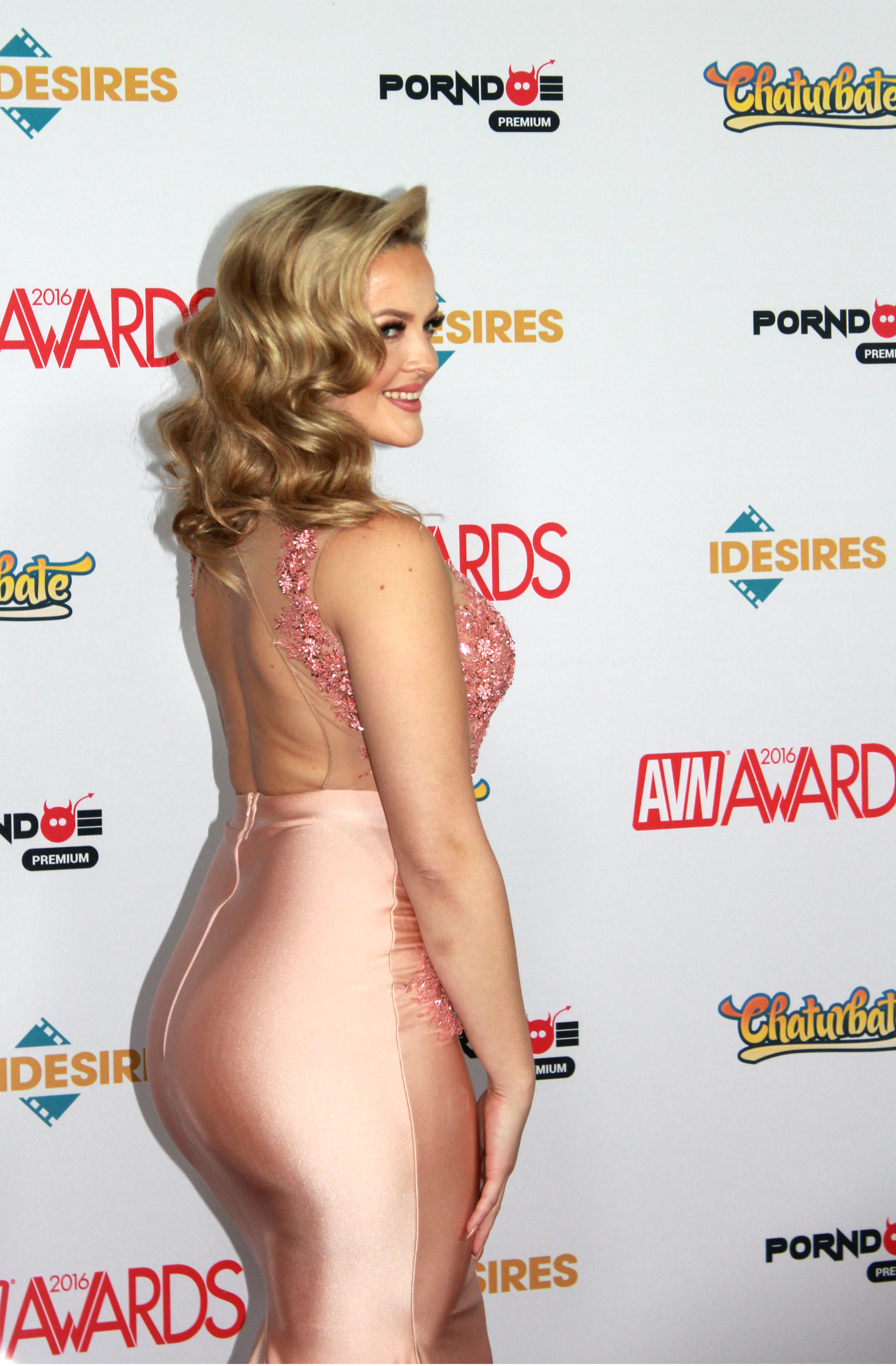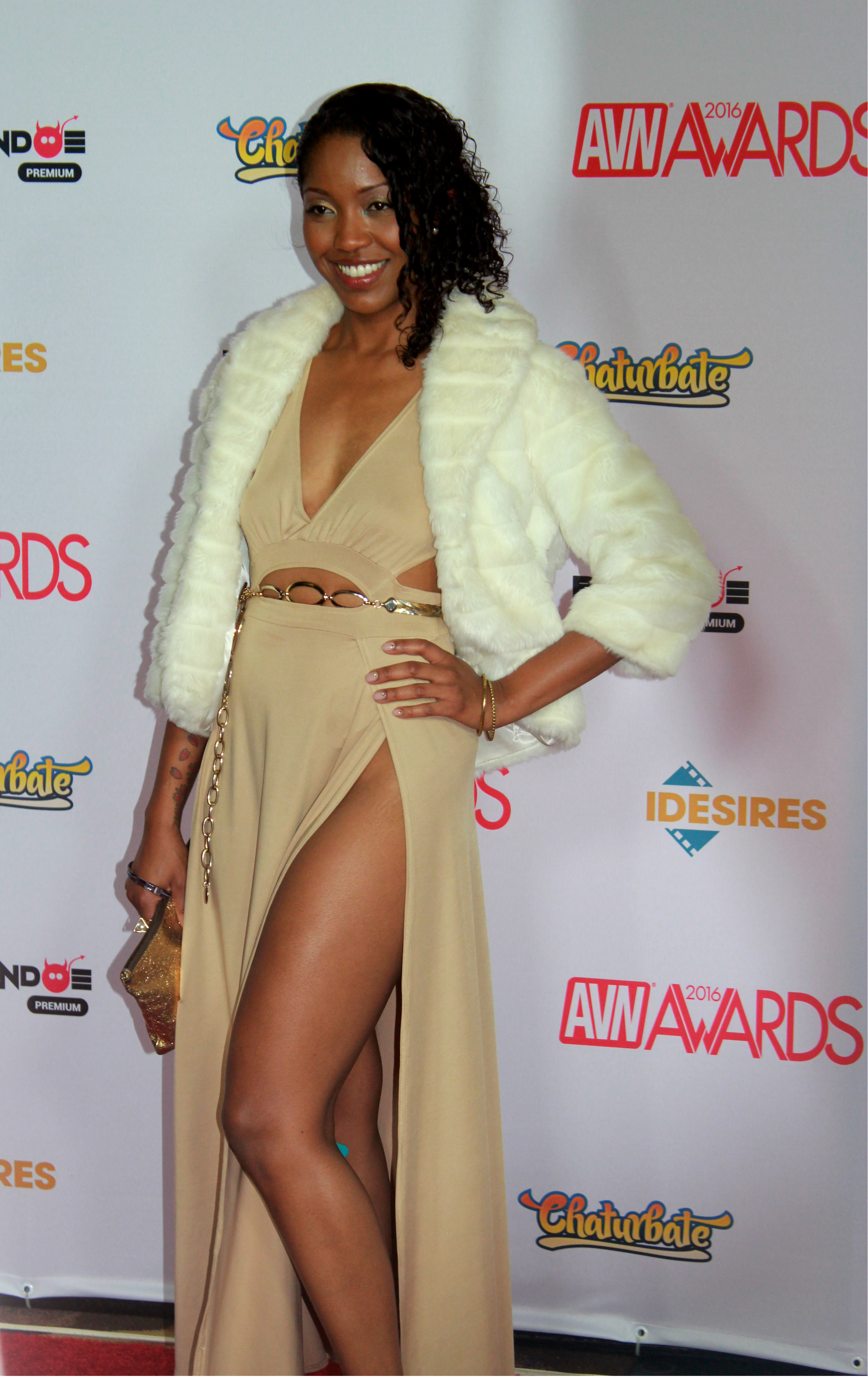 Of course, there were also people dressed like this…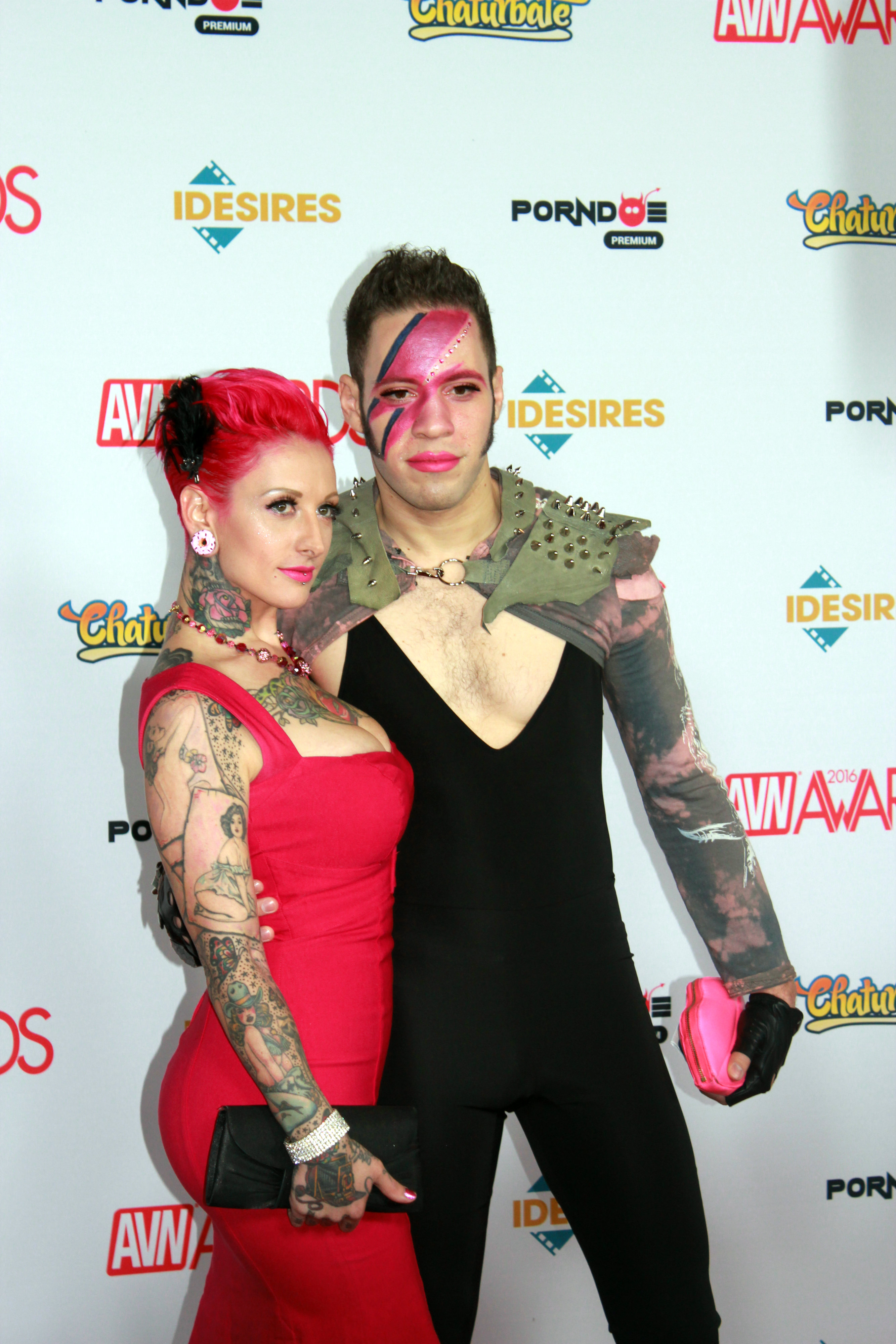 … and this…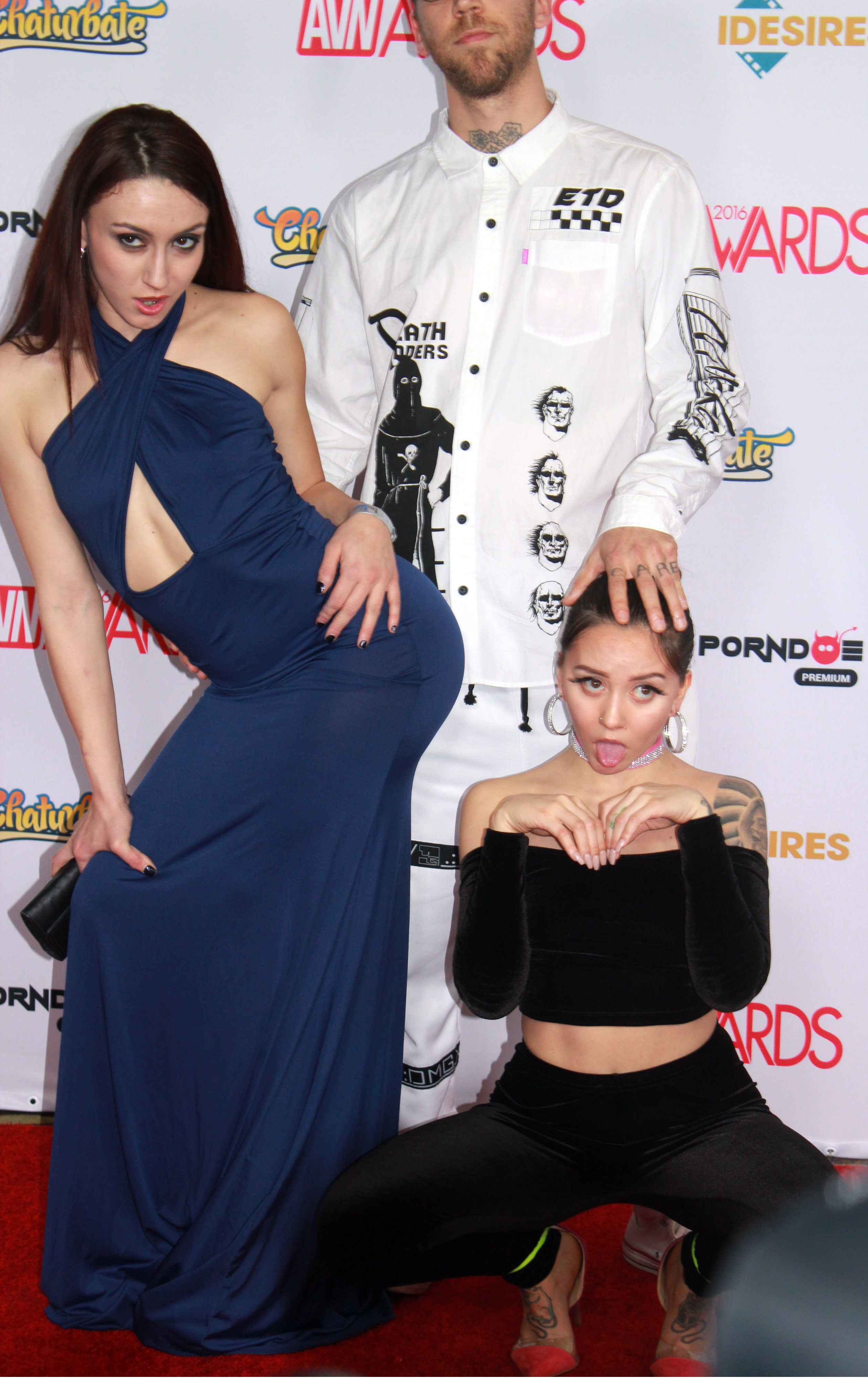 … and this: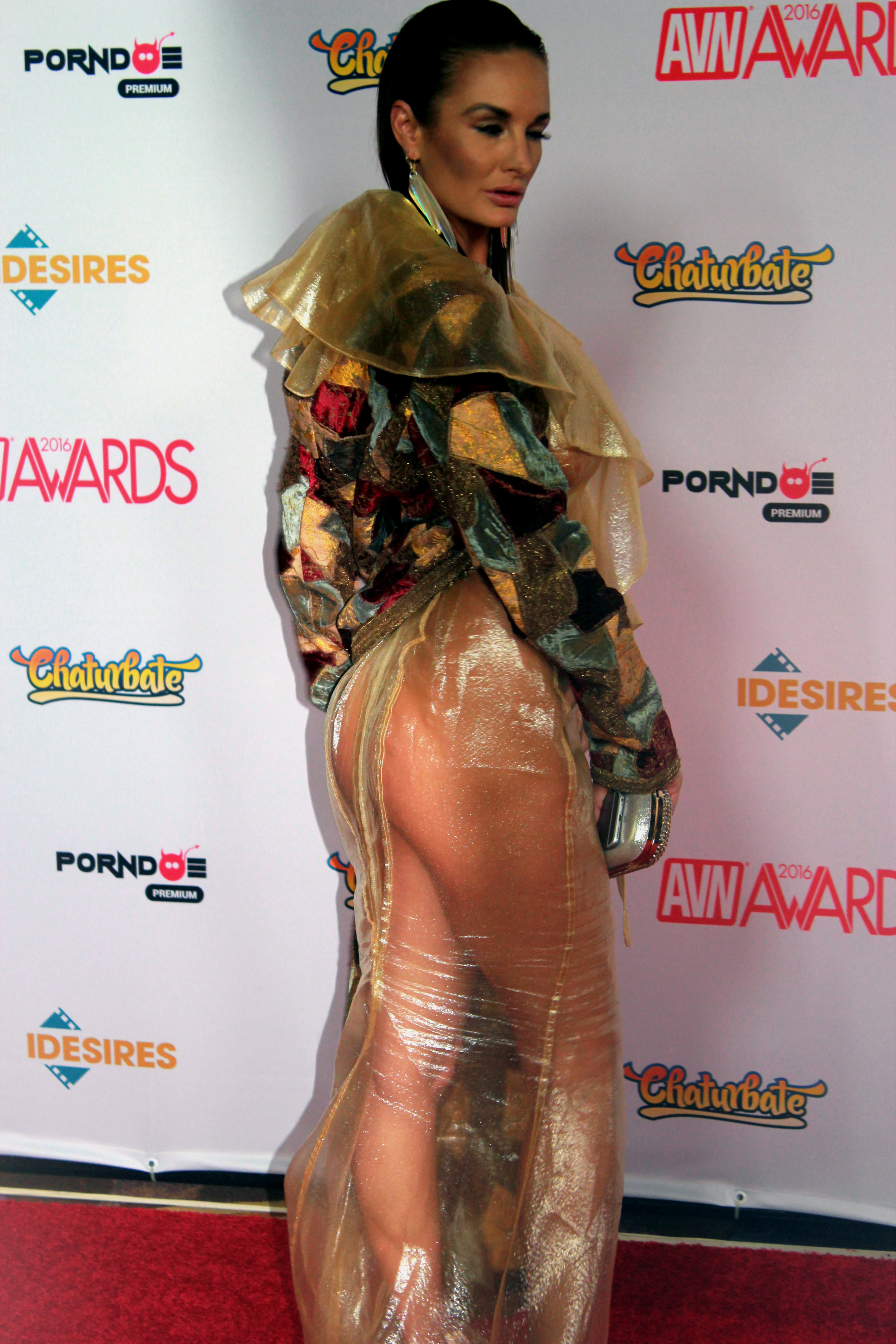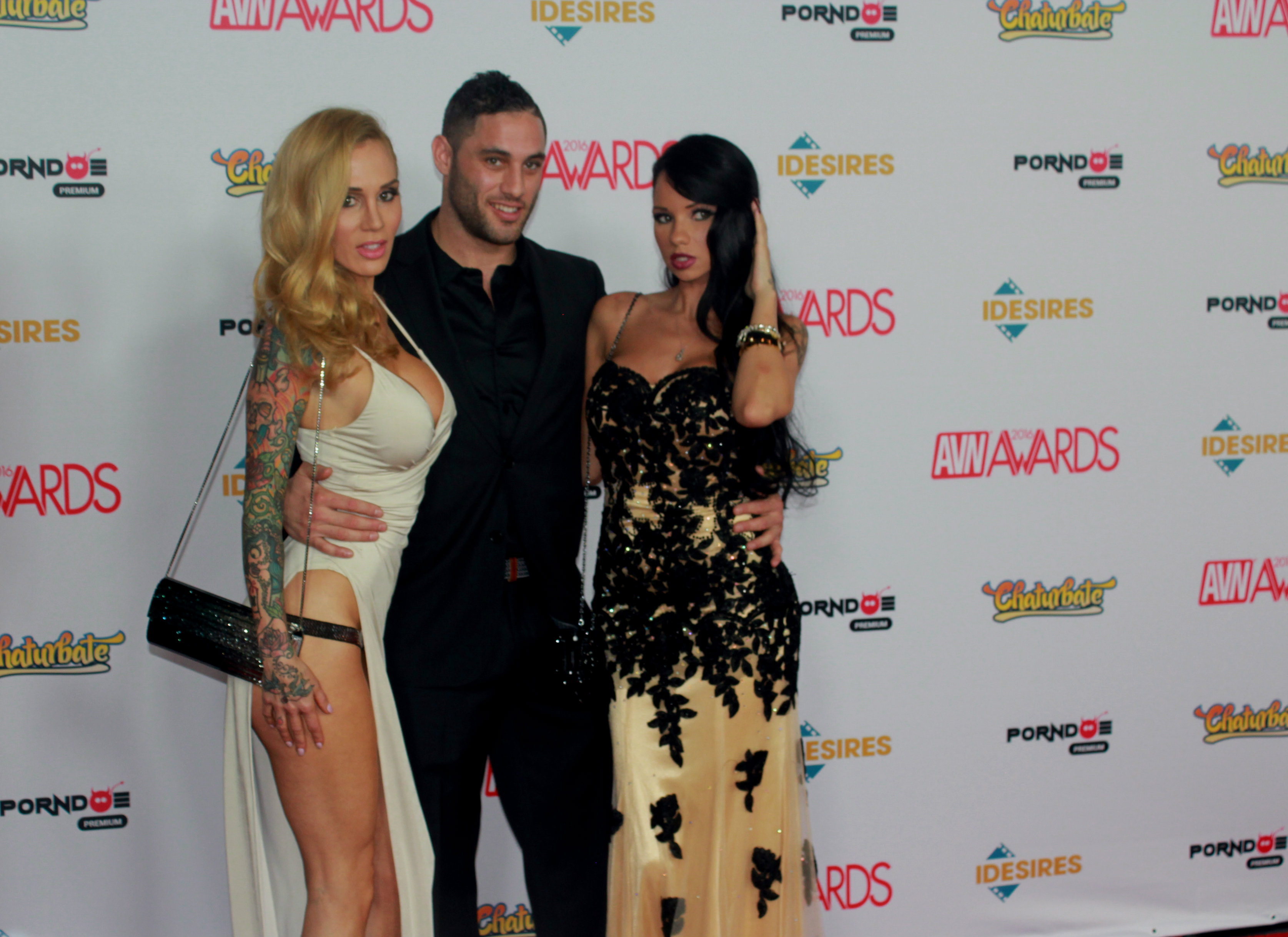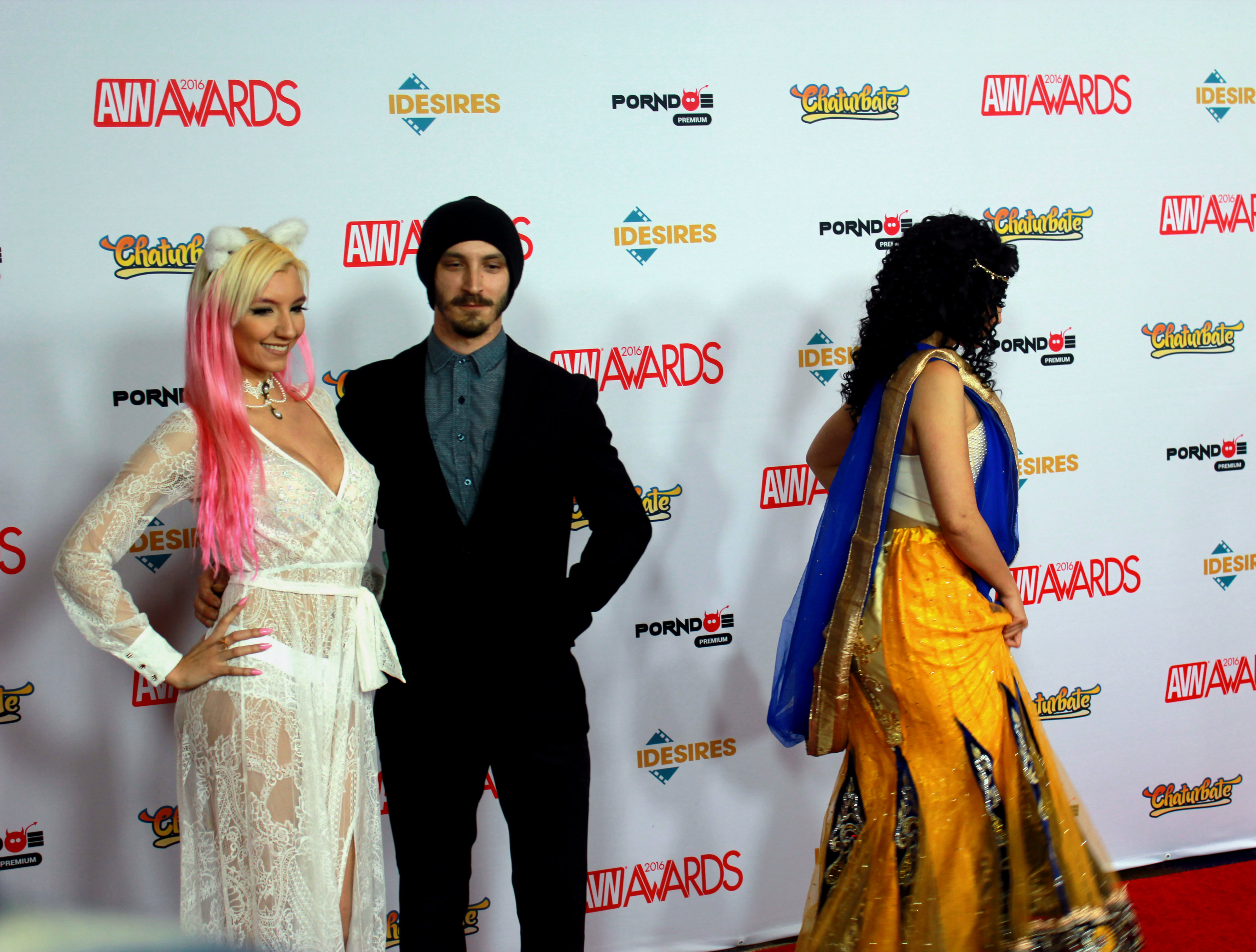 Ron Jeremy and his gang seemed to be having the most fun on the red carpet (and also, perhaps, to be the most inebriated).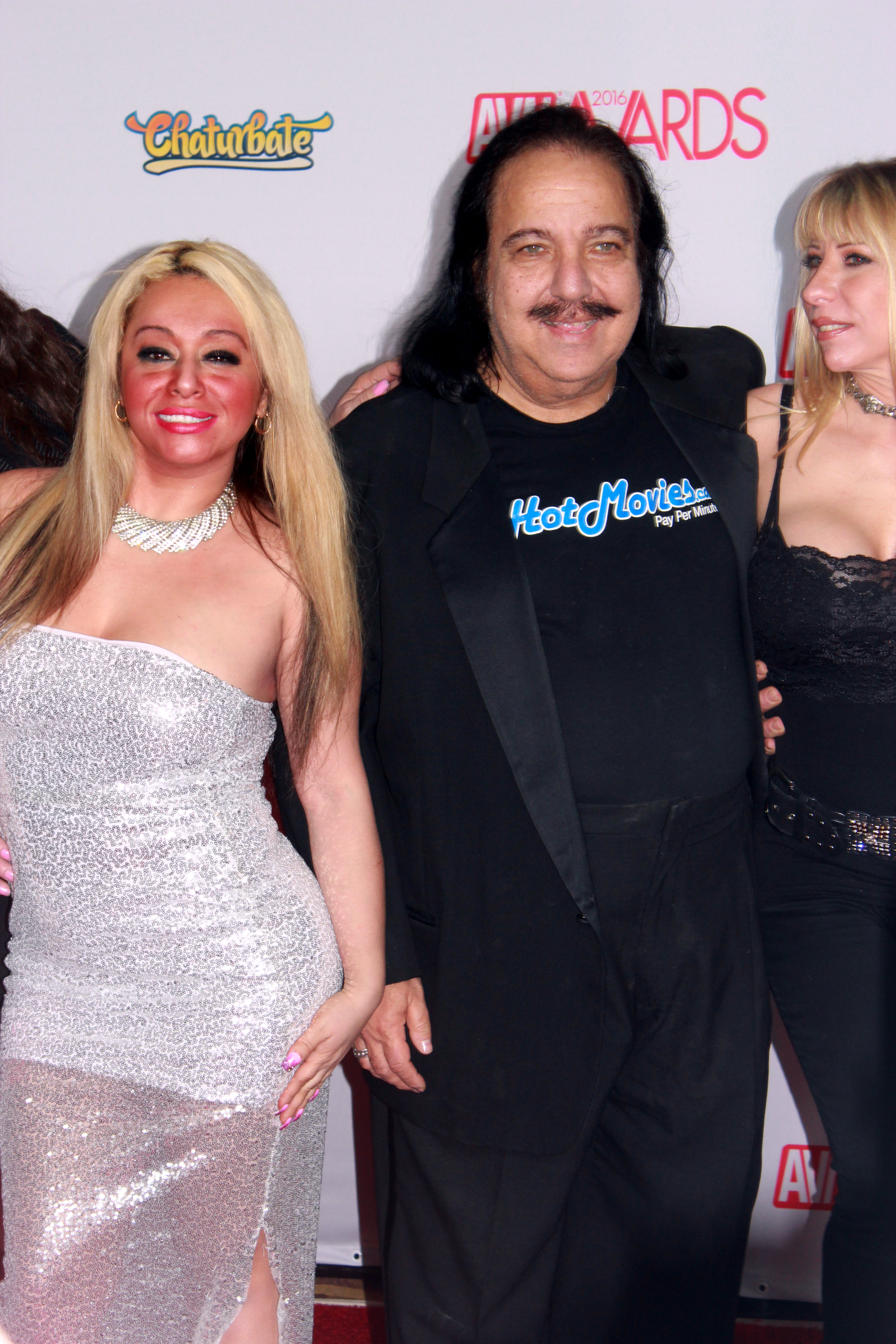 Just as the red-carpet line was drawing to a close, three protesters showed up in t-shirts with Christian messages on them and began instructing people, strangely quietly, to "repent! repent! repent!" I watched them get escorted outside by police, where they continued to chant, and were then subsequently escorted off the property. They never had a chance to unfurl their banner.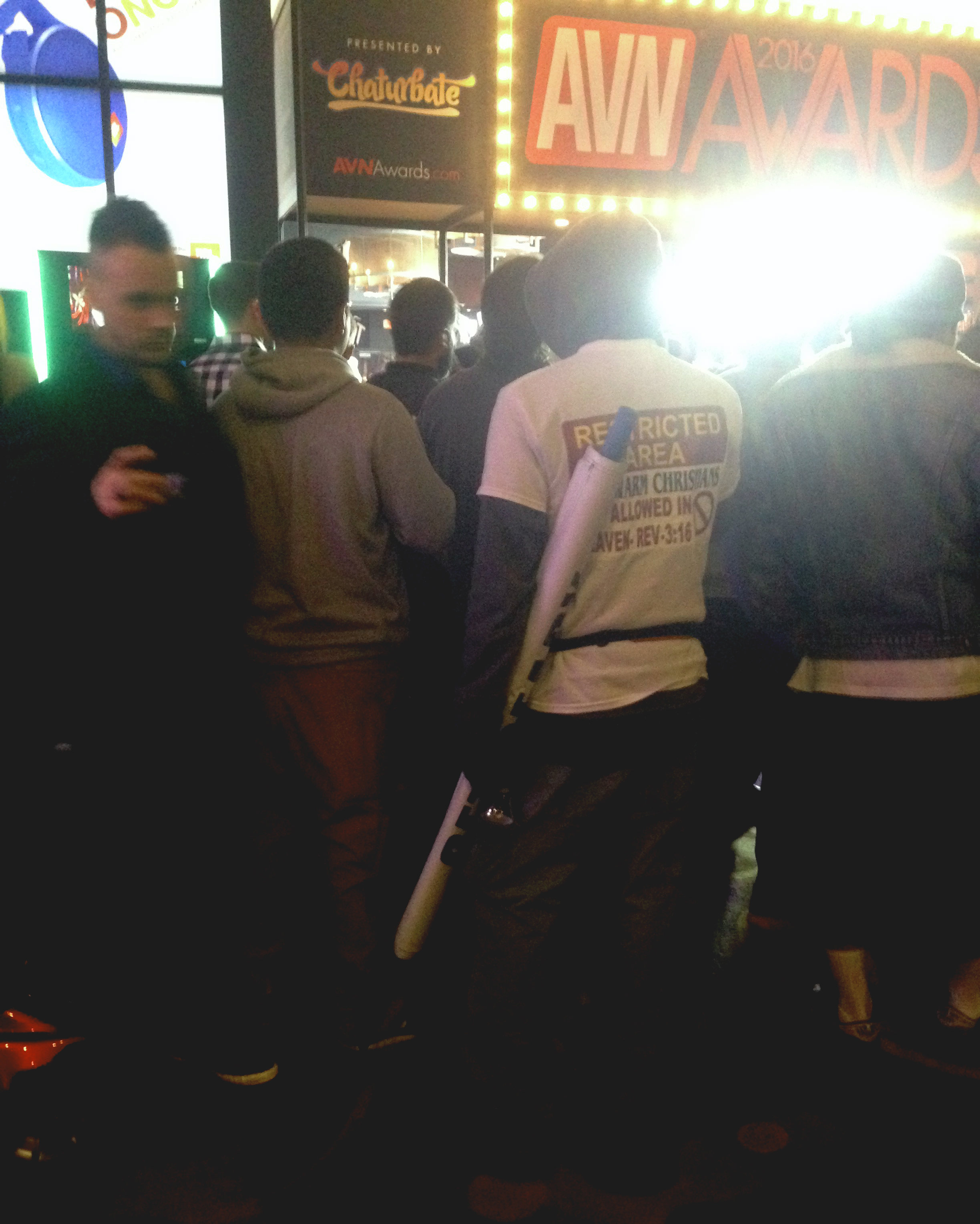 Inside the awards ceremony, rapper Waka Flocka Flame kicked things off.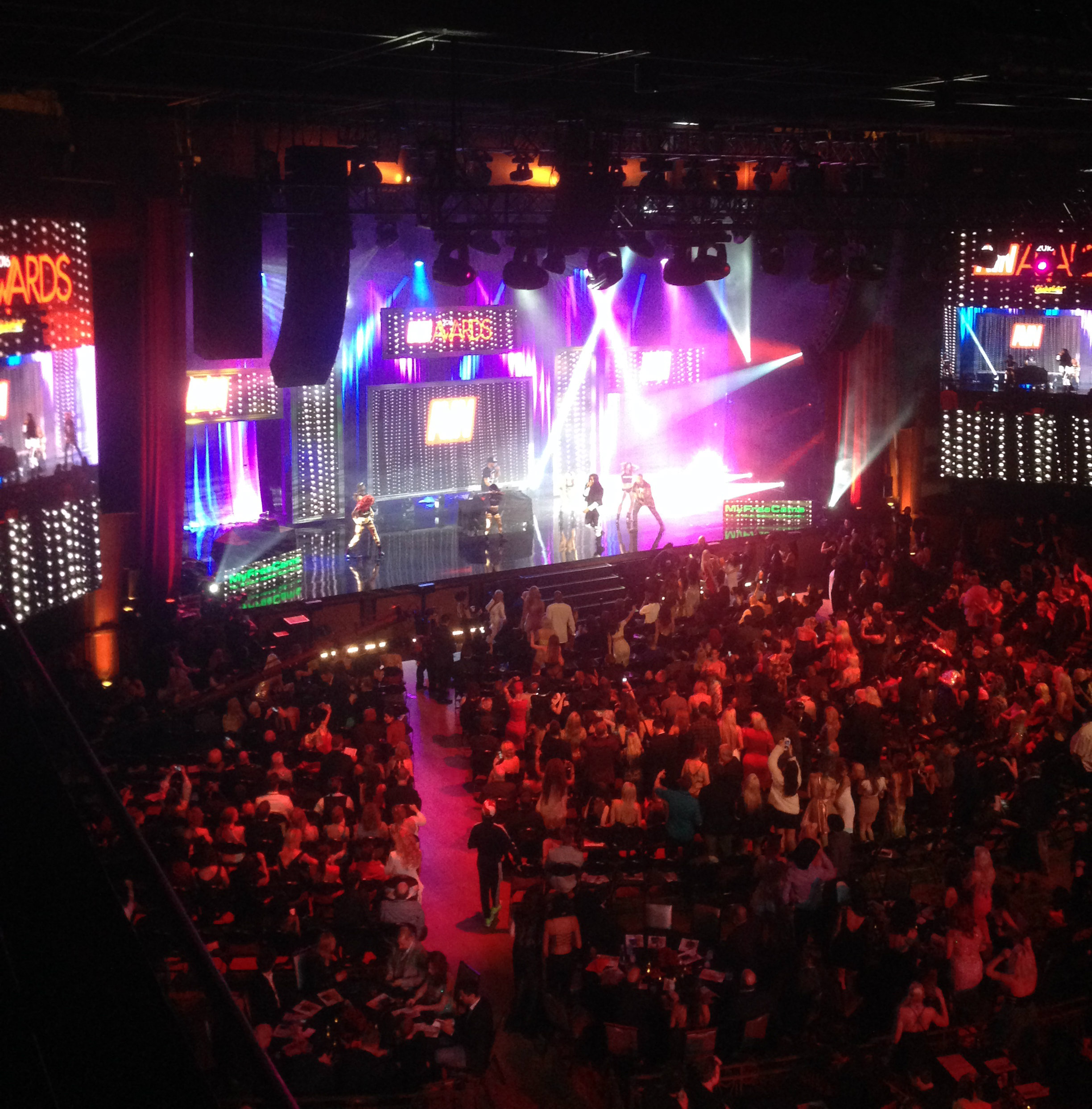 The best musical number of the night, however, came from hosts Anikka Albrite and Joanna Angel (pictured here on the big screen, accompanied by the roving Fleshlight blimp), who led a darling little song-and-dance number called "That's What Porn Is All About."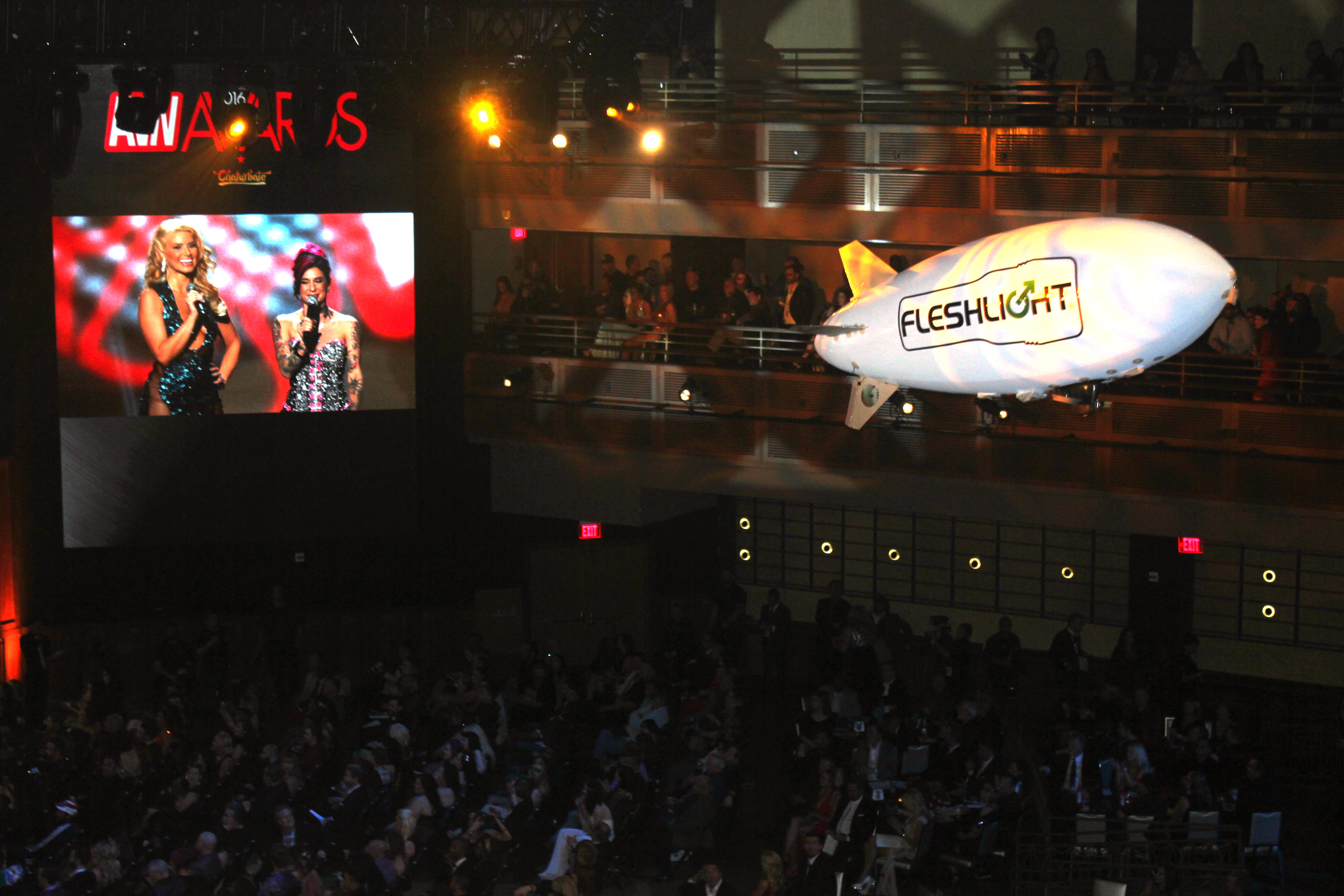 Things got a little crazy toward the end…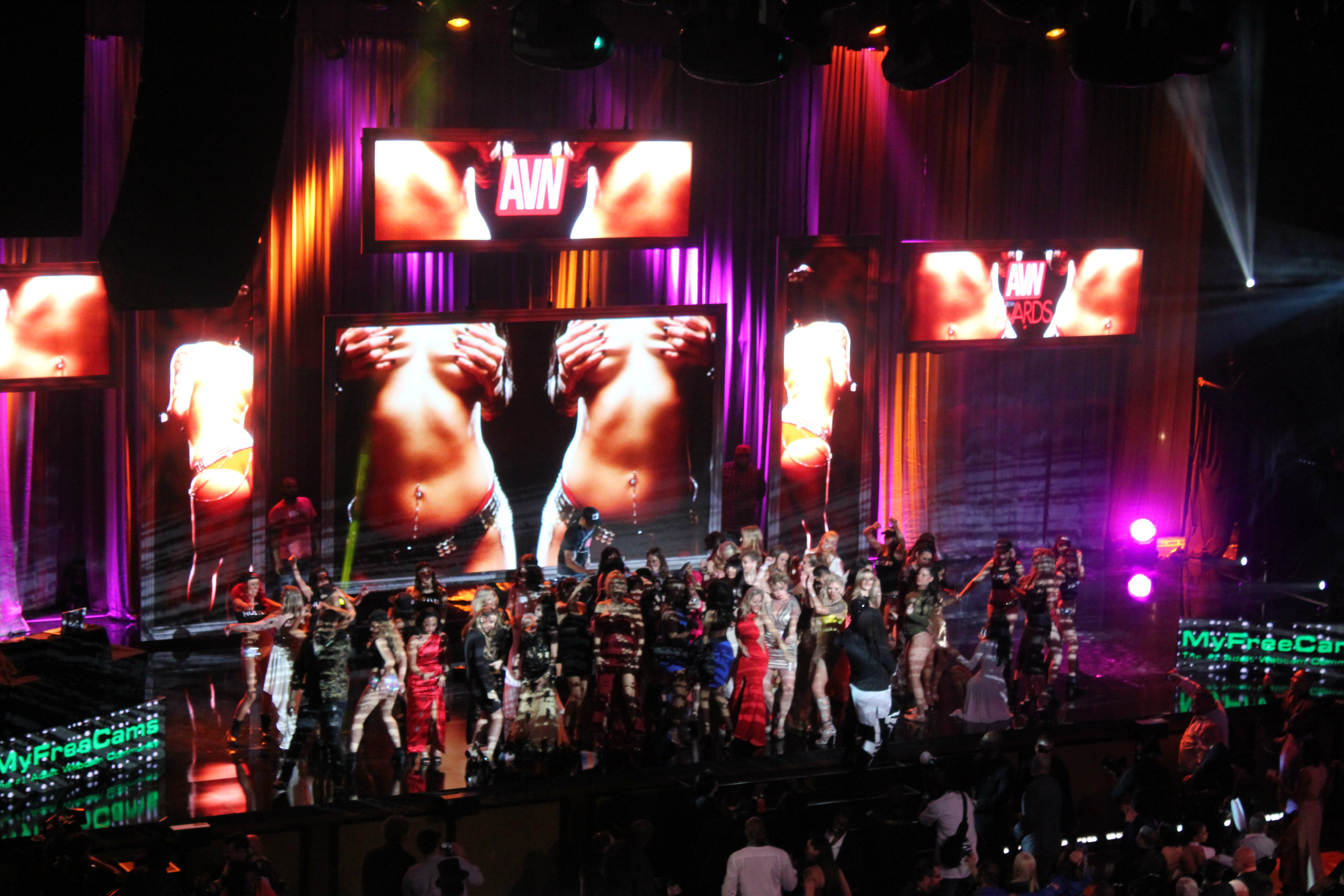 The biggest winner of the night by far was Riley Reid, who won Female Performer of the Year, Best Girl/Girl sex scene, and Best Anal Sex Scene, along with her film Being Riley being named "Best Star Showcase." (I didn't get any photos of her, so this is the one photo here to come from AVN Media Network).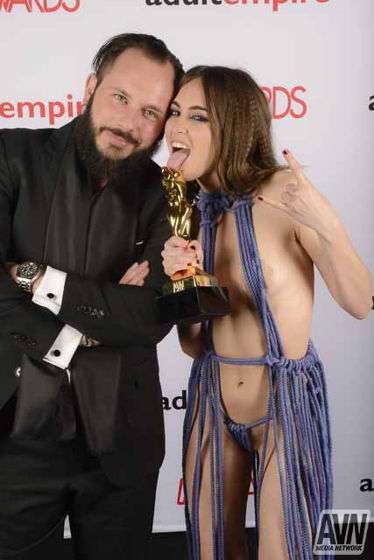 Retired porn star—and avid libertarian—Evan Stone leaving the awards. When I approached him and said I worked for Reason, he asked if I knew the secret libertarian handshake.
ENB
The Politics
At a Wednesday panel on politics in the porn industry, Evan Stone and Evil Angel founder John Stagliano both said they would vote libertarian in the 2016 presidential election. The other panelists all leaned more liberal. (Disclosure: Stagliano is a donor to the Reason Foundation, the nonprofit that publishes Reason magazine.)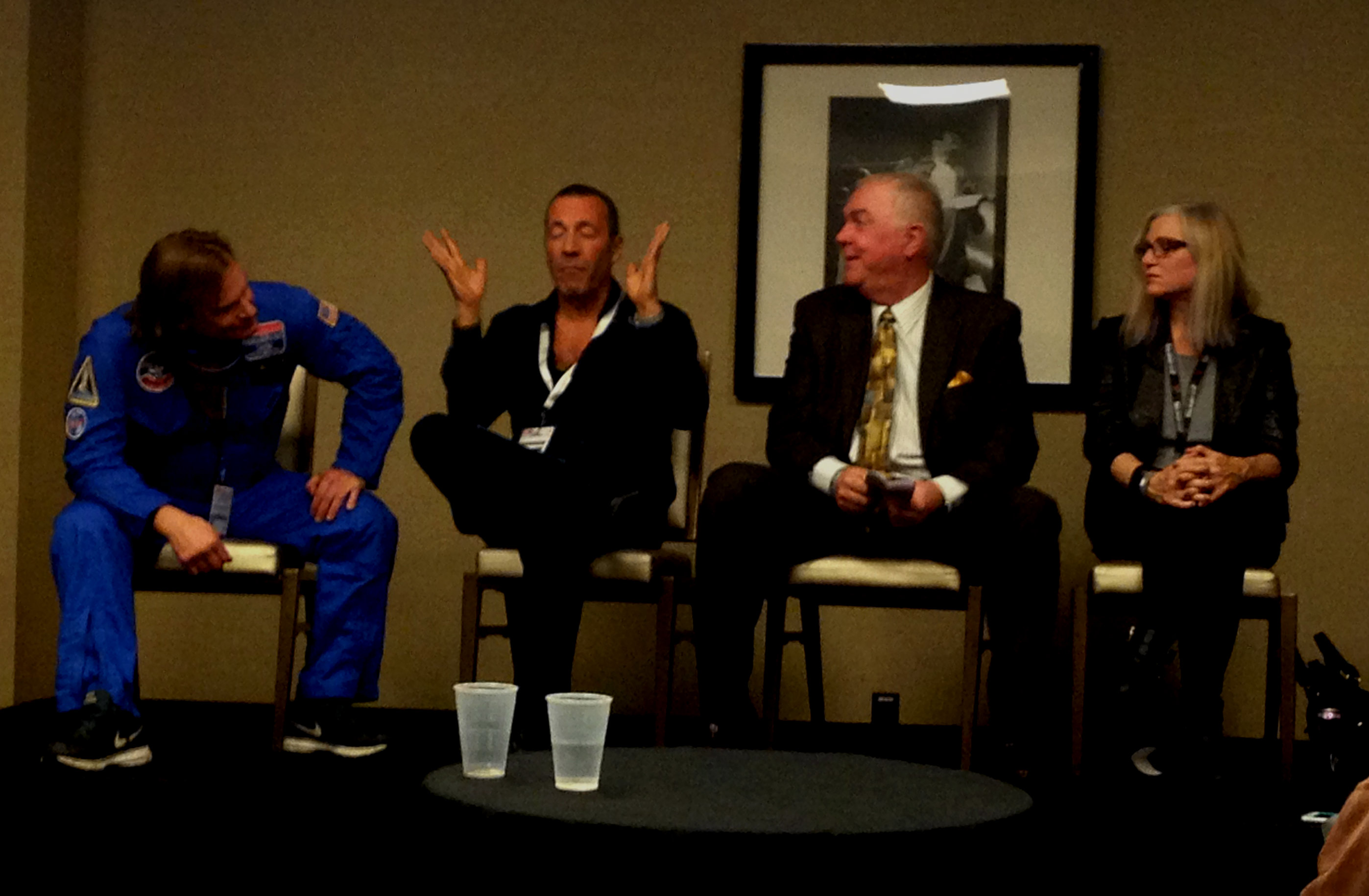 In fact, many at the conference shared the views of AVN Senior Editor Mark Kerns, featured here with a "Totes for Bernie" tote-bag.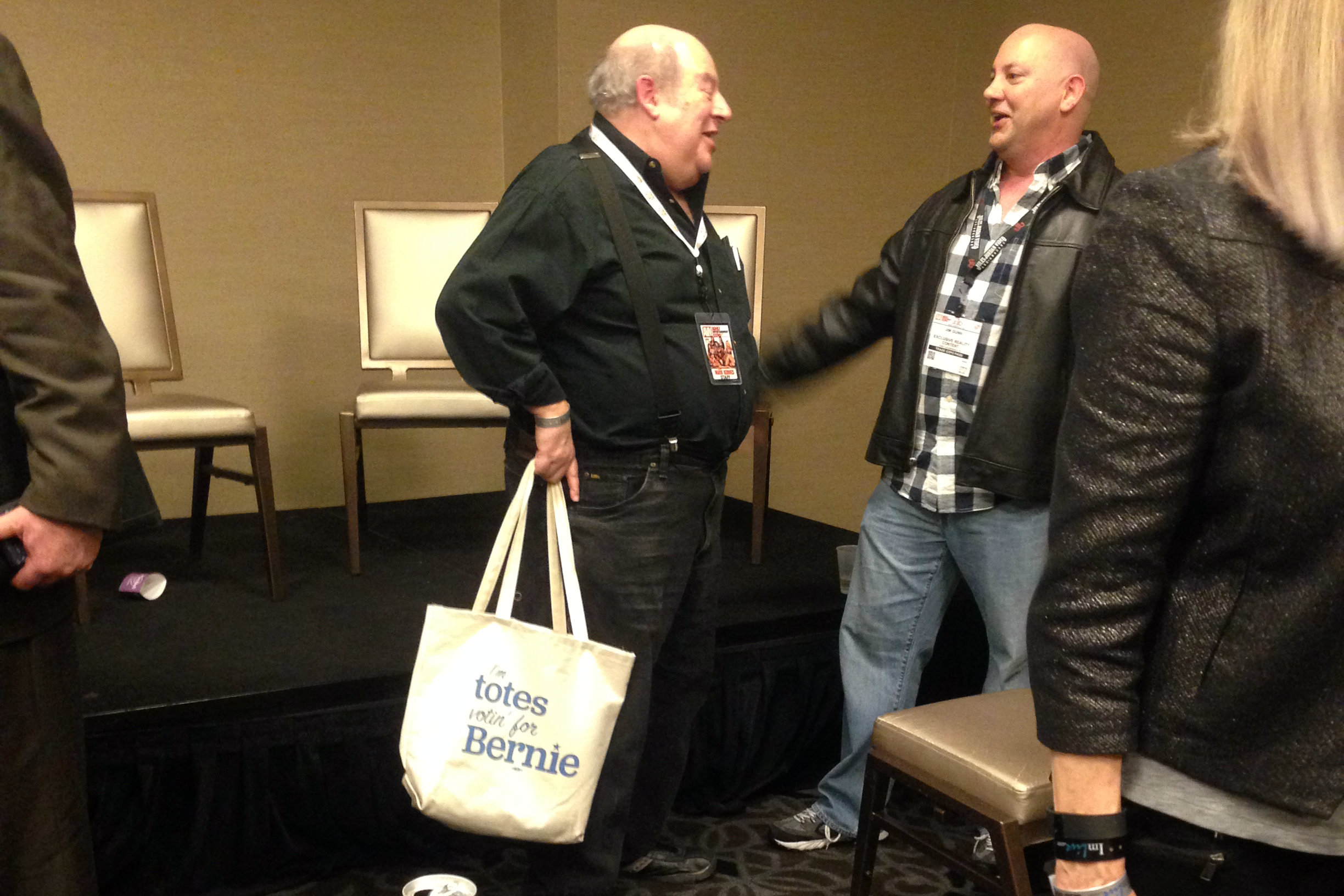 Performer Jojo Kiss is feeling the Bern. "Bernie's like daddy!" she says.
ENB
Porn actresses Gwen Stark and Kat Dior Alexa Grace are also fans of Bernie Sanders, a sentiment they think is shared by many performers in the industry, though not necessarily the producers. "I think it's a big millennial thing," says Grace. "Not a lot of people in the industry" like Hillary Clinton, adds Stark.
ENB
Performers Dick Chibbles and James Bartholet—both of whom have played Donald Trump in porn parodies—and performer/producer Jay Tayor seem to be a minority in the porn industry: they're all Trump fans. [Correction: Loud expo-hall miscommunication. Bartholet is actually a Democrat and a Hillary Clinton supporter. "But I don't mind playing the villain in films," he told The Daily Beast.)
ENB
The Next Frontiers
Webcam companies and performers had a huge presence at the AVN expo, reflecting a major new category of growth in the adult-entertainment biz. The AVN Awards ceremony even features a fan-voted award for "Favorite Cam Girl" now.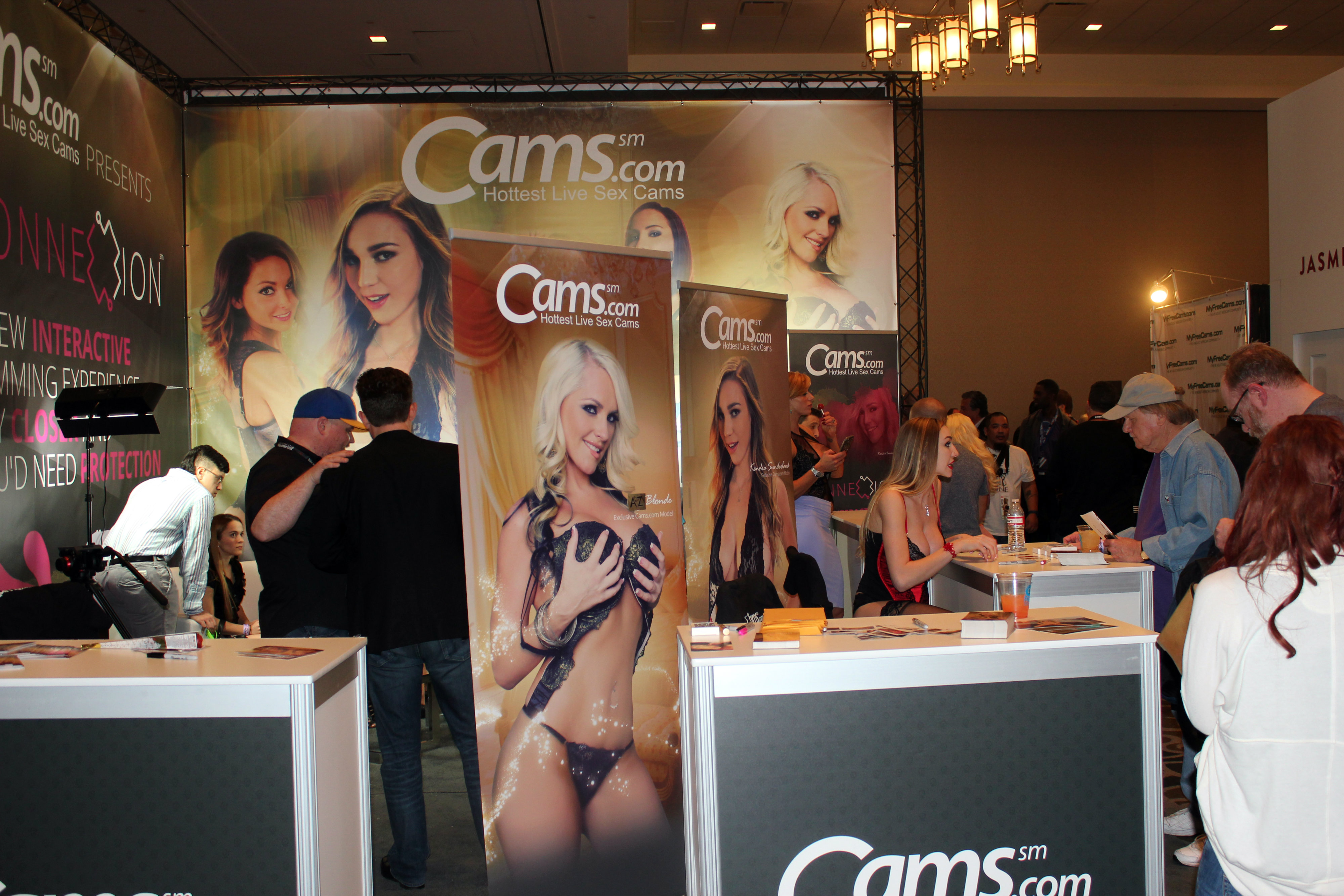 The AVN Awards were sponsored this year by the webcam site Chaturbate.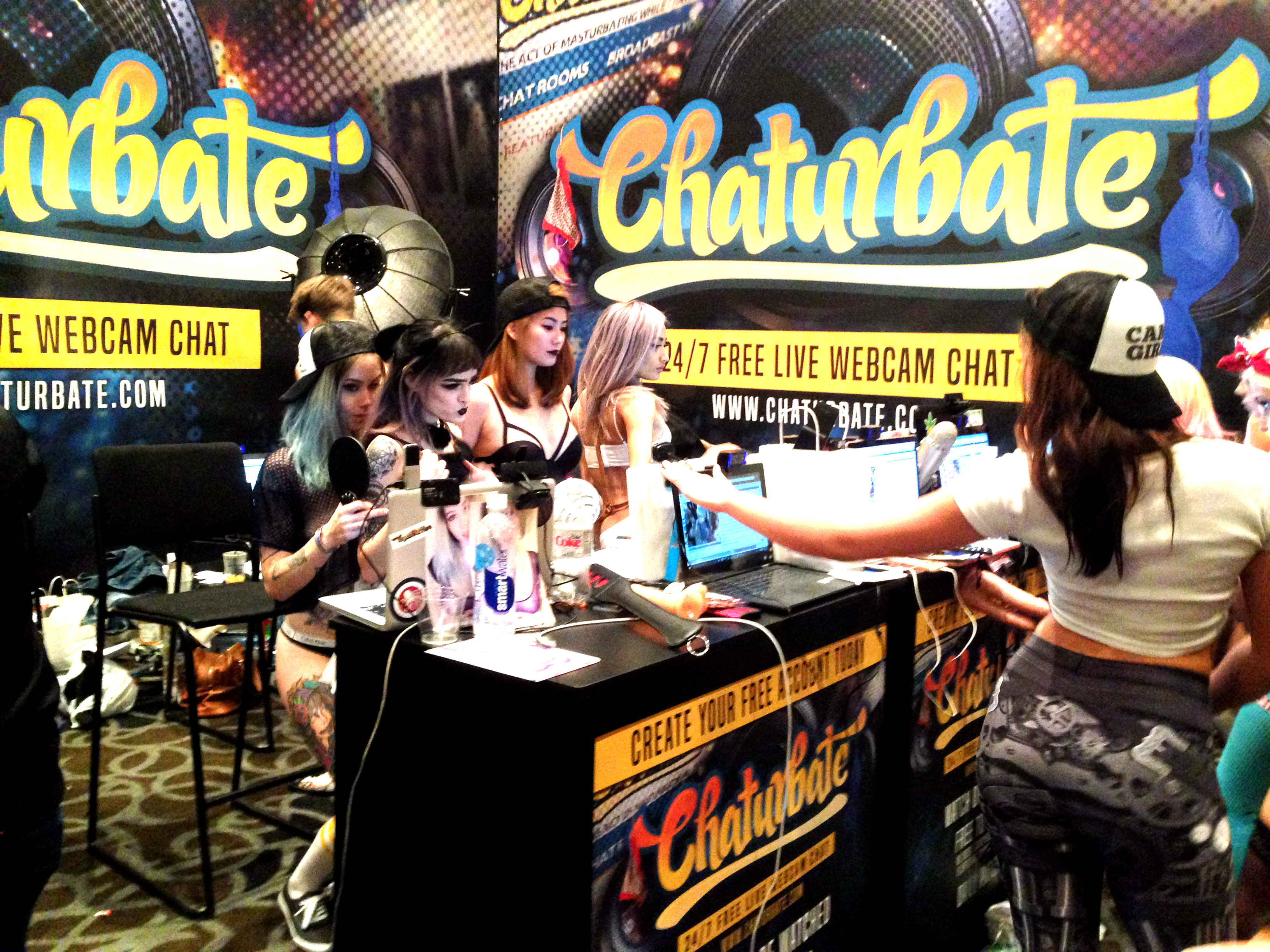 The owner of sex-doll retailer iamdollusa.com told me that he's not worried about sex robots putting him out of business, but rather excited to keep upgrading his dolls as new technology emerges.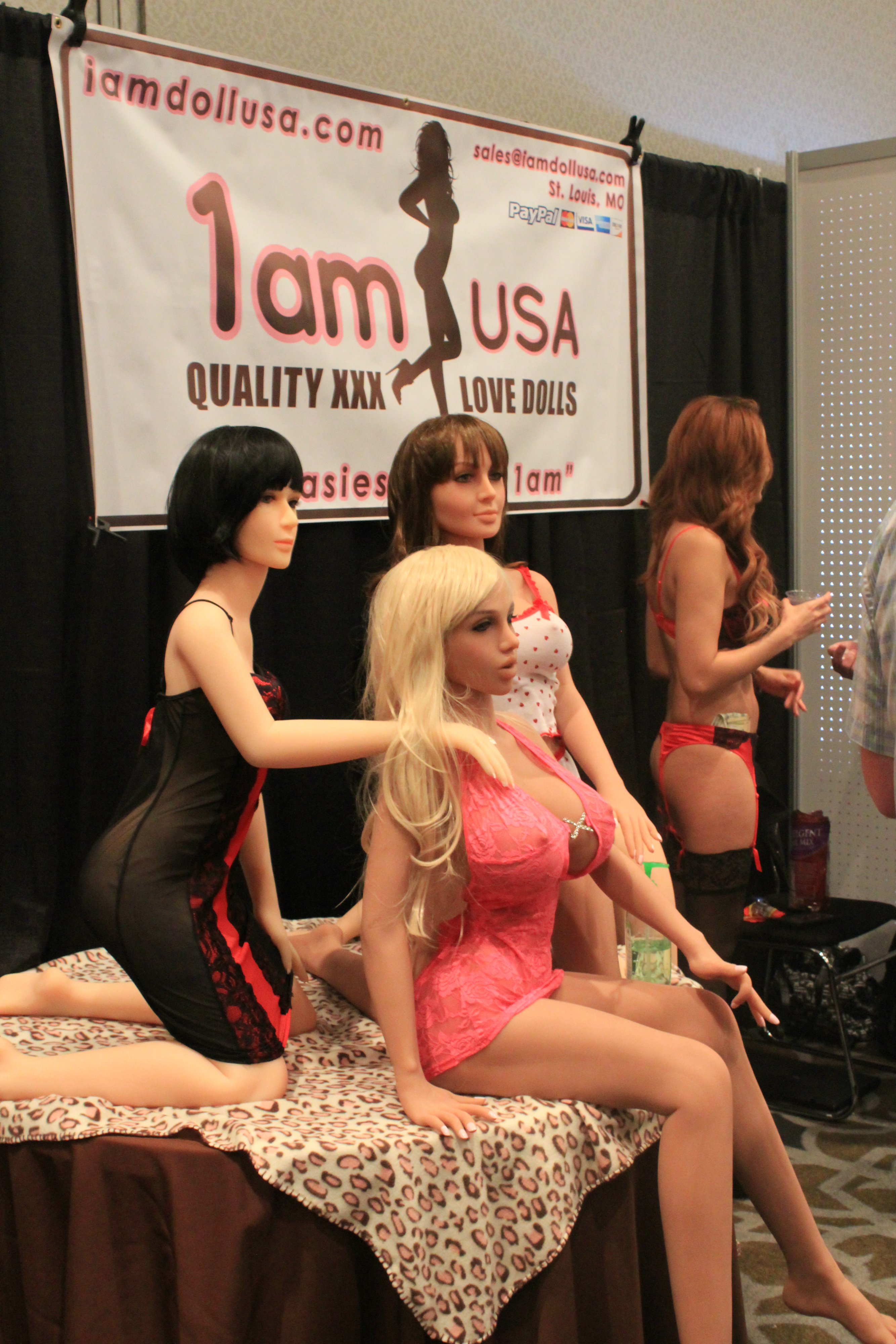 I talked to this man for 10 minutes and I'm still not quite sure what the Erotic Smartphone app does, but I think it involves haptic-interface technology. His was one of about a half-dozen booths featuring some sort of sex app or way to use your smartphone for sexual purposes.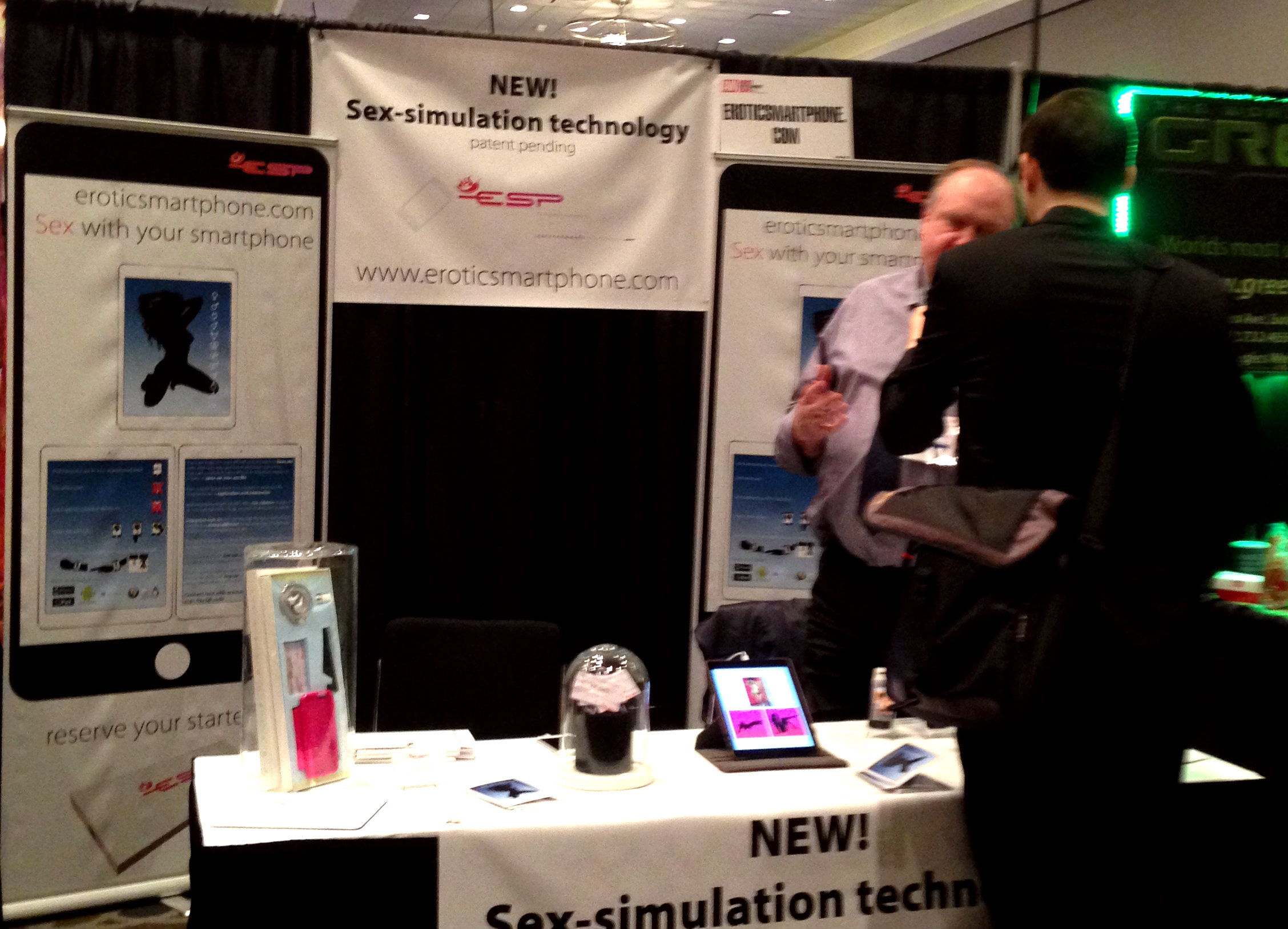 The big tech draw of the AVN expo were the three virtual-reality porn booths.
The future of watching porn? (Probably not, but I'm always a sex-tech skeptic.)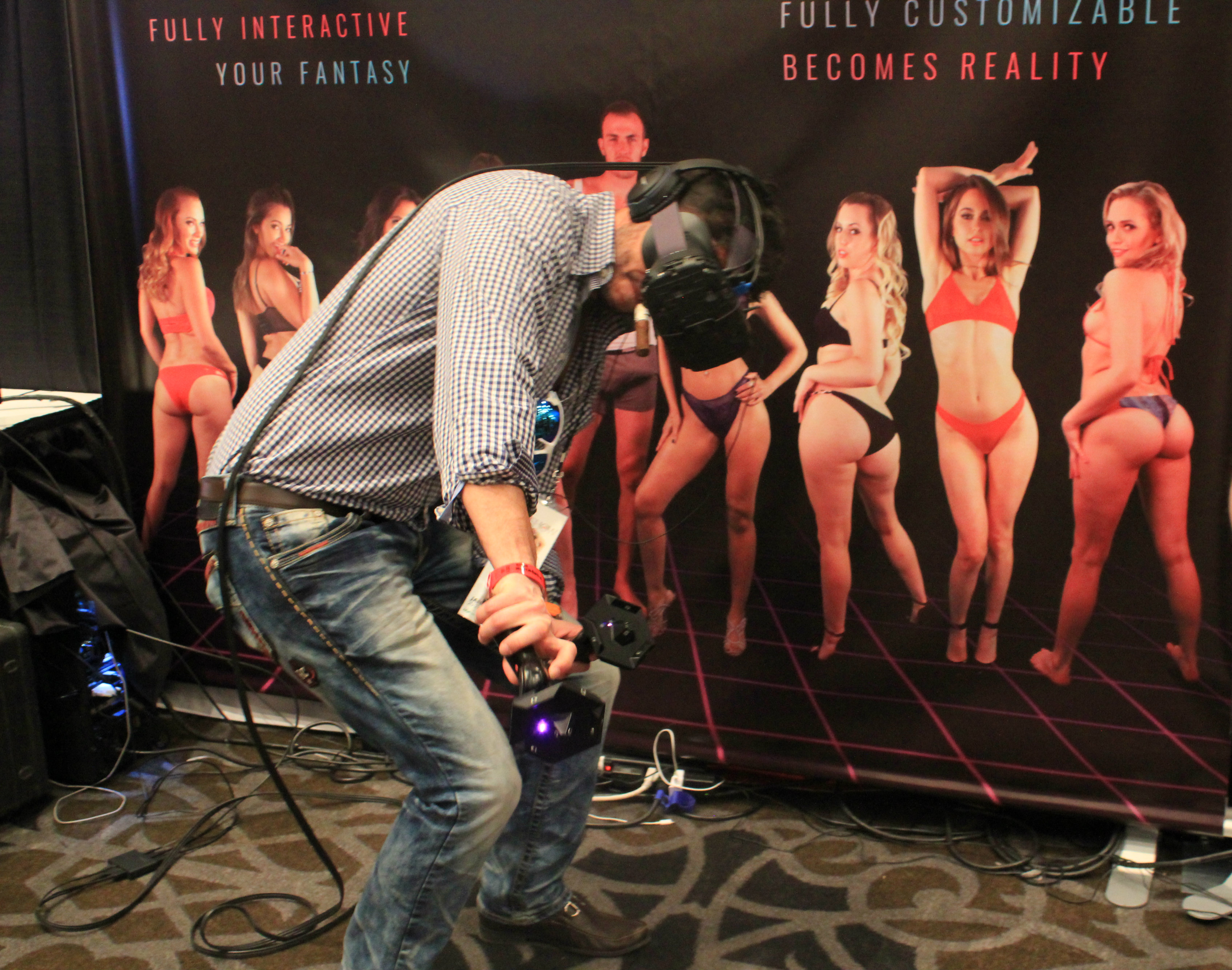 Cardboard virtual-reality headsets designed to bring VR porn to the masses.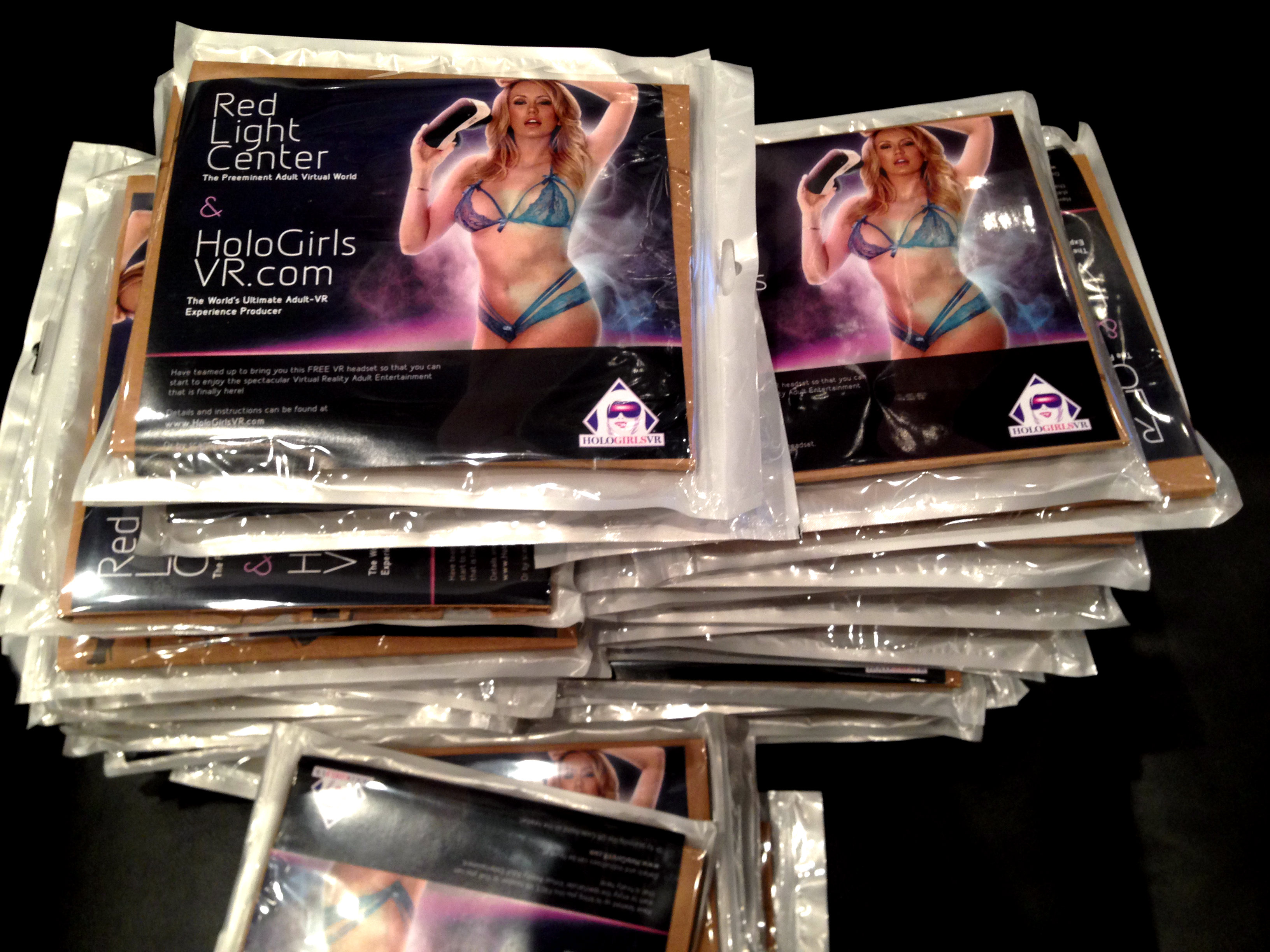 Check out my AVN Flickr album for even more photos from the convention and awards show.