'Stalemate' Over Porn Condom Law in Los Angeles
But with the L.A. law unenforceable, anti-porn activists are pushing work-safety inspectors to punish film companies and gearing up for a state ballot fight.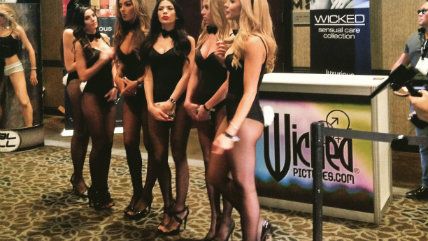 Los Angeles County and the porn industry are at "a stalemate" over a mandatory condom requirement, according to criminal and constitutional lawyer Paul Cambria Jr.
The law, known as "Measure B," was approved by L.A. voters in 2012, and has been embroiled in legal challenges ever since. Cambria, a partner at the law firm Lipsitz Green Scime Cambria, is currently co-representing porn giant Vivid Entertainment in its lawsuit against the Los Angeles County Health Department over the measure.
Measure B's two main mandates are that porn performers must wear condoms for scenes involving sexual intercourse and adult-filmmakers must apply for public health permits. Sold by the Aids Healthcare Foundation (AHF) as a way to protect porn actors from HIV, the adult-film industry says its both unnecessary—current industry screening standards for HIV and other sexually-transmitted diseases works just fine—and unconstitutional.
Both a U.S. district court and the 9th Circuit Court of Appeals rejected Vivid's argument that the condom law violates the First Amendment. "We agree with the district court," wrote appeals Judge Susan P. Graber in December 2014, that "whatever unique message plaintiffs might intend to convey by depicting condomless sex, it is unlikely that viewers of adult films will understand that message."
But the decision wasn't all bad news. Graber affirmed the lower court's decision to enjoin several key provisions of Measure B, including stipulations that noncompliant production companies could have their permits taken away and a provision related to searches and seizures. "Given that adult filming could occur almost anywhere, Measure B would seem to authorize a health officer to enter and search any part of a private home in the middle of the night, because he suspects violations are occurring," District Judge Dean Pregerson had written in his decision. "This is unconstitutional because it is akin to a general warrant."
So what does that mean for the measure? While "the condom requirement is still there, there's no mechanism there to either grant or take away a permit or whatever," explained Cambria during a January 20 panel discussion at the 2016 AVN Adult Entertainment Expo. "It's a stalemate" on enforcement at this point.
The state can still go after filmmakers under California's occupational safety rules, however. The California Department of Industrial Relations, known as Cal/OSHA, states in its blood-borne pathogen standards that employers must "protect workers from serious diseases including HIV, hepatitis B and hepatitis C, which can be transmitted through exposure to blood and other potentially infectious materials." Cal/OSHA has interpreted this to mean porn performers must wear condoms.
But the agency's heart doesn't seem to be in enforcement noted Karen Fuller Tynan, a California lawyer who specializes in adult-industry cases. Though Tynan's been busy lately defending porn production companies cited by Cal/OSHA, the agency only began investigating and prosecuting companies for condom violations after loud complaints from AHF. Recently Tynan helped one client settle with the agency for $685—down from an initial attempt to fine the company more than $20,000 for "lack of barrier protection" in a film scene.
She also represented porn company Evil Angel, but this time there was no settling. Cal/OSHA offered, said Tynan, but Evil Angel founder and owner John Stagliano declined. So they went to trial, and half way through the first morning in court the agency dropped all charges related to condoms. (Disclosure: Stagliano is a donor to the Reason Foundation, the nonprofit that publishes Reason magazine.)
"That case really showed Cal/OSHA that we'll take it to the mat, that certain companies aren't going to be pushed around," Tynan said on Wednesday's AVN panel.
On February 18, the Cal/OSHA Standards Board will hold a second public hearing on the use of condoms and other barrier-protection methods, such as dental dams, in porn films.
Meanwhile, supporters and opponents of mandatory condoms are gearing up for a new battle, as a law similar to L.A. County's will appear on California's statewide ballot in November. AHF President Michael Weinstein is leading the charge for "The California Safer Sex in Adult Film Act," which would mandate condom use for all on-camera intercourse and also, depending on particulars, require things like dental dams and even safety goggles; impose a fine (up to $70,000) for each barrier-protection violation, along with fines between $1,000 and $15,000 for failing to file the proper paperwork for each filming; and require all porn production companies to get a special state license. It would also allow any California resident to file a lawsuit against an adult-film company if they notice no condoms being used, and appoint Weinstein the state porn czar, tasked with investigating and prosecuting non-compliant companies.
"He wants to be the sheriff of porn town," said Tynan. "He wants to get rid of us." Weinstein and AHF also have their targets set on passing condom measures in Nevada and Florida, she said.