Why Porn Industry Legal Experts are Terrified of a GOP President
The porn industry "will suffer greatly if a Republican is in the White House."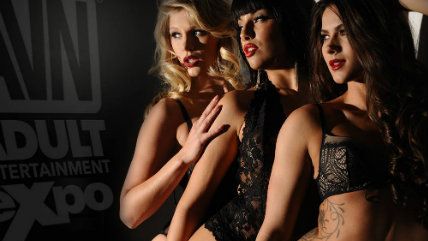 (AVN Adult Entertainment Expo/Facebook)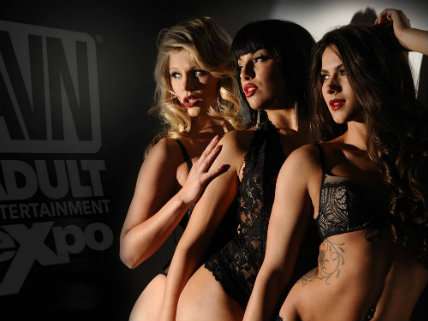 "If a Republican is elected this year, all bets are off," said J. Michael Murray, speaking Wednesday from a panel of porn-industry lawyers at the 2016 AVN Adult Entertainment Expo—all of whom seemed to agree that a GOP president would be bad, bad news for the business.
Specifically, the panelists—including Murphy, a partner with Cleveland, Ohio, appellate law firm Berkman, Gordon, Murray & DeVan—worry that a President Trump or Rubio would mean more investigations and prosecutions under U.S. criminal code 2257, which governs record-keeping requirements for all sorts of pornography producers. Murray is currently representing the Free Speech Coalition (FSC), a trade group for the adult-entertainment and pleasure-products industry, in a challenge to these requirements, which say that any sexually-explicit content producer or distributor must "create and maintain individually identifiable records pertaining to every performer portrayed" or face up to 10 years in prison.
FSC has been fighting the regulations since they took effect in 2005. In 2014, it succeeded in getting the Third Circuit Court of Appeals to say that requiring producers to make 2257 records accessible to law enforcement for any reason, without a warrant, was a violation of producers' Fourth Amendment rights.
Under the Obama administration, said Paul Cambria Jr., there have been far fewer people in the porn industry being "prosecuted, harassed," and intimidated by federal prosecutors vis a vis the record-keeping requirement. But Cambria—a partner at Lipsitz Green Scime Cambria who has represented Larry Flynt, DMX, and Marilyn Manson—worries that "if a Republican becomes president we'll see all the [obscenity-related] laws that we haven't enforced in a long, long time enforced."
Even if they don't care much on a personal level, Republican politicians will always crack down on porn to "throw that bone" to their evangelical base, said Allan Gelbard, a California-based First Amendment and intellectual property lawyer. Gelbard drafted legislation on behalf of the Free Speech Coalition that later became state law and allows businesses whose records are seized under a search warrant the possibility to obtain copies of the records through the court.
The panelists also emphasized that it's not just section 2257 they would worry about under a Republican administration—there will also be Supreme Court justices and federal judges to appoint. Overall, the porn industry "will suffer greatly if a Republican is in the White House," Murray said.