Rand Paul Livetweets the Democratic Debate
Points out Hillary Clinton's past on criminal justice reform in a way Democrats don't want to.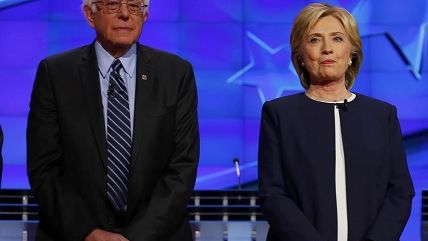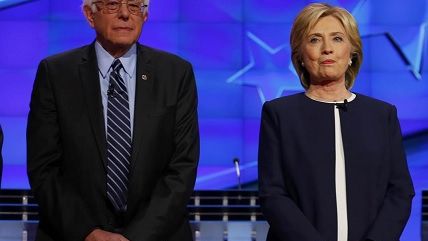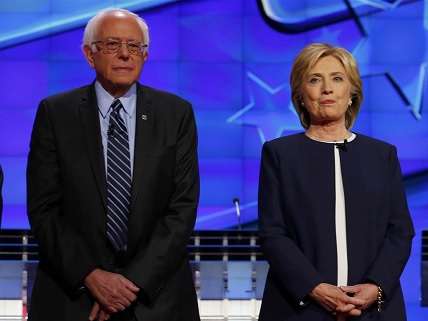 The Democratic presidential candidates are having a debate tonight, because what better time for a debate than 9pm on a Sunday night before a federal holiday? Hillary Clinton, Sen. Bernie Sanders (Vt.) and Martin O'Malley are participating at the Democratic debate, mostly agreeing with each other. Once in a while Clinton, the frontrunner, and Sanders, her primary challenger, argue over an issue like guns or healthcare.
Republican presidential candidate Sen. Rand Paul (Ky.), who skipped the Fox debate Thursday night rather than be relegated to the undercard, is livetweeting the Democratic debate. He was sorely missed on Thursday on issues like police reform and the war on drugs, and is his livetweeting illustrates, he's got something substantive to offer against the Democratic candidates too.
While the Democrats mostly skirted around the root causes for the need criminal justice reform, Paul pointed out that Clinton's been a big supporter of legislation like the Violent Crime Control and Law Enforcement Act. And Paul referred back to the comments he made on the war on drugs at his counter-programming #RandRally event Thursday night when the Democratic candidates tonight similarly declined to tackle the problem with the war on drugs and instead offered suggestions on how they'd run it.
Follow Rand Paul's livetweeting here. Republican Jeb Bush is the only other major presidential candidate livetweeting the debate.