GOP Debate Interrupted By Cries of 'We Want Rand'—It's a Sad Stage without Him
A Rand-less GOP is a terrifyingly authoritarian spectacle.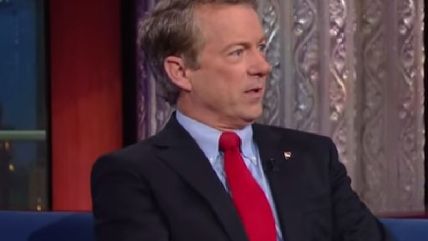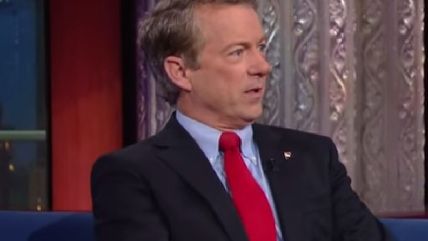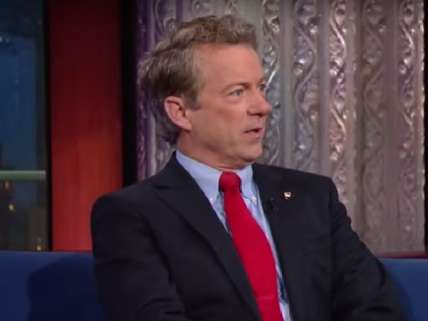 Last night's Republican presidential debate was very briefly derailed by hecklers in the audience who shouted, "we want Rand!" during an exchange between the candidates and moderators on police issues. The moment was as much an outburst of frustration at the various candidates' strident anti-libertarianism as it was an appeal for Sen. Rand Paul himself to appear.
The decision made by Fox Business to boot Sen. Rand Paul from the main stage may have been justified given his lagging poll numbers, but it was an unmitigated disaster for the integrity of the debate. Paul's absence from the stage deprived the spectacle of any semblance of sanity.
While many libertarians—including many of my colleagues at Reason—have dinged Paul for seeming at times insufficiently committed to the cause and too eager to make in-roads with big government conservatives, his faults appear incredibly small when set against the horrors of a Paul-less GOP slate.
There was no candidate to represent the significant number of war-weary libertarians, Independents, conservatives, and young people. Everyone from Marco Rubio to Jeb Bush promised to bolster the Army and Navy, defend U.S. military interests abroad, reverse President Obama's reckless "retreat" from world affairs, and stir up new conflicts with Syria, Russian, Iran, and China. Nation-building was denounced, but endless nation-building would be the obvious and inevitable outcome of the foreign policies set forth by the entire GOP field minus Paul.
Paul's absence was keenly felt on a host of domestic issues as well. There was no discussion of criminal justice reform last night—instead, Donald Trump and Chris Christie defended the honor of the class of government employees known as police officers.
"The police are the most mistreated people in this country," said Trump. Yes, the police are mistreated, not police victims such as Tamir Rice, Eric Garner, and John Crawford. Paul's dis-inclusion meant there was no one on stage to push back against the "War on Cops" narrative.
It was easy to root against Trump when Ted Cruz eviscerated him over his birther accusations. It was similarly easy to root against Cruz when Rubio denounced him as a panderer and a sellout, and to boo Rubio when he called Edward Snowden a traitor. But there was no one on stage to root for, because not a single candidate articulated a platform that had anything in common with libertarianism, or even limited government conservatism.
Where was Paul during all of this? He skipped the undercard debate, and instead livestreamed short videos in which he answered questions on Twitter. The move seems to have paid off for him: he picked up more followers than any other candidate except for Trump, according to Twitter.
That's good for him, but all libertarians should pray he can fight his way back onto the main stage. Absent Paul's influence, the GOP slate is universally hostile to immigrants, more interventionist than ever before, pro-cop, and even skeptical of free trade. In truth, It's really no more libertarian than the Democratic slate.