Multiple ISIS-Linked Attacks in Central Jakarta Kill At Least Two, Injure 19
Attack in Indonesia fourth Islamic State attack outside Iraq and Syria in 2016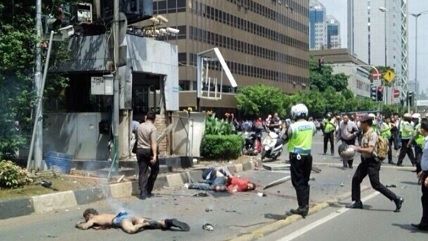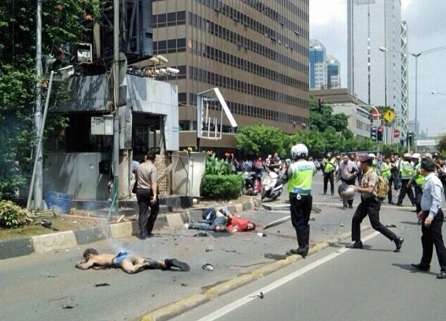 At least 10 militants set off multiple explosions in a commercial district in Jakarta in the area of a United Nations information center, including in front of a Starbucks and a nearby shopping mall, as CNN reports. Gunmen took two hostages at the Starbucks after a suicide bomber blew himself up, killing them in a parking lot, as well as opening fire on people in the street. Indonesian security forces entered the areas and participated in a shootout with the militants, saying they killed five.
The Islamic State in Iraq and Syria (ISIS) claimed responsibility for the attack. Police in Indonesia arrested at least nine suspected militants last month, accusing them of plotting New Year's Day attacks and of being affiliated with ISIS. Police identified Bahrun Naim as the "mastermind" of today's attacks, someone they had arrested in 2011 for illegal gun possession who they say gained influence in militant networks across Central Java, where groups like Jemaah Islamiyah (JI), an Al-Qaeda affiliate operate.
Last year, Naim moved to Raqqa, Syria, to join ISIS, and after the November attacks in Paris, began to call on Indonesians to perpetrate similar attacks there, saying there were enough ISIS supporters there to "carry out an action". At least 50 Indonesians went to Syria to join ISIS between 2012 and 2014, according to a report (pdf) by one conflict monitoring group based in Jakarta.
In its statement, ISIS said it was targeting gatherings of the "Crusader alliance that fights the Islamic State in Jakarta," meaning the multiple United Nations agencies with offices in the area, and claimed the attackers had killed 15 people. Local authorities cite the total death count as seven, including five suspected attackers.
The Jakarta attacks are the fourth ISIS-linked attacks outside its territory in Iraq and Syria in 2016 already, coming two days after a suicide bomber killed at least 11 people, mostly German tourists, in Istanbul.
On January 7, a truck bomb in Libya targeting police recruits killed at least 47 people, and last weekend two tourists were stabbed after suspected ISIS-linked militants stormed a resort hotel in Egypt.