Football Is Coming Back to Los Angeles, But Should Taxpayers Be Cheering?
NFL owners approve move of Rams; Chargers could be next.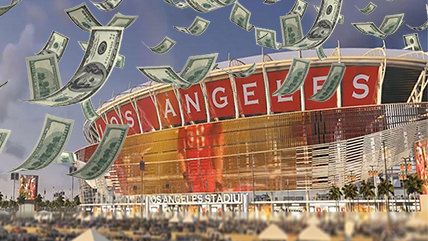 On Tuesday NFL owners approved the relocation of the St. Louis Rams back to Los Angeles.
The vote marks the end of a 20 year effort to bring football back to the second-largest city in the country.
As the Los Angeles Times reports:
NFL owners voted 30-2 to allow the St. Louis Rams to move to Los Angeles for the 2016 season and to give the San Diego Chargers a one-year option to join the Rams in Inglewood.

The Rams' home will ultimately be on the site of the old Hollywood Park racetrack in Inglewood in what will be the league's biggest stadium by square feet, a low-slung, glass-roofed football palace with a projected opening in 2019 and a price tag that could approach $3 billion.
The Raiders withdrew their application for relocation and will remain in Oakland for the foreseeable future. The NFL has stated that they will give the Chargers and Raiders $100 million for new stadium projects if they can work out a deal to stay in their respective home towns. That money is basically chump change compared to the billion dollar price tags that now come with building modern stadiums.
While the Inglewood stadium is being built without public money, the threat of NFL teams trying to relocate should give pause to other localities that are being hit up by wealthy team owners to build new public stadiums. Just take a look at St. Louis, who saw their plan to offer up $400 million in taxpayer money to build a new stadium brutally rejected by the Rams franchise and NFL brass.
Since football was last in Los Angeles some 20 years ago, the U.S. has opened 101 new sports facilities and stadium finance experts say that almost all of them have received public funding totaling billions of dollars. Civic leaders usually justify this expense by stating that stadiums will generate economic revenue and job opportunities for the city, but those gains are rarely ever realized.
Reason TV has done extensive coverage on the public stadium issue and the NFL's move back to Los Angeles.
Why No Smart City Would Want the NFL
Sports Stadiums Are Bad Public Investments. So Why Are Cities Still Paying for Them?
NFL Hits to Taxpayers
How Football Fleeces Taxpayers: Gregg Easterbrook on The King of Sports