In State of the Union Rebuttal, Nikki Haley Takes on Trump
The South Carolina governor defended immigrants of every race and religion.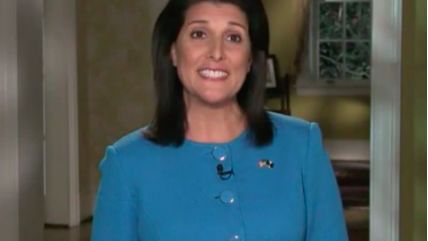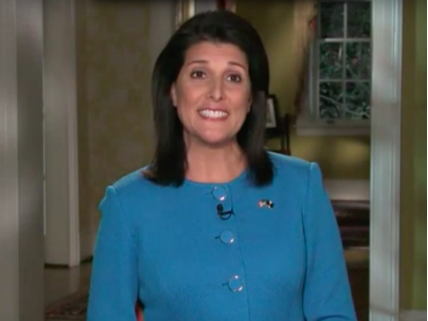 Was tonight's speech from South Carolina Gov. Nikki Haley a rebuttal to President Obama—or a rebuke of Donald Trump?
Tasked with giving the official GOP response to the State of the Union address, Haley started out with the president in her crosshairs. His record, she said, "has often fallen far short of his soaring words" on both the economic and national security fronts.
But it didn't take long for Haley to change her tone, acknowledging that Republicans too are responsible for the problems in Washington—and then turning to an issue in which the frontrunner for her own party's nomination, far more than the sitting president, seemed to be the target of her enmity.
"I am the proud daughter of Indian immigrants who reminded my brothers, my sister and me every day how blessed we were to live in this country," she said, launching into an extended defense of allowing even people who don't look like us to take up residence on our shores.
Though she did not call out Trump by name, Haley urged the country to resist "the siren call of the angriest voices," a subtle reference to the real estate mogul's position that all Muslim immigrants and asylum seekers should be turned away indefinitely.
"No one who is willing to work hard, abide by our laws, and love our traditions should ever feel unwelcome in this country," she said, later adding lest there be any confusion that all "properly vetted legal immigrants, regardless of their race or religion" should be welcome.
A libertarian immigration agenda the speech was not. Haley made it clear she opposes opening up our borders, and she called for "stopping illegal immigration" and "not let[ting] in refugees whose intentions cannot be determined."
But compared to what we've been getting from the Republican frontrunner? I only wish more of the people actually running against him would be so bold.