Even in California's Progressive Paradise, Gov. Brown Understands Dangers of Minimum Wage Hikes
Warns $15-an-hour jump would wreck state budgeting.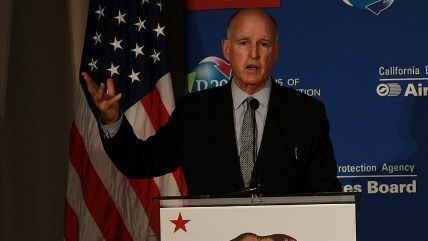 (California Air Resources Board / photo on flickr)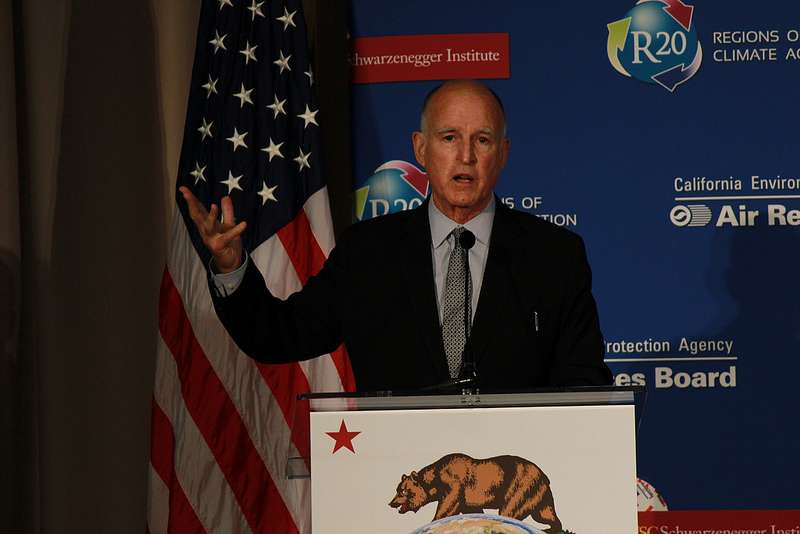 Calif. Gov. Jerry Brown released his budget plan for the next fiscal year yesterday. It would increase general fund spending by 5.6 percent, an increase of about $6 billion, to $122.6 billion. Brown is also putting $2 billion more than required in the state's "rainy day fund," to get it up to $8 billion. There's more spending on colleges, increased per-pupil spending for public schools, and new sources of revenue (as in, more taxes and fees).
Remarkably, people are complaining that Brown is not spending even more money. There are pots that have not yet been delivered chickens. From the Associated Press:
Democratic legislative leaders complained that Brown did not spend enough on early childcare programs, did not expand grants to families on welfare, didn't devote more money to affordable housing and appeared resistant to further increases to the minimum wage.

"California has turned the corner. But not every Californian is feeling it," said Assembly Speaker Toni Atkins, D-San Diego. She said there remains "a laundry list of critical needs."
Yeah, about that minimum wage: California's minimum wage jumped to $10 at the start of the year. Union activists are pushing for a $15 minimum wage through a ballot initiative. So what happened is that the governor's office, while preparing the budget, has to deal with cost consequences of the increase, and in the introduction to the new budget, Brown actually details what's happening now and what would happen if California recklessly jumps to a $15 minimum wage:
In 2013, the Governor signed legislation to raise the state minimum wage by 25 percent, from $8 an hour to $10 an hour in two steps. The second increase to $10 an hour just went into effect on January 1, 2016. On an inflation-adjusted basis, the new level is the highest minimum wage in California since 1979. The higher minimum wage will raise the income of an estimated 2.2 million workers. However, higher minimum wage laws are not free. They raise the operating costs of many businesses, and the state must shoulder higher wages in its programs, particularly In-Home Supportive Services and developmental services. For example, the increase to $10 an hour has raised General Fund costs by over $250 million annually.

Already there are proposals to raise the minimum wage further. At $15 an hour, as two ballot measures propose, the General Fund would face major increased costs, estimated at more than $4 billion annually by 2021. Based on current projections, such a change would return the state to annual budget deficits—even assuming a continued economic expansion. Yet under the measures, one or more increases would likely occur at the same time that California is experiencing a recession. Such an increase would require deeper cuts to the budget and exacerbate the recession by raising business costs, resulting in more lost jobs.
Indeed, previous minimum wage increases for the state landed at the starts of 2007 and 2008, right in the heart of our financial crisis and recession, which hit California particularly hard.
While it's great that California's current governor has some common sense over minimum wage hikes, Lt. Gov Gavin Newsom, who will be running to succeed Brown, has endorsed one of the $15 an hour mandates.
But for those who think Brown might be getting a little bit too sensible, don't worry: The Cap and Trade Fund expenditure plan still includes $500 million for the boondoggle of a high-speed rail project, Brown's ugly baby that just won't die. That covers less than one percent of the estimated $68 billion project (though realistically it will cost much, much more). I suppose we should be glad there isn't even more money in the budget for it.