White House Takes Hands-Off Approach to Oregon Occupation, Wall Street Has Rocky New Year, Charlie Hebdo Anniversary Issue Draws More Controversy: P.M. Links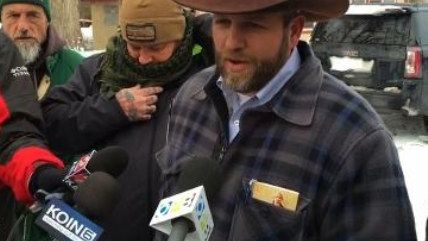 White House officials said today that the occupation of a federal wildlife refuge Oregon is a "local law enforcement matter," though the FBI is involved in response to the incident. The protesters held a press conference today calling for the federal government to abide by the Constitution and criticizing the impact on ranchers of the federal control of land in Western states. They are calling themselves Citizens for Constitutional Freedom.

The office building in San Bernardino, California, where 14 people were killed in a December terrorist attack, reopened today.
The new year isn't being kind to Wall Street. The Dow Jones Industrial Average closed down almost 275 points. Blame China.
On the anniversary of the murder of many members of its staff, Charlie Hebdo is again courting controversy in France by lampooning God on its cover (and potentially all organized religion) as a violent terrorist with a gun.
General Motors is investing $500 million in ride-sharing service Lyft. They are visualizing a future of a fleet of self-driving vehicles people can summon on demand.
With a $400 million jackpot pending, it's time for another round of Powerball-mania.
New at Reason.com:
Follow us on Facebook and Twitter, and don't forget to sign up for Reason's daily updates for more content.