Rich, White and Stupidly Anti-Vaccine in California
New Years Resolution: Stop putting your kids and other people at risk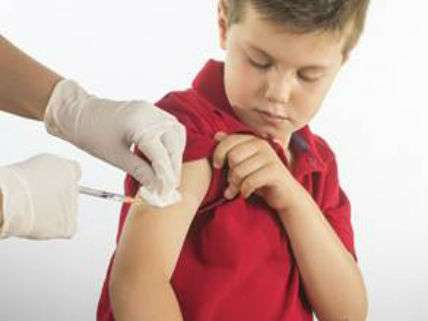 George Mason University researcher Y.Tony Yang and his colleagues have published a new study in the American Journal of Public Health that looks at the demographic characteristics of anti-vaxxers in California. Until recently, California offered a very liberal personal belief exemption (PBE) policy that allowed parents to refuse vaccinations for their kids. Yang and his team report that between 2007 and 2013 that the portion of students with PBEs doubled from 2007 to 2013, from 1.54 percent to 3.06 percent. Who was seeking the exemptions? They report:
Across all models, higher median household income and higher percentage of White race in the population, but not educational attainment, significantly predicted higher percentages of students with PBEs in 2013. Higher income, White population, and private school type significantly predicted greater increases in exemptions from 2007 to 2013, whereas higher educational attainment was associated with smaller increases. … Personal belief exemptions are more common in areas with a higher percentage of White race and higher income.
As ArsTechnica reported:
Over that time period, more than 17,000 children attending more than 6,000 schools in California had opted out of normal vaccination schedules.

In more than 25 percent of schools in the state, the kindergartener immunization rate for measles has fallen below the 92-to-94 percent threshold that is recommended for maintaining herd immunity. That means that a quarter of California schools may not have enough vaccinated children to keep from having an outbreak, possibly endangering kids who are too young or medically unable to get vaccinated.

With a clearer look at the demographics, the authors suggest that public health experts trying to reverse the trend may need to place more emphasis on dispelling a notion among privileged whites that protective parenting can replace immunization.
In early 2015, an outbreak of measles in California eventually infected 131 residents. Most were unvaccinated and one in five had to be hospitalized.
In June, Calfornia passed law limiting BPEs. It will go into effect on January 1.
A systematic review of studies published in the journal Pediatrics in 2014 found that the health benefits of vaccines far outweigh their minimal risks. So get your kids vaccinated already!